Conflict
Zelenskyy Victoriously Visits Kherson
President Volodymyr Zelensky on Monday said it was "impossible to kill Ukraine" as he hailed the liberation of city of Kherson in a surprise visit. This, as Russian and U.S. officials were reported by Reuters on Monday to be holding talks in Turkey,
KHERSON, UKRAINE —
The Ukrainian presidency distributed images of President Zelenskyy singing the national anthem with his hand over his chest as the country's blue and yellow flag was hoisted next to Kherson's main administrative building.
In Kherson, Zelensky said that "the price of this war is high".

"People are injured. A large number of dead. (Russian forces) have left or escaped -- we believe that they have escaped because our army has surrounded the enemy and they were in danger," Zelensky said.

"There were fierce battles, and the result is -- today we are in Kherson region."

"This is what the Russian Federation did in our country, it showed the whole world that it can kill. But all of us, our armed forces, our National Guard and intelligence (services) have shown that it is impossible to kill Ukraine," Zelenskyy said.
Russian forces fled Kherson last week in their third major retreat since invading Ukraine in February, and the first time they have abandoned such a large city.
The city of Kherson was the first major urban hub to fall to Russian forces and the only regional capital Moscow's troops gained control over.

Its recapture opens a gateway for Ukraine to the entire Kherson region, with access to both the Black Sea in the west and the Sea of Azov in the east.

The region was one of four that the Kremlin announced in September were annexed and part of Russia. Russian President Vladimir Putin vowed to use all available means to defend them from Ukrainian forces, hinting at the use of nuclear weapons.
The Zelenskyy visit came as Russian newspaper Kommersant cited a source as saying delegates from Washington were meeting on Monday in the Turkish capital Ankara with Russian delegates reportedly including Sergei Naryshkin, head of the SVR foreign intelligence agency.
The Kremlin said it could neither confirm nor deny the report and a Turkish official declined comment. But flight-tracking data showed a Russian plane had landed in Ankara which Yoruk Isik, an Istanbul-based geopolitical analyst at the Bosphorus Observer consultancy, said was only used by top officials.
U.S. Central Intelligence Agency Director William Burns is in Ankara to speak with his Russian intelligence counterpart to convey a message on consequences of any use of nuclear weapons by Russia, a White House official said on Monday.
News emerged this month that U.S. national security adviser Jake Sullivan has engaged in confidential talks with senior Russian officials, aimed at lowering the risk of a broader war over Ukraine.
This report was compiled using data from Reuters and Agence France-Presse
See all News Updates of the Day
DRC Clashes Continue Before Truce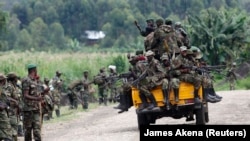 M23 rebels were still fighting and advancing in east of the Democratic Republic of Congo on Friday, civilian and military sources said, barely hours before a ceasefire was to come into force.
Clashes were under way between the M23 and a Hutu militia in Bambo, 70 kilometer north of the provincial capital Goma, local sources told AFP by telephone.

"Heavy weapons fire can be heard, people are in a panic," a civil society representative said.

A security source confirmed the firing between the M23 and combatants from the Democratic Forces for the Liberation Rwanda (FDLR), a Hutu faction present in the DRC since the Tutsi genocide in 1994.

During the morning, fighting was also reported near Bwiza, close to the former stronghold of ex-Tutsi rebel leader Laurent Nkunda, who operated there in the noughties.
DRC's President Felix Tshisekedi and Rwandan Foreign Minister Vincent Biruta attended a mini-summit in the Angola on Wednesday, which concluded with a deal on the cessation of hostilities in eastern DRC from Friday evening.

M23 rebels were then to withdraw from "occupied zones".

But the rebels, a largely DRC Tutsi militia, said Thursday the ceasefire "doesn't really concern us", and called for "direct dialogue" with DRC's government.
The rebels have recently seized swaths of territory north of Goma, a city of one million which they briefly captured 10 years ago.

Kinshasa has refused to engage with the M23, which it calls a "terrorist movement", as long as it occupies territory in the DRC.

The M23 is among scores of armed groups that have turned eastern DRC into one of Africa's most violent regions.

Many are legacies of two wars before the turn of the century that sucked in countries from the region and left millions dead.

Mali Junta Slams Rights Report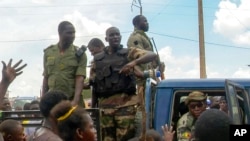 Mali's junta has hit back at a new report accusing the army and Russian paramilitaries as well as rebels of "grave crimes" against civilians, saying it "totally rejects" the charges.
"These allegations are mostly tendentious, unconnected and deliberate, with the aim of tarnishing the image of the Malian defence and security force," the junta-controlled government said in a document published late Thursday.

"Facts are presented on the basis of... witness accounts backed by no real evidence and often made under the threat of terrorist groups."
The International Federation for Human Rights (FIDH) published the report on Thursday listing an unprecedented increase this year in the number of attacks on civilians in central Mali.

"Community self-defense groups, jihadists insurgents... the Malian armed forces and their international partners in the Russian paramilitary group Wagner continue to commit grave crimes, fueling the cycle of violence," the report said.

"Attacks, summary executions, sexual violence: in central Mali the civilian population is in a living hell," it said.

The report also highlights "the impunity of those responsible" and "slowness of judicial proceedings."
The junta-issued document said the army operated "with strict respect for human rights and international humanitarian law" and any alleged violations were always followed by "diligent treatment" and investigations.

The use of Wagner's services was explained by stating the mercenaries' presence involves "Russian trainers and advisers" who have been in Bamako since 1960, according to the document, when "certain instructors" helped build the national army.
The Wagner Group has been widely condemned for actions in a number of African and other nations where crimes against humanity have been committed.
The government said it "totally rejects" the FIDH charges of persecution against the Peul community, which is often accused of supplying men for jihadist groups.

Bamako claimed the FIDH had ignored the "remarkable progress" the government has achieved against the jihadists, as well as efforts to stop impunity for crimes with changes underway in penal and military law, and a plan to set up a special court to handle gender crime.

The Malian Association for Human Rights (AMDH), which is a member of FIDH and worked with it on a report in 2018, issued a statement saying it "dissociates itself" with the latest report because of "serious failings" involving "impartiality, objectivity and loyalty".

Mali has since 2012 seen thousands killed and hundreds of thousands flee their homes, in an insurgency that has spread to neighboring Niger and Burkina Faso.
Nigerian Cops Murdered, Executive Taken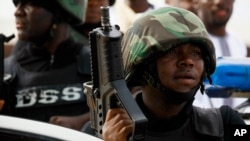 Gunmen have killed three police escorts and abducted a local oil executive in southern Nigeria's petroleum-producing Niger delta, police said Friday, in the latest violence to hit the restive region.
"Three policemen escorting the oil executive were killed while the man was abducted and taken to an unknown destination," state police spokeswoman Grace Iringe-Koko told AFP.
Dressed in military uniform, the gunmen ambushed and opened fire on the convoy of two vehicles transporting the policemen and the senior oil executive on Thursday in the Rumuokoro area of Port Harcourt, the capital of Rivers State.
The attackers posing as a military patrol in a green minivan called for the convoy to stop before opening fire, she said.

Police said the kidnapped victim was a director of Port Harcourt-based oil and gas service and maintenance company IGPES Group.

The company did not immediately respond to a request for comment.

Investigations are under way and police are searching for the attackers, Iringe-Koko said.
Police could not immediately disclose a motive for the attack and no group has claimed responsibility.

Kidnapping for ransom is a huge security problem in Nigeria, targeting both wealthy businesspeople as well as poor farmers who are often snatched in mass abductions in the north.

The Niger delta is home to Nigeria's multi-billion-dollar oil and gas resources, but residents of the region live in poverty due to decades of oil exploration, neglect and pollution.
A 2009 government-backed amnesty programme for the oil rebels has helped reduce attacks but sporadic incidents including large-scale oil theft persist in the region.

Nigeria, a member of OPEC and one of Africa's largest crude producers, is estimated to be losing as much as $2 billion to oil theft and pipeline sabotage in the region every year.

Mass Kidnapping Hits Nigeria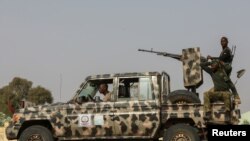 Nigerian gunmen kidnapped at least 60 people in a remote community in northwestern Zamfara state who were mostly women observing Prophet Muhammad's birthday, residents said on Thursday in the latest wave of abductions to hit the state.
Two residents said gunmen on motorbikes arrived in the Magami Tandu community of the Kaura Namoda local government area on Wednesday evening and shot sporadically.
They took mostly women who were observing Mawlid - a celebration of Prophet Muhammad's birthday, which is held between the end of September to the end of November in Nigeria's mainly northern Muslim states, the residents said
"On a daily basis there is killing or abduction, which is leaving us homeless. Please (tell) the government to act and bring justice to us," said Abdulkarim Haruna, whose wife was kidnapped.
The residents said 19 people were killed on Tuesday when gunmen attacked Ryuji community in Zamfara's Zurmi local government area, which is adjacent to Kaura Namoda.
Zamfara police spokesperson Mohammed Shehu could not be reached for comment.
Armed gangs are rife across the country's northwest where they rob or kidnap for ransom, and violence has been increasing as thinly stretched security forces often fail to stop attacks.
That has raised concern about whether residents in the region will be able to vote in the February presidential poll to choose a successor to President Muhammadu Buhari, who is constitutionally barred from running again.
New Somali - al-Shabab Clash
Militants from Somalia's al Shabaab attacked a military base in the central Galgaduud region on Friday, the group and a local government minister said, prompting violent clashes as the army and allied clans sought to repel them.
The early morning attack in the village of Qayib, which included suicide car bombs, comes as government forces have made a number of battlefield gains against al Shabab in the last three months, regaining territory with the help of clan militias.
"We had information that al Shabaab was attacking us, so last night we were all vigilant waiting for them. We hit their cars that had been loaded with bombs with rocket propelled grenades, foiling them before they entered the base," Ismail Abdulle, one of the clan fighters told Reuters from Qayib.
The information minister in Galgaduud, Ahmed Shire Falagle, said government forces had foiled the attack and was in control of Qayib.
However, Al Shabaab's military operations spokesman, Abdiasis Abu Musab, disputed that account. He said the fighters had taken Qayib, killed soldiers and stolen military vehicles. He also acknowledged al Shabaab's own forces had suffered casualties in the attack.
Both sides often give conflicting accounts of battles. Somalia's local information minister said he would provide an update on casualties later.
Somali state television, citing a ministry of information statement, also reported on Friday that 15 al Shabaab fighters had been killed in an air raid at Bulo Madino in the Lower Shabelle region.
The group has killed tens of thousands since 2006 in its fight to overthrow Somalia's Western-backed central government and implement its strict interpretation of Islamic law.
At least 120 people died in twin car bombs bombs at the education ministry in the capital Mogadishu on Oct. 29, the deadliest blasts in five years.