Business and Technology
CES 2023: Tech's Future Seen in Las Vegas
Consumer Electronics Show (CES), the world's largest consumer technology conference, is set to take place in Las Vegas from January 5-8. This annual event attracts thousands of attendees from around the globe, including tech industry leaders, startups, media, and consumers.
WASHINGTON —
CES 2023 is expected to focus on emerging technologies such as 5G connectivity, artificial intelligence, and virtual reality.
With the rapid pace of technological advancement, CES is the perfect place for attendees to get a glimpse into the future of consumer technology. Some of the products in the exhibition are not expected to hit the market any time soon.
CES attendees can expect panel discussions and keynote speeches from industry leaders discussing the latest trends and innovations.
According to the organizers, 174 countries are represented, 320 of the Fortune Global 500 companies—the top firms in the world by revenue—have registered for the event, 60% of registered guests are senior-level executives, and 41 distinct technology categories are covered.
The show's organizers aim to draw 100,000 visitors in January. The previous two gatherings witnessed a major drop in participation due to COVID-19 restrictions.
The January CES event will still have 41% fewer attendees than the live exhibition held in early 2020, before the epidemic, even if the organizers meet their target.
"In terms of CES, the companies are coming big. And they're going to be showcasing some of these solutions that were critical during the pandemic. The momentum and excitement we're seeing for the show hasn't been impact," Kinsey Fabrizio, senior vice president at the trade group Consumer Technology Association, told AP.
Some information in this report comes from the Associated Press
See all News Updates of the Day
Huge Diamond Going Under Auction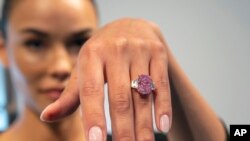 NEW YORK - A rare, vividly rosy-purple diamond, called the Eternal Pink and valued at $35 million, is set to be auctioned off by Sotheby's as part of its Magnificent Jewels sale in New York in June.
The 10.57-carat stone is being marketed as the most valuable purplish-pink diamond ever brought to auction, with the highest ever pre-auction price per carat estimate, according to Sotheby's.

"Its refined lines combined with the intensity of its color earn it a place as one of the world's most extraordinary gems," Tom Moses, executive vice president and chief laboratory and research officer at the Gemological Institute of America said of the cushion-cut diamond.

According to Sotheby's, the stone, which was mined in Botswana, is "comparable to ultimate masterpieces of art - far rarer than a Magritte or a Warhol," thanks to its clarity and lack of imperfections.

Pink diamonds are among the rarest and most sought-after gems in the world and considered a major draw for investors.

The record for highest-ever auction price for such a stone is held by the CTF Pink Star, which was sold for $71.2 million in Hong Kong in 2017.

The Williamson Pink Star diamond, which sold for $57.7 million in 2022, also in Hong Kong, holds the record for the highest price per carat, at nearly $5.2 million.

Pretoria, Unions Shake Hands on Hike
JOHANNESBURG - The majority of South Africa's public sector unions on Friday agreed to a 7.5% wage increase after five months of strike action, the government said in a statement.
The two-year, multi-term deal is significantly higher than what the government had factored into its 2023 budget and will put efforts to manage runaway public spending at risk, experts warned earlier.
The unions in the public sector represent approximately 1.3 million workers and had been taking part in varying degrees of demonstration since November 2022.
Salary negotiations began in May, with unions initially demanding a 10% increase which the government rejected.
In subsequent negotiating rounds, the unions reduced their demands to an 8% increase and the continuation of a monthly 1,000 rand ($54.71) cash payment.
The final settlement will see the cash gratuity continued for one year, the government said.
The public sector wage bill makes up about a third of total government expenditure. The treasury had factored in an annual increase of 3.3% to 2025/26.
US Inflation Index Eases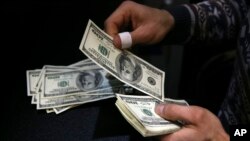 WASHINGTON - The Federal Reserve's favored measure of inflation slowed last month, providing some much-needed relief as it attempts to balance tackling higher prices with banking concerns.
The annual personal consumption expenditures price index (PCE) slowed to 5 percent in February from 5.3 percent a month earlier, with increases recorded in the cost of food, energy and goods, according to data released Friday by the Bureau of Economic Analysis.

But core PCE, which excludes volatile food and energy costs, only slowed slightly to record an annual increase of 4.6 percent in February, down from 4.7 percent in January.

While the decline in headline inflation is positive news for the Fed, it shows price rises remain elevated and well above the US central bank's long-term target of two percent.

The Fed has hiked interest rates nine times since last March in a bid to bring down rising inflation.

At its recent rate decision, Fed chair Jerome Powell suggested the central bank may only raise rates once more and then bring its current hiking cycle to a halt.

On a month-to-month basis, the PCE price index rose by 0.3 percent from January to February, half the monthly increase recorded a month earlier.

Transnet Durban Gas Pipeline Damaged, Shut
JOHANNESBURG - South Africa's Transnet has halted gas supplies through its Durban pipeline after it was damaged by an excavator, the state-owned logistics utility said on Friday.
The incident took place on Thursday afternoon when an excavator deployed to clean up waste accidentally hit the pipeline, Transnet said.
"Due to a fire on the adjacent landfill site, the Transnet Pipelines team could not access the pipeline to establish the full extent of the damage and as a safety precaution the pipeline was isolated and gas flow through the pipeline was stopped," the utility said in a statement.
Repairs to the pipeline began on Friday morning after the fire was brought under control on Thursday night, it added.
Transnet did not say when repairs could be completed but said it was working to restore supplies "as soon as possible".
The gas pipeline runs from Secunda in Mpumalanga to the port city of Durban, transporting an average 450 million cubic meters of gas per year.
Big Rate Hike for South Africa
PRETORIA - South Africa's central bank surprised markets by raising its main lending rate by a higher than expected 50 basis points to 7.75% on Thursday in a bid to tame inflation.
The rate increase was twice the 25 basis point increase expected by the majority of economists polled by Reuters. I
t triggered a surge in the rand , which extended earlier gains to rise nearly 2% against the dollar.
The South African Reserve Bank had slowed its monetary tightening in January, lifting the rate by 0.25 percentage points.

But inflation accelerated to 7.0 percent in February after slowing in previous months.

Central bank governor Lesetja Kganyago said the rate hike aims to rein in inflation "sustainably over time."
February consumer inflation in South Africa edged up to 7.0% year on year from 6.9% in January, data showed last week, signaling that rolling power cuts nationwide may be stoking price pressures.
The central bank targets inflation between 3% and 6%.
This report was sourced from Reuters and Agence France-Presse.