Business and Technology
WhatsApp Launches Chat "Communities"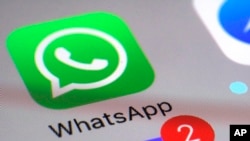 WhatsApp is globally rolling out a feature called Communities to organize various chat groups in larger structures, as well as other features such as bigger group video calls and in-chat polls, the messaging service owned by Meta Platforms said on November 3.
BENGALURU —
The WhatsApp "Communities" feature will bring together various chat groups under bigger umbrellas where administrators could send alerts to a community of thousands – a feature that could be used by workplaces or schools.
The app will now also allow chat groups to have up to 1,024 users, much higher than the 256 participants restriction it had until recently, according to a company statement.
WhatsApp rivals, including Telegram and Discord, allow thousands of members in group chats.
Other feature releases include 32-person video calling as well as in-chat polls, a common fixture on social media apps, including Meta's Facebook and Twitter.
While Meta Platforms rolls out new features to attract users, shareholders have had different perspectives on the "Facebook" parent corporation. Since the start of 2022, META shares have dropped some 70% - with a substantial plunge in October from $141 per share on October 4 to a November 3 close barely above $90.
See all News Updates of the Day
IMF Chief Warns "Slow Growth"
IMF chief Kristalina Georgieva warned Thursday that the chance of global growth dropping below two percent -- last seen during the coronavirus outbreak and the global financial crisis of 2009 -- is increasing as major economies slow.
"The probability of growth slowing even further, falling below two percent was one-in-four," said Georgieva at the Reuters NEXT conference Thursday, referring to the fund's recent expectations for 2023.

"When we look at the most recent indicators, we are concerned that this probability may be going a bit further up," she added.

The International Monetary Fund expects more than a third of the global economy to shrink this year or next, with the United States, European Union and China stalling.

Georgieva added that slowing growth in China is particularly significant.
Her comments come as the world's biggest economies grapple with fallout from Russia's invasion of Ukraine, which sent food and energy prices soaring, along with a surging inflation and China's economic forecast.
This is worrying given that the world has relied on China for a boost, with "some 35, 40 percent of global growth" coming from expansion in the world's biggest second economy.

"This is not the case now, it's not going to be the case next year," she said.

The IMF is set to give an update on its economic outlook in January, and it is among key global institutions to visit China next week for talks.

According to World Bank figures, the global economy slumped 3.3 percent in 2020 and 1.3 percent in 2009.
Swedish Firm Paying For Eskom "Misconduct"
Swedish-Swiss engineering giant ABB, which helped construct a huge power plant near Johannesburg, will pay reparations to South Africa over "criminal conduct" at the struggling power utility Eskom, prosecutors said Thursday.
"ABB has acknowledged liability and taken responsibility for the alleged criminal conduct of its employees involving contracts with Eskom," the National Prosecuting Authority (NPA) said in a statement.

It said it had finalized a settlement agreement with Asea Brown Boveri (ABB) to pay over more 2.5 billion rand ($144,000) in "punitive reparations" to South Africa.

In 2020, ABB returned 1.6 million rand ($92,000) it received for the construction of the coal-fired Kusile power station, commissioned by Eskom in 2007.

Construction of the plant, the fourth largest coal-fired generator in the world, has been fraught with allegations of graft.
"This settlement represents a bold and innovative step towards accountability... particularly in the form of restitution for the serious crimes committed at Eskom, during the state capture (corruption) period," said the NPA.
In October eight people, including the former CEO of Eskom, Matshela Koko, were arrested on corruption charges linked to a multi-million-dollar contract with the Swedish-Swiss firm.

Nearly Everyone Has a Mobile!
Nearly three quarters of people over the age of 10 now own a mobile phone, potentially opening the way to broader internet use, the United Nations said Wednesday.
The UN's International Telecommunication Union has provided its first estimate of regional and global ownership, revealing that 73 percent of the world's population over 10 years of age owned a cellphone in 2022.

"Mobile phones are the most common gateway to internet use, with the percentage of ownership serving as an indicator of internet availability and access," the ITU said as it launched its annual report on global connectivity.
The ITU found that mobile phone ownership had grown steadily in recent years, estimating it had risen from under 67 percent in 2019.

The online population also saw a big "bump" up in 2020 during the first year of the Covid-19 pandemic, ITU senior economist Thierry Geiger told AFP.

Unsurprisingly, ownership was highest in wealthy countries, where 95 percent of people currently own a mobile phone, and lowest in low-income countries, where only 49 percent do, the ITU said.
"Mobile phones are the most common gateway to internet use, with the percentage of ownership serving as an indicator of internet availability and access," the ITU said as it launched its annual report on global connectivity.

But it cautioned that mobile phone ownership remains higher than internet use -- especially in lower-income countries, with broadband usually more expensive than cellular-only services.
The UN's telecoms agency says roughly a third of the planet has still never been online.

But the online population has been increasing and an estimated 5.3 billion people, or 66 percent of people worldwide, are now using the internet.

"Access to the internet is increasing, but not as quickly and evenly across the world as it needs to," Doreen Bogdan-Martin, who heads the ITU's telecommunications development division and will soon take over as agency chief, said in the statement.

"Too many people still live in digital darkness."
According to Wednesday's report, the global median price of mobile-broadband services dropped from 1.9 percent of average gross national income (GNI) per capita last year to 1.5 percent now.

However, the cost still remains too high for the average consumer in most low-income economies, where a basic mobile data plan is estimated to cost nine percent of GNI per capita.

The ITU called on all countries to ensure affordable broadband access, defined as costing less than two percent of GNI per capita.

While the cost of connectivity appears to be continuing its decline, Geiger warned rising costs for other necessities could force many to move offline.

The ITU report also found a significant gender gap: some 259 million fewer women have access to the internet than men.

Only 63 percent of women are currently using the internet, compared to 69 percent of men, it said.
U.S. Hiring Slows
US employers eased their hiring pace in November, with job creation slowing the most since early 2021, as the central bank's interest rate hikes trickle through the economy, payroll firm ADP said Wednesday.
November job creation slowed by the most since January 2021, ADP said.
Private employment rose by 127,000 jobs this month, much less than analysts expected and below the 239,000-job increase in October, with firms no longer in "hyper-replacement mode," the survey showed.
"Turning points can be hard to capture in the labor market, but our data suggest that Federal Reserve tightening is having an impact on job creation and pay gains," said ADP chief economist Nela Richardson in a statement.
The slowdown was led by construction and other sectors sensitive to interest rate hikes, while consumer-facing segments such as health care and hospitality proved to be "bright spots."
Employees saw annual pay gains moderate further to 7.6 percent in November, according to ADP's recently revamped report which includes wage data.

For those who changed jobs, the median change in annual pay was up 15.1 percent, but the report noted that job changers had the smallest increase in pay since January as well.

Richardson added that the post-pandemic recovery is also "stabilizing" with fewer people quitting their jobs.
"Overall, the trend in job growth remains positive and the labor market remains tight. But there are some initial signs of softening," said economist Rubeela Farooqi of High Frequency Economics in a note.

While she expects job growth to remain positive for now, the pace is "expected to slow further in response to Fed hikes, which will... slow demand and economic activity over time."

The ADP data also comes before key employment figure is released by the Labor Department on Friday.

U.S. Third-Quarter GDP Up
The US economy grew more than initially reported in the third quarter this year, with government data released Wednesday reflecting upward revisions to retail spending and some forms of investment.
GDP growth in the July to September period came in at 2.9 percent, annualized, better than the 2.6 percent figure reported in October by the Commerce Department.

It was the first expansion this year, after two quarters of negative growth that deepened fears of a recession in the world's biggest economy.
The latest estimate "primarily reflected upward revisions to consumer spending and nonresidential fixed investment," the Commerce Department said Wednesday.

But this was partially offset by private inventory investment that was lower than expected, while imports decreased more than earlier estimated, the statement added.

The pick-up came days before midterm elections in the United States, in welcome news for President Joe Biden, but analysts have cautioned of a less rosy path ahead, saying that the leap seen in exports was unsustainable.
Economist Oren Klachkin cautioned that the headline figure "masks cracks beneath the surface." A downward revision to imports meant net trade offered an "even heftier" boost to growth, he added in a note.

He added that the report also offered an early look at how companies fared in the last quarter, noting that profits "fared relatively well" despite a challenging environment.

"Despite higher borrowing costs and prices, household spending - the driver of the economy - appears to be holding," added economist Rubeela Farooqi of High Frequency Economics in an analysis.

While economists expect this to be a positive trend in the near-term, they expect growth to follow a slower path as moves to cool the economy and bring down inflation bite.