Conflict
Ukraine Strives to Retake Kherson
Ukraine stepped up its drive Thursday to retake the Russian-controlled south of the country by trying to bomb and isolate Russian troops in hard-to-resupply areas, but said it saw evidence that Moscow was redeploying its forces to defend the territory.
KYIV —
Ukraine, which describes Russia's actions as an imperial-style war of conquest, said on Thursday its planes had struck five Russian strongholds around the city of Kherson and another city in the area.
British military intelligence, which helps Ukraine, said it was likely that Ukrainian forces had also established a bridgehead south of a river which runs along the wider Kherson region's northern border.
"Ukraine's counter-offensive in Kherson is gathering momentum," it said in a statement.
British intelligence said the strategy was starting to isolate Russian forces in the Kherson region.
"Russia's 49th Army, stationed on the west bank of the Dnipro River, now looks highly vulnerable," it said in an intelligence bulletin.
Kherson city was now virtually cut off from the other territories occupied by Russia.
"Its loss would severely undermine Russia's attempts to paint the occupation as a success," it said.
A Ukrainian strike on Wednesday on the Antonivskyi bridge, the sole span serving Kherson city, prompted its closure to traffic. That forced Russia to open a ferry service, the route of which it said would constantly change for security reasons.
Ukraine says it has retaken some small settlements on the region's northern edge in recent weeks as it tries to push Russian forces back, a potential prelude to what Kyiv has billed as a major counter-offensive to retake the south.
Russia said on Thursday it was unfazed, with the defense ministry saying its planes had attacked a Ukrainian infantry brigade in the far north of the Kherson region and killed more than 130 of its soldiers in the last 24 hours.
Kirill Stremousov, the deputy head of the Russian-appointed military-civilian administration running the Kherson region, has also dismissed Western and Ukrainian assessments of the battlefield situation.
"(Ukrainian President Volodymyr) Zelenskiy's statement that Kherson region will be liberated in three to six weeks is...a lie. All these counter-offensives that result in a large number of Ukrainian casualties are coming to nothing," Stremousov told Russia's RIA news agency on Wednesday.
Russia continues to carry out its own daily strikes against targets across Ukraine.
Five people were killed and 25 wounded in a Russian missile strike on a flight school in the central Ukrainian city of Kropyvnytskyi on Thursday, the regional governor said.
Fierce fighting is also underway in eastern Ukraine where Russia is trying to take control of the entirety of the industrialized Donbas region.
Ukraine confirmed late on Wednesday that Russian forces had captured the Soviet-era coal-fired Vuhlehirsk power plant, Ukraine's second-largest, in what was Moscow's first significant gain in Donbas in more than three weeks. Kyiv played down the importance of the setback.
See all News Updates of the Day
EU Gives Mozambique Security Big Boost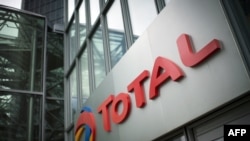 The European Union is planning a five-fold increase in financial support to an African military mission in Mozambique, an internal EU document shows, as Islamist attacks threaten gas projects meant to reduce the EU's reliance on Russian energy.
The European External Action Service (EEAS), the EU's de facto foreign ministry, recommends 15 million euros ($15.3 million) of EU funding to 2024 for the mission of the Southern African Development Community's (SADC), a bloc of 16 African nations of which half a dozen sent troops to Mozambique.
The mission is expected to be extended for six or twelve months at a SADC summit in Kinshasa starting on Wednesday, according to the document, which adds that EU support for the Rwandan mission would also be proposed in the coming months.
The fresh EU support would be limited to "equipment not designed to deliver lethal force," including radars, mine detectors, boats and medical supplies, the EU document said, in spite of SADC's needs for lethal material.
An EU spokesperson confirmed additional financial support to the SADC mission had been proposed, but declined to comment further as the matter was still being discussed by EU governments.
The funding is also meant to discourage local authorities from seeking help again from Russia, or from China.
The EU is also supporting the training of Mozambique military forces through its own defense mission in the country.
The proposal needs the backing of the 27 EU governments, whose military experts are scheduled to hold a regular meeting on Aug. 25.
A SADC official also confirmed a request for EU support, but added SADC countries would continue to provide key financial support to the mission.
French oil giant Total is leading an international consortium to extract gas off north Mozambique's shores and liquefy it at an LNG plant under construction, from where it would be exported to Europe and Asia.
Despite delays caused by militant activity, Total still plans to begin production in 2024 from gas reserves estimated in trillions of cubic feet (tcf), more than the amount of gas the EU imports annually from Russia.
Italian oil firm ENI expects to begin shipments from a nearby offshore gas field this year, using a floating LNG terminal which can process only limited amounts of gas.
Other major oil firms, including U.S. giant ExxonMobil are also operating in the region.
The energy squeeze due to the Ukraine war has added impetus to Europe's scramble for gas off Mozambique's northern coast, where Western oil firms are planning to build a massive liquefied natural gas (LNG) terminal.
Mozambique has the third largest proven gas reserves in Africa, after Nigeria and Algeria. The EU fears that without support for the military interventions, Mozambique may again lose control of its restive north.
Africa-Bound Grain Ship Sailing
A UN-chartered vessel laden with grain set off from Ukraine for Africa on Tuesday following a deal to relieve a global food crisis, the ministry in charge of shipments said.
The MV Brave Commander departed from the Black Sea port of Pivdennyi and will sail to Djibouti "for delivery to Ethiopia", the infrastructure ministry said on Telegram.

The ship is loaded with 23,000 tons of wheat.

It is the first ship chartered by the UN World Food Program (WFP) to leave Ukraine since Russia's invasion began in February.

The government has said it is hoping there will be two or three similar shipments soon.
he first commercial ship carrying grain left on August 1.

The WFP says a record 345 million people in 82 countries face acute food insecurity and up to 50 million people in 45 countries are on the brink of famine and risk being tipped over the edge without humanitarian support.

"We are definitely planning other ships to leave the ports of Ukraine, to help people around the world," Marianne Ward, WFP deputy country director in Ukraine, told journalists earlier while the ship was being loaded at the weekend.

"This should just be the first of many humanitarian ships to leave the ports," she said.
Kyiv and Moscow agreed a deal brokered by the UN and Turkey last month to unblock Black Sea grain deliveries after Russia's invasion.

The agreement lifted a Russian blockade of Ukraine's ports and established safe corridors through the naval mines laid by Kyiv.
Ukraine and Russia are two of the world's biggest grain exporters.
Mali Prosecutes Ivorian Soldiers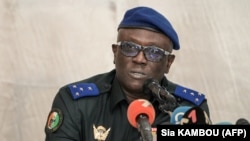 Malian prosecutors on Monday confirmed they had filed charges against 49 Ivorian troops, including for alleged conspiracy and harm to state security, in a case that has fuelled tensions between the two countries.
Judicial sources in Bamako on Sunday, speaking on condition of anonymity, had said charges had been filed against the group, but negotiations between Ivory Coast and Mali were continuing.

In a statement, public prosecutor Samba Sissoko said the 49 had been ordered to be held in custody after being charged on August 10, 11 and 12.

The charges comprise "criminal association, attacking and plotting against the government, harming state external security, holding, carrying and transporting combat weapons and complicity in these crimes," Sissoko said.

The soldiers were arrested after their arrival at Bamako airport on July 10.

Ivory Coast says they were sent on a routine rotation for personnel who provide backup services for the UN peacekeeping mission in Mali, MINUSMA, and has called for their release.

Mali's military-led government says the troops had had no orders or supporting documents and has described them as "mercenaries".

Negotiations are underway to free the soldiers, with Togolese President Faure Gnassingbe acting as a mediator, but a first round of talks, held in the Togolese capital Lome on July 28, failed to make progress.

The current president of the African Union (AU), Senegalese President Macky Sall, is expected to bring up the issue at a meeting in Bamako on Monday with junta leader Colonel Assimi Goita.

Others who have intervened are the head of the High Islamic Council of Mali, Cherif Madani Haidara; the archbishop of Bamako, Jean Zerbo; and Cherif Bouye Haidara, an influential religious leader in the southwestern town of Nioro.

A source close to the Ivorian army said Ivory Coast would await the outcome of the mediation efforts before responding.

The Malian junta has previously accused Ivory Coast of encouraging the West African regional bloc ECOWAS to toughen its sanctions against the regime following a coup in August 2020.

The sanctions -- imposed over perceived foot-dragging by the junta over the timetable to restore civilian rule -- were eventually lifted in early July.
Meanwhile, France says it has withdrawn the last of its troops from Mali, though it says it will remain in the area for further counter-insurgency operations.

More Chad Troops Die
Two Chadian troops have been killed fighting jihadists in the Lake Chad region, whose marshlands are a bolthole for Islamist fighters
"Two soldiers fell while carrying out their duty," President Mahamat Idriss Deby Itno said Monday, adding that "about 10 terrorists also died."
"Our brave forces have just repelled an attack by the shadowy Boko Haram sect in the Bol area," 300 kilometres (180 miles) from the capital N'Djamena, he said on Twitter.

An insurgency by Boko Haram jihadists erupted in northeastern Nigeria in 2009 before spreading to neighbouring Cameroon, Niger and Chad, which border the lake.

More than 36,000 people, most of them Nigerians, have died, and three million people have fled their homes, according to UN figures.

Boko Haram is fighting a dissenting group, the Islamic State West Africa Province, or ISWAP. The Chadian authorities use "Boko Haram" as a general term for jihadists.
Burundi Deploys to DRC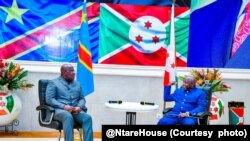 "The Burundi defense forces contingent officially entered DRC (today)... under the forces pooling framework put forward by the heads of state of the EAC," East African Community, said Lieutenant Marc Elongo, army spokesman in South Kivu province.

The contingent, comprising "a large number of soldiers," is under the command of the DRC forces and currently stationed at a training facility in the Uvira area, he told AFP.

The Burundians and their DRC counterparts "are tasked with hunting down all foreign and local armed groups in order to restore peace" in eastern Congo, he said.

South Kivu's head of military operations, General Ramazani Fundi, urged the public "to be calm and work honestly with loyalist forces in order to put an end to this activity by irregular forces," said Elongo.

In June, EAC leaders decided to set up a regional force that would work with the DRC's army to quell armed groups roaming the east of the country.

An estimated 120 armed groups are active in the mineral-rich region, many of them a legacy of wars that flared in the final years of the 20th century.

The idea of a regional force has run into criticism within DR Congo.

Opponents point to past chapters of meddling in the east by neighbors, and instead are clamoring for reforms and funding for the national armed forces.

Critics include 2018 Nobel Peace co-laureate Denis Mukwege, a gynecologist and surgeon who has treated thousands of women victims of rape in the conflict region.

The EAC comprises Burundi, the DRC, Kenya, Rwanda, South Sudan, Tanzania and Uganda.