Conflict
UK Looking for Black War Veteran's Family
LONDON - UK government leaders have appealed for relatives of one of the country's last black veterans of World War II to come forward after he died alone and apparently childless.
Born in 1926 in Jamaica, Flight Sergeant Peter Brown was one of many who signed up for the British armed forces from the country's imperial territories.

Aged only around 17, he trained in Canada and joined the Royal Air Force in September 1943, serving as a wireless operator and air gunner in Lancaster bombers, according to The Sun newspaper.

Brown died alone in his flat in London at the end of last year, and appeals have gone out for any surviving relatives in Jamaica or elsewhere to attend his funeral next week.

"Flight Sergeant Brown is an example of the selfless contribution of all Commonwealth personnel who have served the RAF," Prime Minister Rishi Sunak tweeted.

The government has arranged for an RAF trumpeter to attend the funeral, alongside a senior officer, he said.

Defense Secretary Ben Wallace also urged friends and relatives to come forward.

According to figures from the Royal Air Force Museum, some 6,000 black Caribbean men volunteered for the RAF in the war - 5,500 as ground staff and 450 as aircrew.

While many black and Asian servicemen and women suffered discrimination during the fighting, the RAF had no formal "colour bar" for officers, unlike much of the US forces then deployed to Britain.

One RAF squadron flew bombers paid for by the people of Jamaica.

Another RAF officer, Errol Walton Barrow, went on to become the first prime minister of Barbados after it won independence from Britain.
See all News Updates of the Day
Malawi: 'Rwanda Wants 55 Genocide Fugitives'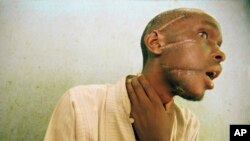 LILONGWE - Malawi's government said on Monday that Rwanda has asked it to help apprehend 55 fugitives wanted in connection with the 1994 Rwandan genocide believed to be hiding in the country.
Malawi's Minister of Homeland Security, Ken Zikhale Ng'oma, said Kigali lodged an official request for assistance as it seeks to locate the suspected "warlords."

"The Rwandan government has sought assistance from the Malawi government in identifying 55 suspects who are currently hiding in Malawi. These individuals are known warlords," Ng'oma told a press conference in the capital Lilongwe.

The suspects allegedly hiding in Malawi are wanted in connection with "the deaths of over 2,000 people in some churches," Ng'oma said, giving no further details.

Rwanda's request comes weeks after Fulgence Kayishema, one of four remaining fugitives sought by U.N. investigators for their role in the genocide, was arrested in South Africa after more than two decades on the run.

Kayishema, who used many aliases and false documents, is thought to have travelled on a Malawian passport.

Ng'oma said authorities were "conducting thorough investigations" into how the now 62-year-old acquired the document and would be providing "a comprehensive report soon."
Around 800,000 Rwandans, most of them ethnic Tutsis, were slaughtered over just 100 days in 1994 at the hands of Hutu extremists.
Wagner Claims Clash With Russian Regulars
MOSCOW - Russian private mercenary military group "Wagner" has said it has taken a soldier from Moscow's regular army captive while accusing his unit of trying to attack its mercenaries in occupied Ukraine.
Late Sunday, Wagner Group boss Yevgeny Prigozhin posted a "report" dated May 17 that alleged Russian army soldiers had been "mining roads in the rear zone of Wagner units" in Moscow-occupied eastern Ukraine.
The report said Wagner fighters were carrying out demining operations when they came under "open artillery fire coming from positions of the defense ministry."

Prigozhin then posted a video on Telegram showing a man that he alleged was a captured Russian soldier.

"I shot at a Wagner car," the man said, adding he did so "because of a personal dislike."
The man said he was a Russian lieutenant colonel from the 72nd brigade of the armed forces.

In the video, a man who was not shown on camera was interrogating the alleged soldier, who appeared to have a bruised nose.

The video did not specify how long the alleged soldier would be held captive nor the terms for his release.
This was the first time the mercenary group said it had grabbed a soldier from the official armed forces.

Prigozhin has for months decried the state of the Russian army and accused Moscow's top generals of causing excess deaths during the Kremlin's offensive in Ukraine.
Wagner has accused the regular Russian army of not providing mercenaries with adequate ammunition.
Prigozhin has also accused the Russian defense ministry of being unable to properly defend Russia's border Belgorod region, recently intensely shelled by Ukraine.
Russian Radio Hacked With Fake Putin Message
MOSCOW - Several Russian radio stations were hacked and played a fake President Vladimir Putin speech announcing an invasion from Kyiv's troops and emergency measures in three regions bordering Ukraine, the Kremlin said Monday.
The MIR radio station said the hacking, which it called "an absolute fake and a provocation," had lasted around 40 minutes.
The fake message, still circulating on social media, said that "Ukrainian troops armed to the teeth by NATO and with Washington's consent and support have invaded the Kursk, Belgorod and Bryansk" territories.

The voice, very similar to Putin's, also announced martial law, general mobilization and the evacuation of civilians in those three regions.
"This was indeed a hack," Kremlin spokesman Dmitry Peskov was cited as saying by state-run agency RIA Novosti.

"Control has already been restored."
The Belgorod region administrative center said the message was a "deep fake" aiming to "sow panic among peaceful Belgorod residents."

The Voronezh region neighboring Belgorod also warned its residents of a "hacking of radio broadcasting frequencies" and said "there is no cause for concern."

The hacking comes amid several reported incursion attempts and intense shelling in southwestern Belgorod, and as Kyiv says it is preparing a long-expected counteroffensive.
Khartoum Battered Again Monday
DUBAI - Shelling hit western areas of Sudan's capital on Monday morning after rival military factions fought through the night, residents said, with reports of deepening lawlessness in Khartoum and in the western region of Darfur.
Late on Sunday, residents reported intense fighting across the three cities that make up the nation's wider capital - Khartoum, Omdurman and Bahri - and smoke could be seen rising from several areas early on Monday.
"The neighborhood where we live in the center of Omdurman is looted publicly on a daily basis without anyone intervening to prevent it, with clashes and shelling continuing around us," said 37-year-old resident Mohamed Saleh.
In Khartoum East district, RSF troops who have spread out in neighborhoods across the capital were in full control and were looting extensively, said Waleed Adam, a resident of the area.
"You see them right in front of you, taking cars, money, gold - whatever they can get their hands on," he told Reuters by phone. "I guess it's just a matter of time until they come to my street."
The RSF says it has been working to protect civilians by arresting looters.
The war has also triggered unrest in Darfur in Sudan's far west, a region that was already suffering from mass displacement due to earlier conflict and where residents in several cities and towns have reported attacks by militias linked to Arab nomadic tribes.
On Monday, the RSF, which has its powerbase in Darfur and its origins in the Arab-dominated militias, released a video purporting to show that they had taken over the army headquarters in Kutum, a commercial hub and one of the larger towns in the state.
There was no immediate comment from the army, which had denied on Sunday that the RSF had taken the town.
There have been long communication blackouts in parts of Darfur, where aid groups have found it especially complicated to bring in new humanitarian supplies.
In El Obeid, a city 360 km southwest of Khartoum and on a key route from the capital to Darfur, residents reported large deployments of RSF forces and the closure of some roads.
Recent days have brought the first showers of the year in Khartoum, marking the start of a rainy season likely to complicate a relief effort already hampered by bureaucratic delays and logistical challenges.
In recent days at least 40 people were killed and dozens more were wounded in Kutum in North Darfur State, according to activists who monitor the region. Residents have also reported widespread looting and insecurity in the area.
Fighting between the army and the paramilitary Rapid Support Forces (RSF), who have been battling each other for more than seven weeks, intensified after the expiry late on Saturday of a ceasefire deal brokered by Saudi Arabia and the U.S.
More Northern Nigeria Attacks
KANO, NIGERIA: Armed men killed at least 30 people in weekend raids on six villages in Nigeria's north, a region regularly hit by criminal violence and clashes between communities, local police have said.
Attackers on motorcycles "killed eight people in Raka, seven in Bilingawa, six in Jaba, four in Dabagi, three in Raka Dutse and two in Tsalewa villages," Ahmad Rufai, Sokoto police spokesman said in a statement received Monday.

However, residents from two of the affected villages said 36 people were killed in the attacks which they said were reprisals for their refusal to pay protection money to the bandits.

"They (bandits) were enraged by our refusal to negotiate with them and pay them protection money as other villages have done. That was why they attacked our villages," said Musa, a subsistence farmer.

Kasimu Musa, a resident of Raka Dutse, told AFP the communities "buried 36 people yesterday (Sunday) who were killed by the bandits."

Mansur Abdullahi from nearby Gandaba village gave the same toll.

Bandits who terrorize the district launch attacks from their hideouts in nearby Tsauna and Kuyan Bana forests which stretch into neighboring Niger, Abdullahi said.

"The governments of Nigeria and Niger need to work together to fight these bandits who have established hideouts in the two forests", Abdullahi said.

Communal violence is just one security challenge facing recently sworn in President Bola Tinubu who won a February presidential ballot marred by opposition accusations of vote rigging.

The area has for several years been wracked by deadly conflict between herders and farmers over grazing and water rights.

The conflict has descended into broader criminality with gangs of so-called bandits, comprising mostly herders, carrying out deadly raids on villages to steal livestock, kidnap for ransom and burn homes after looting them.

There has been an increase in tit-for-tat killings between the bandits and vigilante groups set by local communities in recent times, prompting the state authorities to attempt peace negotiations.

Authorities and security analysts have expressed concern over alliances between the so-called bandits, who are motivated by financial gains, and jihadists waging a 14-year-old insurgency in the northeast.

During the presidential campaign, Tinubu promised that he would "accelerate the reforms commenced" under former president Muhammadu Buhari "in building a more robust, re-energized armed forces."

He said he would "recruit, train and better equip additional military, police, paramilitary and intelligence personnel."