Business and Technology
Tunisian Groceries Getting Scarce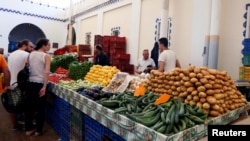 Cash-strapped Tunisia is facing a dearth of imported foodstuffs from dairy products to coffee, forcing informal rationing at supermarkets and threatening some food and beverage companies.
TUNIS —
For weeks, consumers and businesses have been struggling to find essentials such as sugar, flour and cooking oil -- a crunch experts blame on the dire financial situation of the state which has a monopoly on many staples.

Radhia Kamoun, CEO of the patisserie chain Gourmandise, says she is struggling to source key ingredients, while those that are available have surged in price.

"When the sugar crisis began, we started using less of it, and the same with coffee -- but you can't make pastries without butter," she said from her office in the capital's Ariana district.

Gourmandise, with 27 branches across the country, has had to raise its prices twice this year, she said.

The state has failed to communicate and clarify "what's going on and what's going to happen", Kamoun said, describing the situation as the worst crisis since the business was founded in 1976.

"If it carries on, we'll be forced to close shops, even though we had an expansion plan that had continued even throughout the coronavirus pandemic," she said.

Economists say the problem stems from Tunisia's woeful finances and a trading system in which the state has a monopoly on imports of commodities such as coffee, sugar, tea and rice.

It buys the products either on credit or with its foreign currency reserves, then releases them to local markets, in some cases heavily subsidising them.

But in March, ratings agency Fitch downgraded Tunisia's credit rating to CCC, citing political uncertainty and gaping budget deficits.

Since then, "many international suppliers have stopped trusting Tunisia and are demanding cash up front for products and transport," said economist Moez Hadidane.

Tunisia has been negotiating for months for a bailout loan likely worth two billion dollars from the International Monetary Fund, which is expected to demand painful economic reforms in return.

President Kais Saied, who seized far-reaching powers last year and has since focused his efforts on remaking the political system, has consistently blamed "speculators" for the shortages.

Some commentators say police raids on food storage facilities -- ostensibly targeting hoarders -- have worsened the problem as businesses are afraid to keep their usual inventories.

The upshot is that many supermarkets have started informally rationing foods, such as by limiting purchases of flour and coffee to one pack per customer.

Traders say subsidized vegetable oil is almost impossible to find, despite the government insisting it is available.

Social Affairs Minister Malek Zahi acknowledged last month that there was a crisis, blaming disrupted supply chains and price hikes on commodities and transport worldwide, largely due to Russia's invasion of Ukraine.

But economist Hadidane said global supply issues were simply exacerbating existing problems mostly caused by the Tunisian state's financial woes.

"In the first six months of the year, the state spent just half the sum it spent on foodstuffs in the same period last year," Hadidane said, blaming a shortage of foreign currency.

Saied has denied that state finances are the problem, instead accusing unspecified actors of "disrupting distribution of products for political purposes" and trying to "artificially create a crisis".

Hadidane said Saied's comments "contradict his actions".

"At the same time as talking about conspiracies to justify the situation to the poor, his government is negotiating with the IMF for a bailout that will inevitably stipulate an end to subsidies on basic goods," Hadidane said.

"The question now is this: is the president brave enough to move forward with economic reforms?"

The next few months will be crucial for staff at the Tunisian Carbonated Drinks Company, which holds the local franchise to make products including Coca-Cola.

Late last month, a sugar shortage forced it to pause production, leading to lay-offs at its southern Tunis factory, which employs some 600 people.

Dozens of angry workers had protested to demand their reinstatement, union head Souheil Boukhris said.

The company told AFP employees had returned and production had resumed. But Boukhris said output was still reduced as the state was only allowing the factory to buy a fifth of its daily sugar needs of 60 tons.

A prolonged crisis would threaten jobs, he said.

Delivery drivers queued up outside the factory this week for crates of drinks, many waiting hours to collect much-reduced quantities.

Boukhris demanded more transparency from the authorities.

"The state should tell us whether it can solve this problem or not," he said, "instead of giving us the promises we've been hearing for weeks but which haven't materialized."

See all News Updates of the Day
Africa Air Controllers Pause Strike
A 48-hour strike by air traffic controllers in West and Central Africa has been suspended, their union said on Saturday.
The Union of Air Traffic Controllers' Unions (USYCAA), which called the wildcat strike, said in a statement it decided suspend its strike notice for 10 days immediately so as to allow for negotiations.
The strike, which started on Friday, has disrupted flights across the region and left hundreds of passengers stranded at airports on Saturday.
"Air traffic services will be provided in all air spaces and airports managed by ASECNA from today Saturday, September 24, 2022 at 1200 GMT," the statement said.
The controllers work under the Agency for Aerial Navigation Safety in Africa and Madagascar (ASECNA).
Paul Francois Gomis, a leader of the Senegalese air traffic controllers told Reuters that ASECNA staff demand better working and pay conditions. He said the Dakar airport air traffic controllers are short-staffed with only 60 people working when, he asserts, 80 are really needed.
Air Controller Strike Threatens Africa Travel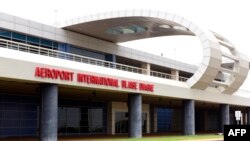 A 48-hour strike planned by some staff of French-speaking West Africa and Madagascar aviation safety agency ASECNA starting on Friday, could impact some flight operations in the region, the agency said in a statement on Thursday.
ASECNA said two of its six flight information regions could be affected by the strike despite court decisions and government bans on the strike in Togo, Chad, Central African Republic, Congo and Senegal.
"ASECNA is under the threat of a strike decided by the Union of Trade Unions of Air Controllers, a clandestine organization which is not recognised by any of the member states of the agency," it said in the statement.
The 18-member states organisation manages air traffic control in an area covering 16.1 million square kilometres of airspace.
"The Niamey flight information region is expected to be impacted," ASECNA said, urging passengers to check updated flight information and so-called Notice-to-Airmen (NOTAM) it will publish on its website. It added that a Niger court decision on the legality of the strike was expected.
It added that there were also risks with the airspace controlled by the Brazzaville, Congo flight information region due to the planned strike. It gave no further details on the risks, but added that a Congo government decision was also expected.
On Thursday, a court in Senegal suspended the call to strike by air traffic controllers in Senegal and Ivory Coast, the agency said.
But Paul Francois Gomis, a leader of the striking Senegalese air traffic controllers told Reuters that they are maintaining their decision to go on strike from 0800 GMT on Friday.
Gomis said ASECNA staff are demanding better working and pay conditions. He said the Dakar airport Air traffic controllers are short-staffed with only 60 people working where 80 are really needed.
Dakar airport authorities could not be reached for comments.
South Africa Joins Rate Hike Round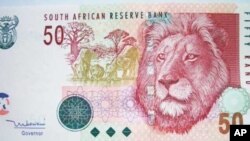 South Africa's central bank on Thursday raised its benchmark interest rate by three-quarters of a percentage point to 6.25 percent in a bid to fight inflation. The move follows interest rate hikes by a number of other nations in recent days.
The rate hike follows a similar 0.75 percent boost in July -- the highest in a decade.

That, as inflation soared to 7.8 percent in July, near a 13-year record high.

The South African Reserve Bank, in announcing the hike, voiced concerns over high inflation and weak economic growth.

"The Monetary Policy Committee decided to increase the repurchase rate by 75 basis points to 6.25 percent per year," bank governor Lesetja Kganyago said.

"The level of the repurchase rate is now closer to the level prevailing before the start of the pandemic," he said.

The move is the fifth rate hike in a row.

Nigeria's Public Debt Grows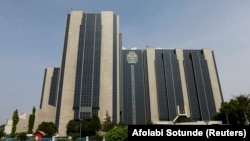 Nigeria's total public debt rose 3% to $103.3 billion in the second quarter of this year, largely driven by local borrowing to finance the budget deficit, the Debt Management Office (DMO) said.
The DMO said in its latest data, seen by Reuters on Tuesday, that public debt increased from $100.07 billion as of March this year to $103.3 billion by the end of June.
Although the debt constitutes 23% of the country's gross domestic product - within the government's self-imposed limit of 40% - Nigeria's debt repayment costs are rising while revenues are shrinking.
Between January and April, Nigeria spent more money to service its debt than it raised as revenue.
Nigeria's deficit has grown this year due to the high cost of a fuel subsidy at a time when oil revenue has fallen due to crude theft and vandalism of pipelines.
Petro Nicking "Treason" - Nigerian Lawmaker
Crude oil theft in Nigeria, which is blamed for throttling output and exports, is tantamount to treason that should be punished by the stiffest possible penalty, the Speaker of the House of Representatives said on Tuesday.
Femi Gbajabiamila said Nigeria's crude exports were at their lowest in two decades, blaming it on crude theft that he described as "treason against our country".
Oil production fell below 1 million barrels per day in August, figures from the regulator show.
"Those who seek to impoverish our country in this manner have declared war against the Nigerian people," he told legislators when reconvening the House of Representatives after a two-month break.
"The government's response must be sufficient to convince them of the error of their ways and deter others who might be tempted to join in their treason."
President Muhammadu Buhari last month expressed concern over large-scale theft of crude oil, saying it was affecting the country's revenue "enormously."