Business and Technology
Tik Tok Settlement Allows Opt-Outs
In a boon for consumers, the judge overseeing a $92 million class action settlement of claims that TikTok Inc improperly harvested users' private data ruled on Thursday that 851 class members can opt out of the deal, despite TikTok's claims that the opt-outs were improperly solicited.
CHICAGO —
Some members of the privacy class-action lawsuit against China's social media company believe they can recover more from TikTok in individual arbitration -- and Thursday's ruling from U.S. District Judge John Lee of Chicago means that 851 of them can attempt to do just that.
About 1.2 million TikTok users submitted claims, according to Thursday's decision, out of an estimated 89 million TikTok users in the class, for an overall claims rate of 1.4%. (The claims rate was higher, 13%, for a subclass of Illinois residents who alleged violations of the state's biometric privacy law.)
Judge Lee granted final approval to the $92 million nationwide settlement with video sharing service TikTok and its parent, ByteDance Inc, on Thursday. The judge also awarded about $29 million in fees to class counsel from Lynch Carpenter; Bird Marella Boxer Wolpert Nessim Drooks Lincenberg & Rhow; FeganScott and a host of other plaintiffs' firms that did work for the class that launched the suit.
TikTok has denied harvesting biometric data at all and has said it did not compromise users' privacy.
A handful of plaintiffs' firms had objected to the deal's stringent rules for opt-outs, arguing that law firms should instead be permitted to opt out their clients en masse, via a single electronic filing, rather than advising their clients to complete, sign and submit individual opt-out forms. Lee nixed that request.
Tik Tok defense lawyers at Wilson, Sonsini, Goodrich, & Rosati had argued that the plaintiffs' firms had improperly solicited clients with deceptive ads, then used internet technology to obtain electronic "signatures" from potentially unwitting class members.
"This technology does not change the fact that these firms are still soliciting and submitting opt-out requests en masse to disrupt the court-approved settlement," the TikTok brief argued. "All of the same concerns discussed with traditional mass opt-outs still apply to these mass-auto-generated individual electronic opt-outs."
But the TikTok opt-out plaintiffs' firms said their situation is not analogous. In a strong response to TikTok, they said they didn't use deceptive ads – and that if anyone is being deceptive, it's TikTok, which accused them of running one ad they had nothing to do with and claiming another solicitation was misleading when, in fact, it contained no misrepresentations.
TikTok's "speculative and unprofessional attacks," the plaintiffs' firms said, were really just an attempt to stymie class members trying to exercise their contractual right to arbitrate. "In TikTok's view, absentee class members not only should be deprived of their due process rights to opt out, they also lose a right to hire counsel," the brief said. "This position is contrary to the law, ethics and reason."
TikTok lawyer Tony Weibell of Wilson Sonsini declined to provide a statement on the opt-out issue. Opt-out lawyers Yana Hart of Clarkson, Michael Kind of Kind Law and Joshua Swigart didn't respond to email requests for comment.
See all News Updates of the Day
Africa Air Controllers Pause Strike
A 48-hour strike by air traffic controllers in West and Central Africa has been suspended, their union said on Saturday.
The Union of Air Traffic Controllers' Unions (USYCAA), which called the wildcat strike, said in a statement it decided suspend its strike notice for 10 days immediately so as to allow for negotiations.
The strike, which started on Friday, has disrupted flights across the region and left hundreds of passengers stranded at airports on Saturday.
"Air traffic services will be provided in all air spaces and airports managed by ASECNA from today Saturday, September 24, 2022 at 1200 GMT," the statement said.
The controllers work under the Agency for Aerial Navigation Safety in Africa and Madagascar (ASECNA).
Paul Francois Gomis, a leader of the Senegalese air traffic controllers told Reuters that ASECNA staff demand better working and pay conditions. He said the Dakar airport air traffic controllers are short-staffed with only 60 people working when, he asserts, 80 are really needed.
Air Controller Strike Threatens Africa Travel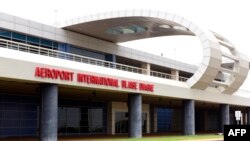 A 48-hour strike planned by some staff of French-speaking West Africa and Madagascar aviation safety agency ASECNA starting on Friday, could impact some flight operations in the region, the agency said in a statement on Thursday.
ASECNA said two of its six flight information regions could be affected by the strike despite court decisions and government bans on the strike in Togo, Chad, Central African Republic, Congo and Senegal.
"ASECNA is under the threat of a strike decided by the Union of Trade Unions of Air Controllers, a clandestine organization which is not recognised by any of the member states of the agency," it said in the statement.
The 18-member states organisation manages air traffic control in an area covering 16.1 million square kilometres of airspace.
"The Niamey flight information region is expected to be impacted," ASECNA said, urging passengers to check updated flight information and so-called Notice-to-Airmen (NOTAM) it will publish on its website. It added that a Niger court decision on the legality of the strike was expected.
It added that there were also risks with the airspace controlled by the Brazzaville, Congo flight information region due to the planned strike. It gave no further details on the risks, but added that a Congo government decision was also expected.
On Thursday, a court in Senegal suspended the call to strike by air traffic controllers in Senegal and Ivory Coast, the agency said.
But Paul Francois Gomis, a leader of the striking Senegalese air traffic controllers told Reuters that they are maintaining their decision to go on strike from 0800 GMT on Friday.
Gomis said ASECNA staff are demanding better working and pay conditions. He said the Dakar airport Air traffic controllers are short-staffed with only 60 people working where 80 are really needed.
Dakar airport authorities could not be reached for comments.
South Africa Joins Rate Hike Round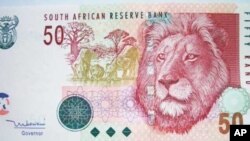 South Africa's central bank on Thursday raised its benchmark interest rate by three-quarters of a percentage point to 6.25 percent in a bid to fight inflation. The move follows interest rate hikes by a number of other nations in recent days.
The rate hike follows a similar 0.75 percent boost in July -- the highest in a decade.

That, as inflation soared to 7.8 percent in July, near a 13-year record high.

The South African Reserve Bank, in announcing the hike, voiced concerns over high inflation and weak economic growth.

"The Monetary Policy Committee decided to increase the repurchase rate by 75 basis points to 6.25 percent per year," bank governor Lesetja Kganyago said.

"The level of the repurchase rate is now closer to the level prevailing before the start of the pandemic," he said.

The move is the fifth rate hike in a row.

Nigeria's Public Debt Grows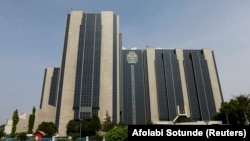 Nigeria's total public debt rose 3% to $103.3 billion in the second quarter of this year, largely driven by local borrowing to finance the budget deficit, the Debt Management Office (DMO) said.
The DMO said in its latest data, seen by Reuters on Tuesday, that public debt increased from $100.07 billion as of March this year to $103.3 billion by the end of June.
Although the debt constitutes 23% of the country's gross domestic product - within the government's self-imposed limit of 40% - Nigeria's debt repayment costs are rising while revenues are shrinking.
Between January and April, Nigeria spent more money to service its debt than it raised as revenue.
Nigeria's deficit has grown this year due to the high cost of a fuel subsidy at a time when oil revenue has fallen due to crude theft and vandalism of pipelines.
Petro Nicking "Treason" - Nigerian Lawmaker
Crude oil theft in Nigeria, which is blamed for throttling output and exports, is tantamount to treason that should be punished by the stiffest possible penalty, the Speaker of the House of Representatives said on Tuesday.
Femi Gbajabiamila said Nigeria's crude exports were at their lowest in two decades, blaming it on crude theft that he described as "treason against our country".
Oil production fell below 1 million barrels per day in August, figures from the regulator show.
"Those who seek to impoverish our country in this manner have declared war against the Nigerian people," he told legislators when reconvening the House of Representatives after a two-month break.
"The government's response must be sufficient to convince them of the error of their ways and deter others who might be tempted to join in their treason."
President Muhammadu Buhari last month expressed concern over large-scale theft of crude oil, saying it was affecting the country's revenue "enormously."