Conflict
Tigray Peace Top 2023 Task
This new year will be key to determining whether the ceasefire reached in November can deliver a lasting peace in northern Ethiopia's Tigray region.
NAIROBI —
On Nov. 2, Ethiopia's federal government and the Tigray People's Liberation Front (TPLF), a guerrilla force-turned political party that dominates the region, agreed to stop fighting following African Union-mediated talks.
The truce has enabled international aid deliveries to resume to parts of Tigray. Last week, state-owned Ethiopian Airlines resumed to Tigray's capital.
The two-year-long war caused a dire humanitarian crisis, killing tens of thousands, leaving millions in severe need of food and threatening the stability of Africa's second-most populous country.
But the prospects for peace remain uncertain.
The TPLF, which dominated Ethiopia for nearly three decades before Prime Minister Abiy Ahmed took office in 2018, accuses his government of wanting to centralize power at the expense of regions. Abiy accuses the TPLF of trying to regain national power. Each side rejects the other's narrative.
Major issues remain to be resolved, including the withdrawal of Eritrean and other forces that have fought alongside the government and the future of disputed territory claimed by both Tigray and the neighboring region of Amhara.
Although Eritrea, a sworn enemy of the TPLF that has fought on the side of Abiy's government, began withdrawing some of its forces from two major Tigray towns recently, it is not yet clear whether its troops will pull out of Tigray altogether.
Until they do, diplomats and analysts worry Tigray forces will refuse to disarm, risking a resumption of hostilities.
Human rights violations by all sides - including extrajudicial killings, rapes and looting - have been documented by United Nations agencies, Ethiopia's state appointed human rights commission and media, including Reuters. All sides deny the allegations.
International partners are heavily invested in ending the war. The AU, Kenya and South Africa helped mediate the truce and are keen to deliver an African solution to the problem. The United States has said it will not hesitate to impose sanctions on parties that fail to abide by the truce.
Ethiopia, seeking to revive interest from foreign investors, has restarted the sale of a 40% stake in state-owned Ethio Telecom and a separate plan to issue a second full telecoms license.
It is also targeting a debt restructuring under the Group of 20's Common Framework and has asked the International Monetary Fund for a new loan program, but progress has been complicated by the conflict.
See all News Updates of the Day
"No Warplanes for Ukraine" - Germany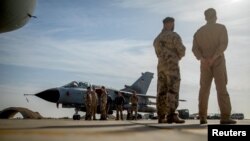 German Defense Minister Boris Pistorius has ruled out the possibility that Berlin would send fighter aircraft to Ukraine to use against Russian invaders. The turn-down followed Germany's agreement to send front-line Leopard 2 tanks to Kyiv.
"Fighter aircrafts are much more complex systems than main battle tanks and have a completely different range and firepower. We would be venture into dimensions that I would currently warn against," Pistorius said in the interview with Sueddeutsche Zeitung published on Friday.
Pistorius, who took office last week after his predecessor resigned, said Germany would also need to raise its annual regular defense spending from the current level of around 50 billion euros.
Germany also needs to replenish its military hardware stocks, including replacements for the 14 Leopard tanks that Berlin agreed to send to Ukraine to help repel Russia's invasion, the new defense chief said.
Germany has been hesitant in its aid to Ukraine, waiting until the United States committed its front-line M1 Abrams tanks to Kyiv before allowing German tanks to go not only from Germany, but also, from countries that Berlin has supplied those same tanks to.
Burkina Suffers Twin Terrors
At least 10 civilians were killed in two attacks by suspected jihadists in the Burkina Faso town of Dassa, security and local sources told AFP on Friday.
Late on Thursday, two groups of armed men attacked two areas in Dassa, a commune in west-central Burkina Faso around 140 kilometers west of the capital Ouagadougou, killing 12 civilians according to a resident who spoke to AFP.
A security source confirmed the two attacks, but said there was "a provisional toll of around 10 victims."
Thousands of troops, police and civilians have been killed and around two million people have fled their homes since jihadists launched an insurgency from neighboring Mali in 2015.

More than a third of the country lies beyond the control of the government, and frustration within the army at the mounting toll triggered two coups last year.

Burkinabe's ruling junta confirmed Monday that it had told France to withdraw within a month its contingent of some 400 troops currently stationed in the country to assist against the insurgents.

France said Thursday that it was recalling its ambassador from Burkina Faso, a day after agreeing to the demand to pull its troops
Tanzania Buries Young Wagner Fighter
Hundreds of Tanzanians attended an emotional memorial ceremony on Friday for a student who was killed fighting for Russia in Ukraine after being recruited in jail.
Nemes Tarimo was serving a seven-year term for an undisclosed offense.
Russia's Wagner mercenary group recruited him for payment and the promise he would be freed after the war, Tanzanian authorities said this week.

Following his death on October 24, his body arrived in Tanzania on Friday, with tearful family members gathering at the Julius Nyerere International Airport in Dar es Salaam to receive his remains.

The short memorial service was attended by government officials as well as representatives from the opposition Chadema party, which counted Tarimo among its members.

In a eulogy, a family member said Tarimo was father to a three-year-old girl who was still in Russia.

After prayers, mourners lined up before the closed coffin, which had a framed photograph of Tarimo.

"Due to circumstances which are out of our control, we will not display the physical face of the late Tarimo," a relative told mourners.

Tarimo's uncle Dickson Muro said he spoke to the student last year.

"Tarimo called me and said he was free and promised to return home this January. He also warned that I should not call him until he does so," he said.

Tarimo's stepfather said the student had told him he had secured a job in Ukraine.

"I told him to be careful there because of war, but he told me not to worry," said Sultan Nassoro.

Chadema official Ernest Mgawe said Tarimo had bid for the party's member of parliament nomination in Dar es Salaam in 2020.

"We lost a commander," he said.

Tarimo's body will now be buried to the southern region of Mbeya.

In recent months, men have been recruited from Russian prisons to fight on the front lines in Ukraine with the promise of lucrative wages and reduced sentences.

Zambian student Lemekani Nyirenda, 23, was killed in Ukraine in September, triggering a diplomatic spat and prompting Lusaka to demand an explanation from Moscow.

EU Extends Russia Sanctions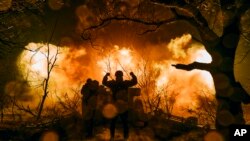 The EU extended its sanctions on Russia over the war in Ukraine for a further six months on Friday, as it mulls fresh measures against Moscow.
The sanctions, originally imposed when Moscow annexed Crimea from Ukraine in 2014, were significantly ramped up after the start of the all-out invasion in February.

They have been routinely extended for six-month periods over the past eight years. The EU has imposed nine rounds of sanctions on Moscow since it launched a major cross-border offensive last year.

The measures have included hitting Russia's key oil exports, cutting off its banks from the SWIFT global payment system, and targeting President Vladimir Putin personally.

Some eastern European nations had sought to extend the sanctions by one year this time to lock in the punishment for a longer timeframe.

The bloc's executive arm is currently working to draw up proposals for a tenth round of sanctions.

But officials warn that it is getting harder to find agreement between the EU's 27 member states on further hard-hitting measures.

Ukraine has called for the next package of sanctions to target Russia's missile industry and nuclear power sector.

The EU is also eyeing expanding sanctions on Moscow's ally Belarus, which has acted as a staging post for Russia's war effort.

Poland Amps Ukraine Tank Transfer
Poland will send an additional 60 tanks to Ukraine on top of the 14 German-made Leopard 2 tanks it has already pledged, the Polish prime minister said in an interview with Canadian television on Thursday.
"Right now, we are ready to send 60 of our modernized tanks, 30 of them PT-91. And on top of those tanks, 14 tanks, Leopard 2 tanks, from in our possession," Polish Prime Minister Mateusz Morawiecki told Canada's CTV News.
"Poland sent 250 tanks as the first country half a year ago or even more than that," he added.
The PT-91 is a Polish-made battle tank that came into service in the 1990s. It was developed from the Soviet-era T-72 range.
On Friday, Polish Deputy Defense Minister Marcin Ociepa told private broadcaster RMF FM that it would be around three months before its donated Leopard tanks reached Ukraine.
"It depends what country we are talking about, but I would estimate that we are talking about around a quarter... until those tanks can really be on Ukrainian territory and go into battle," he said.
Warsaw, which has positioned itself as one of Kyiv's staunchest allies, had pressed hard for Germany to send Leopard 2 tanks to Ukraine and to allow other countries to do so as well, a demand which Berlin agreed to on Wednesday.
Ukrainian President Volodymyr Zelenskiy thanked Poland on Twitter for the decision to supply the additional tanks. "Together we will win!", he wrote.
Canada on Thursday announced that it would send four Leopard 2 battle tanks to Ukraine. Norway has also said it will send Leopards while Spain said it was open to providing them.