Conflict
Slow Justice After South Africa Rioting
A year after the worst unrest to hit South Africa in decades, only 50 people have been convicted over the violence, with the suspected masterminds and thousands of others still awaiting trial, the defense minister said Friday.
PRETORIA —
More than 350 people were killed during almost ten days of rioting that followed the incarceration of former president Jacob Zuma last July.
The perceived lack of progress in bringing the perpetrators to justice has been a cause of frustration for relatives of the victims and many others across the country which has one of the highest murder rates in the world.
"(Authorities) continue to work around the clock investigating the crimes that were committed and building cases against those who were arrested," Defense Minister Thandi Modise said.

Modise added that more than 8,000 incidents were reported to the police leading to 5,500 arrests, with 2,435 cases still to reach court.
Modise said 3,300 cases were finalised through non-prosecution while 2,900 cases were unfounded. The remaining pending cases include 36 suspects linked to murders.

Recommendations to improve policing and intelligence were being implemented to better respond to future incidents, she added.

"We are determined not to allow this tragic episode... to repeat itself," she said.
What began as protests by Zuma's supporters quickly spiralled into riots in his home province of KwaZulu-Natal and Johannesburg that saw malls and warehouses emptied and infrastructure destroyed.

An inquiry blamed glaring failures by police and intelligence agencies for the unrest that cost the economy some 50 billion rand ($3.3-billion).
"(Police were) caught with their pants down in 2021 and have done absolutely nothing since that date to prepare themselves for a repeat of last year's violence," Andrew Whitfield, a lawmaker with the opposition Democratic Alliance party, said in a statement.
At the time, President Cyril Ramaphosa called the violence an "insurrection".
See all News Updates of the Day
Ethiopia: Tigray Rebels Lack 'Interest' in Peace Talks
The Ethiopian government on Thursday accused Tigrayan rebels of lacking interest in peace talks to end the devastating 21-month war in the north of the country, as both sides blame the other for an impasse.
Prime Minister Abiy Ahmed's government and the Tigray People's Liberation Front (TPLF) have in recent weeks raised the prospect of negotiations but key hurdles remain.
Abiy's spokeswoman Billene Seyoum said Thursday the government was continuing to call for a peaceful resolution of the conflict "despite there being not a shred of interest for peace by TPLF."
"If TPLF genuinely care for the wellbeing of Ethiopians in the Tigray region they should... sit for talks instead of looking for excuses to avoid peace," she told reporters.
Responding to the ceasefire call, TPLF spokesman Getachew Reda on Wednesday accused the government of "obfuscation" and said its troops were "actively provoking our forces in various fronts."
The TPLF also insists basic services must be restored to the region of six million people before dialogue can begin.
Both sides disagree over who should lead any negotiations.
The war which erupted in November 2020 has left Tigray facing dire food shortages and without access to basic services such as electricity, communications and banking.
Untold numbers of people have been killed and millions are in need of humanitarian assistance in Tigray and the neighboring regions of Afar and Amhara.
On Wednesday, a government committee had called for a formal ceasefire to enable the resumption of services as part of a peace proposal it planned to submit to the African Union (AU).
Billene, however, said that the ceasefire and the issue of essential services were "two separate items," adding that there needed to be a "secure environment" for federal service providers to work inside Tigray.
Fighting has eased in northern Ethiopia since a truce was declared at the end of March, allowing the resumption of desperately needed international aid convoys to Tigray after a break of three months.
Abiy's government says any negotiations must be led by the AU's Horn of Africa envoy Olusegun Obasanjo, but Tigray rebels want outgoing Kenyan President Uhuru Kenyatta to mediate.
UN Temporarily Leaves Butembo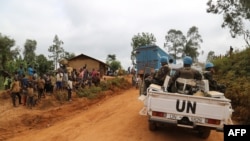 The United Nations peacekeeping mission in Democratic Republic of Congo has pulled out of one of the largest cities in the country's east after deadly protests against its failure to protect civilians, DRC and U.N. officials said Thursday.
The UN MONUSCO mission's hundreds of troops and civilian personnel in Butembo have left and discussions are planned over how to evacuate their equipment, General Constant Ndima, the military governor of North Kivu province, told reporters.
Ndeye Khady Lo, the spokesperson for the mission, which is known by its French acronym MONUSCO, said the departure was temporary.
"MONUSCO is not leaving Butembo. After consultations with local and national authorities, the mission has proceeded to a temporary redeployment of its personnel outside Butembo," she told Reuters, without saying when they might return.
Butembo, a trading hub of almost a million people, has been one of the epicentres of violent demonstrations since last month that have killed dozens, including civilians, peacekeepers and Congolese police.
The protests, which also hit the cities of Goma and Uvira, have laid bare public frustration with the U.N. peaceekepers, who have been deployed to Congo for more than two decades. MONUSCO has around 12,400 troops and costs more than $1 billion per year.
Even after a peace deal in 2003 drew a line under a five-year regional conflict in which millions died, U.N. peacekeepers and Congolese forces have been unable to stamp out persistent violence by dozens of rebel groups in the eastern areas bordering Uganda, Rwanda and Burundi.
Local residents often accuse the peacekeepers of being too passive. The protests that broke out last month were called for by a faction of the ruling party's youth wing.
In a plan drawn up last year, the United Nations laid out a set of minimum conditions that would be necessary for MONUSCO's withdrawal, which it aimed to achieve by the end of 2024.
The conditions include a reduction in the militant threat, the re-establishment of state authority in conflict zones and progess toward disarming and demobilising former rebels.
Burundi Troops Split DRC Opinions
The deployment of Burundian troops to help quell rebel groups in the Democratic Republic of Congo's east has divided local people, with some fiercely opposed but others giving a cautious welcome.
Some people are skeptical that the Burundian deployment will improve security, but others hope for an improvement.

Others are enraged that Burundi -- accused like Rwanda of past meddling in the mineral-rich region -- has been invited into the DRC.

The deployment is "one more humiliation for our nation," said 2018 Nobel Peace co-laureate Denis Mukwege, a surgeon who has treated thousands of rape victims in the region.
"Let's end the policy of outsourcing our security to destabilizing states & work on reforming our army to make it professional and operational," he said on Twitter on Tuesday.
Burundian forces began arriving in South Kivu province on Monday, pushing ahead with a plan by the seven-nation East African Community (EAC) to stabilize the chronically troubled region.
Thousands of people have died at the hands of rebels in the country's east over the past decade, and tens of thousands have fled their homes.
The DRC's armed forces, supported by a large UN peacekeeping mission, have been unable to stem the bloodshed.
Attacks have continued, even though the provinces of North Kivu and Ituri were placed under emergency measures in May last year to help the fight against the rebels.

Under this so-called "state of siege," senior civilian officials have been replaced by members of the security forces.
A campaign group in South Kivu, the New Dynamics of Civil Society, said foreign forces "only intensify rather than resolve the problem."

"The majority" of these forces have been on the DRC's territory for years, it charged, alluding to long-standing suspicions of interference by the country's neighbors.

Some nations support armed groups to "maintain chaos... (and) loot our mineral resources," it said.
Saint-Cadet Kibibi, head of civil society group Minembwe, said the Burundian troops were "welcome," although he questioned whether the forces would be able to bring peace.

"We want to see this force do its job correctly, with respect for international humanitarian law," he said.
An estimated 120 armed groups, many of them organized along ethnic lines, operate in the region.

Among the bloodiest are the Allied Democratic Forces (ADF), which the self-described Islamic State claims as its regional affiliate, and a Congolese Tutsi militia called the M23.

Some groups are historic opponents of regimes in neighboring countries and have holed up in the DRC -- which could complicate the EAC mission.

In Burundi's case, this includes the Burundian rebel groups RED Tabara and the FNL, or National Liberation Forces.
Kelvin Bwija, of a group called the Civil Society of Compatriots/Uvira-Fizi, said he hoped the operations would be given a "precise timeline" for winding up.

The EAC comprises Burundi, the DRC, Kenya, Rwanda, South Sudan, Tanzania and Uganda.

In June, the bloc's leaders decided to set up a regional force that would work alongside Congolese troops.

Kenyan and Ugandan forces will be deployed to North Kivu and Ituri, while South Sudanese forces will be sent to Haut-Uele province.

Kinshasa accuses Kigali of supporting the M23 rebel group in North Kivu and has rejected any participation of Rwandan troops in the EAC force.

"No Nuke Demilitarization" - Moscow
Russia's Foreign Ministry on Thursday dismissed a proposal by United Nations Secretary General Antonio Guterres to demilitarise the area around the Russian-controlled Zaporizhzhia nuclear power plant in southern Ukraine.
During a press briefing, Foreign Ministry spokesman Ivan Nechaev said the proposals were "unacceptable".
The Zaporizhzhia nuclear plant was captured by Russia in March, shortly after it ordered tens of thousands of troops into Ukraine in what it calls a "special military operation."
The facility remains near the frontlines, and has repeatedly come under fire in recent weeks, sparking fears of a nuclear disaster.
Both Ukraine and Russia have accused each other of shelling the plant.
The nuclear facility is the largest in Europe, and there are fears that the reactors and radioactive nuclear fuel could be hit and exposed by conflict, spreading radiation across the region, as was the case in 1986 when the Chernobyl nuclear plant, also in Ukraine, had an explosion following a test of its cooling system.
WHO Chief Suggests Racism Why Tigray Ignored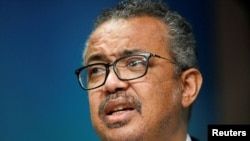 The World Health Organization's director-general Tedros Adhanom Ghebreyesus has suggested that racism is behind a lack of international attention being paid to the plight of civilians in Ethiopia's war-shattered Tigray region.
Calling it the "worst humanitarian crisis in the world", with 6 million people unable to access basic services, Tedros questioned in an emotional appeal why the situation is not getting the same attention as the Ukraine conflict.
"Maybe the reason is the color of the skin of the people," Tedros, who is from Tigray, told a virtual media briefing on Wednesday. In April this year at a briefing, he questioned whether "black and white lives" in emergencies worldwide are given equal attention.
WHO emergencies director Mike Ryan also hit out at an apparent shortage of concern about the drought and famine unfolding in the Horn of Africa, and the ensuing health crisis.
"No one seems to give a damn about what's happening in the Horn of Africa," said Ryan, speaking at a virtual media briefing on Wednesday.
The WHO called for $123.7 million to tackle the health problems resulting from growing malnutrition in the region, where around 200 million people live and millions are going hungry.