Conflict
Russia Slaughtered Ukraine Civilians - UN
At least 441 civilians were killed by Russian forces in the early days of Moscow's invasion of Ukraine, the United Nations humans rights office said on Wednesday, documenting summary executions and attacks in dozens of towns across three regions.
ZURICH —
"The acts in question were committed by Russian armed forces in control of these areas and led to the deaths of 441 civilians (341 men, 72 women, 20 boys and 8 girls)," the report said.
"The acts in question were committed by Russian armed forces in control of these areas and led to the deaths of 441 civilians (341 men, 72 women, 20 boys and 8 girls)," the report said.
Through the United Nations Human Rights Monitoring Mission in Ukraine (HRMMU), OHCHR gathered evidence from 102 towns and villages.
Overall in the war through Dec. 4, the OHCHR has counted 6,702 civilian deaths, and says its monitoring includes violations by all parties.
Willful killing of civilians is considered a grave breach of the Geneva Conventions and a war crime under the Rome Statute of the International Criminal Court (ICC).
The scope of the new report was limited to the Russian-controlled areas during the first days of fighting because of "the prevalence of allegations of killings of civilians in these three regions" and OHCHR's ability to verify and document deaths there after Russian forces withdrew.
Moscow has repeatedly denied targeting civilians in what it calls a "special military operation" to disarm its neighbor and remove dangerous nationalists from power. Ukraine and its Western allies call the attack an unprovoked land grab.
See all News Updates of the Day
"Probe Mali War Crimes" - UN
UN rights experts called Tuesday for an immediate independent probe into abuses and possible war crimes committed in Mali by government forces and Russia's Wagner group.
The UN experts said on Tuesday they had conveyed their concerns directly to Mali's government.

"We are disturbed by the apparent increased outsourcing of traditional military functions to the so-called Wagner Group in various military operations, also encompassing operations defined as counter-terrorism," they said.

"Mali must exert the utmost vigilance in prohibiting the direct participation in hostilities of all private individuals operating on its territory," they insisted.

"The use of mercenaries, mercenary-like actors and private security and military companies only exacerbates the cycle of violence and impunity prevailing in the country."
The UN experts said that since 2021 they had received "persistent and alarming accounts" of violations committed by Malian armed forces and their allies in the Mopti area and elsewhere.

Among the abuses were "horrific executions, mass graves, acts of torture, rape and sexual violence, pillaging, arbitrary detentions and enforced disappearances," they said.

The experts include members of the UN working group on the use of mercenaries, and the special rapporteurs on torture and on protecting rights while countering terrorism.

They said they were especially concerned about reports of mass executions last March at a village called Moura in central Mali.

Over several days, according to their information, "Malian forces, accompanied by military personnel believed to belong to the Wagner Group, executed several hundred people who had been rounded up."

Most of the victims were members of the Fulani, a minority, also called Peul, they said.

Human Rights Watch (HRW) in April last year had sounded the alarm over the bloodshed at Moura.

The group said 300 civilians had been killed in "the worst single atrocity" recorded in Mali's long-running conflict.

Wagner, an infamous Russian mercenary group founded in 2014, has been involved in conflicts in Africa, Latin America and the Middle East as well as Ukraine.

Earlier this month, the Uited States designated it a "transnational criminal organisation", putting it in league with Italian mafia groups and Japanese and Russian organised crime.
Oromia Murder Triggers China Alarm
A Chinese national was killed in Ethiopia's restive Oromia region, Beijing's embassy in Addis Ababa said on Tuesday, ordering its citizens to evacuate from high-risk areas.
Nine Chinese citizens came under attack on Monday evening in Gebre Guracha, some 160 kilometers north of the capital, the embassy said in a statement.

"Unfortunately, one of them was shot and died," it said, giving no further information about the incident or the Chinese nationals.

While calm has largely returned to the northern Tigray region after two years of brutal war, fighting has continued elsewhere in Oromia, the largest and most populous region of Ethiopia that is haunted by a long-running insurgency.

The Oromo, Ethiopia's largest ethnic group, have long complained of marginalization.

The rebel Oromo Liberation Army (OLA) has exploited this growing resentment to swell its ranks in its years-long battle with federal and regional forces.

But the region is beset with other ethnic fissures too, particularly between the Oromo and the Amhara, the country's second-largest ethnic grouping.

China said on Tuesday that "pernicious cases of armed attacks, kidnappings, and robberies" were rife in Oromia and bordering regions.

It called on its citizens to heighten their safety awareness and leave regions still beset by conflict.

"If you are already in a high-risk area, you should evacuate to a safe area immediately," it said.

Compared to the Tigray war, the conflict in Oromia has drawn scant international attention but still poses a threat to the stability of Africa's second most populous nation.

US Secretary of State Antony Blinken, in a call with Ethiopian Prime Minister Abiy Ahmed this month, voiced concern about the situation in Oromia.

Burkina Massacre Toll Climbing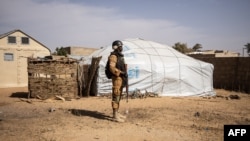 Twenty-eight people have died in new attacks by suspected jihadists in Burkina Faso, including 15 who had been abducted at the weekend, the authorities said Tuesday.
Fifteen bodies bearing bullet impacts were found on Monday near Linguekoro, a village in the western province of Comoe, regional governor Colonel Jean-Charles Some said in a statement.

They were among 24 people who were aboard two minibuses travelling from Banfora that were stopped in Linguekoro by armed men on Sunday evening, he said.

"The passengers, comprising eight men and 16 women, were told to get off," he said.

"Eight women and one man were released and told to walk to Mangodara," 30 kilometres (18 miles) away, he said.

The two minibuses were then torched and the 15 other passengers taken away.

Separately, 10 military police officers, two members of an auxiliary force supporting the army, and a civilian died in northern Burkina Faso from a "terrorist attack on Monday" in the locality of Falangoutou, the army said.

- Mounting toll -

The attacks mark a further escalation in an insurgency that has beset Burkina, one of the world's poorest and most troubled countries, for more than seven years.

Violence linked to Al-Qaeda and the Islamic State group has killed thousands of people and forced around two million more to flee their homes.

More than a third of the country lies beyond the control of the government.

Since the start of the year, at least 77 people have died, according to a toll compiled by AFP from official statements and security sources.

Also in January, 62 women and four babies were abducted as they foraged for food in Arbinda, in the north of the country.

They were rescued by the army several days later at a location 200 kilometers away, according to the state-run media.

- French pullout -

Frustration within the army at the mounting toll of security forces triggered two coups last year.

The ruling junta has fallen out with France, the country's traditional ally and military supporter, which last week said it would withdraw its troops at the authorities' request.

Around 400 French special forces are based near the capital Ouagadougou in a deployment dubbed Operation Sabre, part of a broader military presence to fight jihadists across the Sahel region.

Thousands of demonstrators rallied in the capital on Saturday to celebrate the pullout, and some called for Burkina Faso to follow Mali in weaving a close alliance with Moscow.

The junta brought in Russian paramilitaries, whom Paris and others describe as mercenaries of Russia's privately-run Wagner operation.

The Wagner group has been associated with abuses or atrocities in Mali and the Central African Republic, where France last year also withdrew its forces in the face of hostility.





Death Row Sudan Man Freed
A Sudanese man, Abdelraouf Abuzeid, facing the death penalty in connection to the killing of an American diplomat in 2008 has been released, his brother told Reuters on Monday.
Abuzeid, who was found guilty for the killing of U.S. diplomat John Granville, was released by the country's high court two years after a settlement was reached between the Sudanese government and Granville's family, his brother said.
The U.S. State Department did not immediately respond to a request for comment.
Granville was attacked on January 1, 2008 while being driven home from the British Embassy in Khartoum. He was ambushed by two gunmen, according to authorities who block his car's route.
The gunmen killed his driver, Abdel Rahman Abbas, immediately. Granville died several hours after the attack suffering from gunshots in the chest and in the neck.
A militant group, Ansar al-Tawhid (Companions of Monotheism) claimed responsibility via a post four days later on a website used by Islamists
Mali Makes Beheadings Probe Gains
Investigations into a string of beheadings in southern Mali that have shocked the Sahel nation have scored a breakthrough, judicial and police sources said on Monday.
Ten people in the cotton-growing town of Fana have been decapitated since 2018, sparking fears of ritual killings.

"We have arrested the main suspect," local prosecutor Boubacar Moussa Diarra told AFP by phone.

He is a 42-year-old unemployed Malian man with no fixed address, he said.

"The details he gave of the crimes correspond to the nature of the murders," he said.

A police official who declined to be named revealed the suspect had been arrested a year ago but had only confessed last week to the grisly murders.

Neither the prosecutor nor the police official revealed the possible motive for the crimes.

The victims included a former soldier, a housewife, a five-year-old albino child and a two-year-old girl, and had apparently nothing in common.

In most cases, their heads were found, but their blood had been collected, sparking fears of ritual murders and demands for a local police station that were met in 2019.

The local authorities have urged caution regarding theories surrounding the killings and stress that the investigation is continuing.