Conflict
Putin Puts Martial Law in Russian-Held Ukraine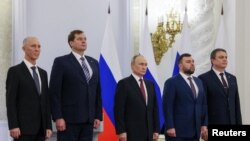 Russian President Vladimir Putin on Wednesday declared martial law in four regions of Ukraine recently annexed by Moscow as his proxy officials in a southern-held city pulled out with Ukraine troops advancing.
KYIV —
The martial law decree gives greater powers to limit movement to, from and within the areas and allows for the residents of those territories to be moved to "safe zones."
Putin's decree to introduce military rule in the Moscow-controlled regions also gives additional power to authorities in Russian border areas and comes after a string of battlefield defeats.

"We are working on solving very complex large-scale tasks to ensure security and protect the future of Russia," Putin said.
Pro-Kremlin officials meanwhile said they were pulling out of the key southern Ukraine city of Kherson on Wednesday, as Kyiv's forces advanced on territory in Russian hands since the war's earliest days.
"The entire administration is already moving today," to the eastern bank of the Dnieper River, the Kherson region's Moscow-installed head, Vladimir Saldo, told Russian state television.
Pro-Russian officials have said civilians would only be allowed to leave towards Russia or Russian-held parts of Ukraine.
Local officials said they were planning to move up to 60,000 civilians from the city of Kherson over a period of around six days.

However, Ukrainian forces have targeted bridges across the river to disrupt supply lines so Russian-installed officials said the evacuations were being done with ferries.
Andriy Yermak, the Ukrainian presidency's chief of staff, called the moves a "propaganda show" and accused Russia of "trying to scare the people of Kherson".

Ukrainian forces "do not fire at Ukrainian cities," Yermak wrote on Telegram.
Meanwhile, Moscow has been building up its defenses in the territory it still holds.

Russia's Wagner mercenary group said it was working on building a fortified line of defense in Ukraine's eastern Lugansk region.

"It is a multi-level and layered defense," the group's founder Yevgeny Prigozhin said on the social media of his company "Concord."

Ukraine said Wednesday it had shot down 223 Iranian-made drones fielded by Moscow's forces since mid-September.

But the Kremlin has said it has no knowledge of its army using Iranian drones in Ukraine and Tehran has said the claims that it is providing Russia with weapons are "baseless".

Nabila Massrali, spokeswoman for EU foreign policy chief Josep Borrell, said the EU has "sufficient evidence" that Tehran was supplying Russia with drones and would prepare fresh sanctions on Iran.
See all News Updates of the Day
Nigeria Restores Attacked Train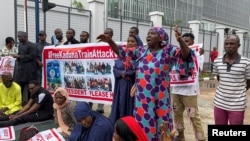 Nigeria on Monday resumed a train service linking the capital with a northern city, eight months after it was suspended following one of the country's most high-profile attacks.
An AFP reporter at the railway station in Abuja on Monday said the train departed the nation's capital at around 10:00 am (0900 GMT) for the two-hour journey to Kaduna.

Passengers were few -- only occupying one-third of the train's capacity -- but excited that the service was back after eight months.

They were equally worried about security.

"I was just waiting for the commencement of this train service again, so I was so happy to be here today," said passenger Ganiyat Adesina, a 50-year-old university professor.

She had arrived early at the station to beat the gridlock on the road.

"Just like 30 minutes after my arrival, we saw a team of military men with two armoured tanks and other vehicles -- about five of them parading all these places," she added.

"This is what I'm actually expecting the federal government to do."

She said moving between Abuja and Kaduna had been "very stressful for people and for myself, I have to even stop going to Kaduna for the last eight months".

Ayodeji Othman was happy "the train services are resuming and it's been a very long time that we've been waiting for this."

The 30-year-old passenger told AFP he had not travelled to Kaduna since the attack "because of the road condition as well as the security issues on the road, kidnapping and every other thing".

Police said they had deployed personnel and equipment to protect the passengers and secure the tracks.

The Nigerian Railway Corporation -- operators of the train -- had planned to restart the Abuja-Kaduna service much earlier, but the families of the hostages insisted on their release first.

They were also concerned about the safety of passengers on the route.
Gunmen with explosives on March 28 blew up the tracks and assaulted the train travelling between Abuja and Kaduna and opened fire, killing eight people, wounding 26 and taking an unspecified number of passengers hostage.

The hostages were released in batches following negotiations with their captors who were believed to have collected huge ransoms from their families.
The Kaduna train attack was one of several major incidents this year underscoring the challenge facing Nigeria's overstretched security forces.

The military is battling a 13-year jihadist insurgency in the northeast, criminal militias in the northwest and separatist tensions in the country's southeast.



Chad Jails October Protesters
A Chadian court has handed jail terms of between two and three years to 262 people who were arrested after deadly protests in October, the public prosecutor said on Monday.
A total of 401 people had been put on trial in Koro Toro prison, a high-security jail located in the desert 600 kilometres (375 miles) from the capital Ndjamena.

Lawyers had boycotted proceedings on the grounds of legality.

Of the others, 80 were given suspended terms and 59 were released, prosecutor Moussa Wade Djibrine said.

The trial ended on Friday after four days, with only state TV having the right to provide coverage, and the sentences were announced on Monday after the prosecutor returned to the capital.

Charges facing the defendants included taking part in an unauthorised gathering, destroying belongings, arson and disturbing public order.

Around 50 people, including 10 members of the security forces, died when police opened fire on demonstrators in N'Djamena and several other cities on October 20, according to an official toll.

But opposition groups say the real count was much higher, and allege unarmed civilians were massacred.

The protests had been called to mark the date when Chad's ruling military had initially promised to cede power -- a timeline that has now been extended by two years.

Strongman General Mahamat Idriss Deby Itno accused the demonstrators of "insurrection" and attempting to stage a coup.

Deby, 38, took power when his father, Idriss Deby Itno, who had ruled the arid Sahel state for 30 years, died during an operation against rebels in April 2021.

The authorities had previously said that 601 people, including 83 minors, were arrested in the Ndjamena area alone and taken to Koro Toro, a remote location two days by road from the capital.

Around 80 minors held there have been taken back to N'Djamena, the prosecutor said.

West Africa Creating Joint Force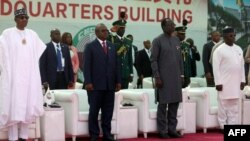 West African leaders agreed on Sunday to create a regional force to intervene against jihadism and in the event of coups, a senior official said.
Leaders of the Economic Community of West African States had decided to act to "take care of our own security in the region", Omar Alieu Touray, president of the ECOWAS commission, told journalists at a summit in Nigeria.

They are "determined to establish a regional force that will intervene in the event of need, whether this is in the area of security, terrorism and restore constitutional order in member countries," he added.

Mali, Guinea and Burkina Faso have all been hit by military coups in the last two years.

Several countries in the region are also suffering from the spread of jihadism, including Mali, Burkina Faso and Niger, and southwards to the Gulf of Guinea.

National armies, largely powerless against the jihadist forces operating across borders, have been cooperating with external actors such as the UN, France and Russia.

But Touray said this decision would "restructure our security architecture".

The modalities of the planned regional force will be considered by defense chiefs in the second half of January, 2023, Touray said.

The funding of the force must also be decided, but the ECOWAS official stressed that such an operation could not be solely dependent on voluntary contributions.
The West African leaders, concerned about instability and contagion, have been pressing for months for the quickest possible return to civilian rule in the three countries which have undergone coups in recent years.

Mali and Burkina Faso have both been severely shaken by the spread of jihadism.

All three countries have been suspended from the decision-making bodies of ECOWAS.

Leaders of the military juntas have pledged, under pressure, to step down after two years, allowing for a transition period during which they all say they want to "rebuild" their state.

ECOWAS has been looking to see what progress each nation has been making towards restoring constitutional order.

In Mali, "it is essential that constitutional order returns within the planned timeframe", said Touray.

If Mali's military meets the announced deadline of March 2024 -- after months of confrontation with ECOWAS and a severe trade and financial embargo that has now been lifted -- the "transition" will in fact have lasted three and a half years.

Touray urged the junta in Guinea to involve all parties and civil society in dialogue "immediately" on the process of restoring civilian rule.

The main political parties and much of civil society there have been boycotting the authorities' offer of dialogue.

As for Burkina Faso, Touray expressed ECOWAS's "serious concerns" about the security situation and the humanitarian crisis there, while pledging support for the country.
Addressing another regional problem, the West African leaders told Mali's ruling junta to release 46 Ivorian troops it has held since July.

"We ask the Malian authorities to release the Ivorian soldiers by January 1, 2023 at the latest," said Touray, at the Abuja summit.

The Gambian diplomat said the West African bloc reserved the right to act if the soldiers were not released by January 1.

If Mali fails to do so, ECOWAS will impose sanctions, a West African diplomat told AFP.

Burkina Civilians Killed in Attack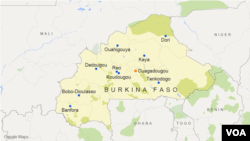 Six civilians, four of them teachers, were killed in a suspected jihadist attack in southern Burkina Faso close to the border with Ghana, security officials and local sources said on Monday.
Gunmen "opened fire on a group" in the town of Bittou on Sunday, a security source said, adding that the attackers had fled to the nearby forest of Nouhao pursued by security forces.
Bittou, located in Burkina's Centre-East region, is an important commercial hub straddling a key highway about 50 kilometers from the border with Ghana and Togo.

A regional federation of education unions said four teachers at the local high school, including the head teacher, were among the six fatalities.
Burkina Faso, a poor and landlocked country in the heart of West Africa's Sahel, is struggling with a jihadist insurgency that is now in its eighth year.

Thousands of civilians, police and security volunteers have died and some two million people have fled their homes.

Swathes of the country are no longer under government control and turbulence in the military over the crisis has triggered two coups this year.

The 10-year-old jihadist campaign in the Sahel has ignited fears of an advance towards vulnerable countries on the coast of the Gulf of Guinea -- Ghana, Togo, Benin and Ivory Coast.
Sudan Military, Civilians Cut Deal
UPDATED TO SHOW U.S. AND OTHER NATIONS' REACTION; Sudan's Army chief Abdel Fattah al-Burhan and civilian leaders signed Monday an initial deal aimed at ending a deep crisis that has gripped the northeast African country since a coup a year ago.
In a first phase, "the framework agreement lays the groundwork for establishing a transitional civilian authority," said the Forces for Freedom and Change, noting that other civilian groups also signed.

A final deal tackling issues including transitional justice and reforms to the military should be completed "within weeks," it said.

However, that part is far thornier, with observers questioning whether the military would be willing to give up economic interests and wider powers that it views as its privileged domain.
Monday's deal was signed by al-Burhan, paramilitary commander Mohamed Hamdan Dagalo and multiple civilian groups, most notably the Forces for Freedom and Change -- the main civilian faction that was ousted in the coup.

The deal -- based on a proposal by the Sudanese Bar Association -- was negotiated in the presence of officials from the United Nations, Western diplomats as well as Saudi Arabia and the United Arab Emirates, according to the FFC.

The signing was attended by UN special representative Volker Perthes and AU ambassador Mohamed Belaish.

Phase one of the deal "is a very low level commitment on al-Burhan's part... allowing him to survive" politically, said Kholood Khair founder of the Confluence Advisory, a Khartoum-based think-tank.

But the signatories will likely face "a real political crisis as they start talking in earnest about security sector reforms, transitional justice (and) financial accountability," she added.

Monday's signing comes months after al-Burhan pledged that the military would step aside and make way for factions to agree on a civilian government.
Pro-democracy activists reject the latest effort and are calling for new street protests demanding the military return to barracks.

Several former rebels who signed peace deals with Sudan in 2020 also voiced their opposition to the deal.

Mohamed Zakaraia, spokesman for former rebel group the Justice and Equality movement, told AFP that it "will bring about dire consequences and further complicate the political scene."
The United States and allies on Monday welcomed the signing. .

A joint statement issued by the US State Department said the United States, Norway, Saudi Arabia, the United Arab Emirates and Britain "welcome the agreement of an initial political framework."