Conflict
Putin Amps Ukraine Conflict
UPDATED TO INCLUDE ZELENSKYY, OTHER COMMENTS: President Vladimir Putin on Wednesday ordered Russia's first mobilization since World War Two and backed a plan to annex swathes of Ukraine, warning the West he was not bluffing when he said he'd be ready to use nuclear weapons to defend Russia.
MOSCOW/LONDON —
In the biggest escalation of the Ukraine war since Moscow's Feb. 24 invasion, Putin explicitly raised the specter of a nuclear conflict.
In a pre-recorded address to the nation early on Wednesday, Putin accused the West of trying to "destroy" his country through its backing of Kyiv, and said Russia needed to support those in Ukraine who wanted to "determine their own future".
"If the territorial integrity of our country is threatened, we will without doubt use all available means to protect Russia and our people - this is not a bluff," Putin said in a televised address to the nation.
"In its aggressive anti-Russian policy, the West has crossed every line," Putin said. "This is not a bluff. And those who try to blackmail us with nuclear weapons should know that the weathervane can turn and point towards them."
The Russian president's decision to order a partial mobilization was because of the low morale among his forces, said Ukraine President Vlodomyr Zelenskyy.

"He needs an army of millions... he sees that a large part of those (troops) who come to us, just run away," he said.

Putin "wants to drown Ukraine in blood, also the blood of his own soldiers", Zelensky said.
The Putin address, which followed a critical Russian battlefield defeat in northeastern Ukraine, fueled speculation about the course of the war, the 69-year-old Kremlin chief's own future, and showed Putin was doubling down on what he calls his "special military operation" in Ukraine.
The Russian leader announced a partial military mobilization, with Defense Minister Sergei Shoigu telling state television that some 300,000 reservists would be called up.
The callup of more soldiers comes as Moscow has its regimes in the "breakaway" Donetsk and Luhansk "Peoples Republics" staging "referendums" to join Russia denounced by the West as puppet actions.
Putin said that through its support for Ukraine the West was trying to "weaken, divide and ultimately destroy our country", while Shoigu said Moscow was "fighting not so much Ukraine as the collective West" in Ukraine.

The sudden flurry of moves by Moscow this week came with Russian forces in Ukraine facing their biggest challenge since the start of the conflict.

A sweeping Ukrainian counter-offensive in recent weeks has seen Kyiv's forces retake hundreds of towns and villages that had been controlled by Russia for months.

In a rare admission of military losses from Moscow, Shoigu said Wednesday 5,937 Russian soldiers had died in Ukraine since the launch of the military intervention in February.
As Putin made his announcement, residents clearing rubble and broken glass from a nine-story apartment block hit by an overnight missile strike in the eastern Ukrainian city of Kharkiv.

Svetlana, 63, gathered with friends to look on as neighbors and municipal workers cleared debris, urged the region's Russian neighbors to ignore the mobilization and "to wake up, finally."

Meanwhile her neighbor, 50-year-old Galina, expressed bewilderment at Moscow's aims against Ukraine.

"They want to liberate us from what? From our homes? From our relatives? From friends? What else? From over life? They want to free us from being alive?" she told AFP.

The referendums follow a pattern first established in 2014, when Russia annexed the Crimea peninsula from Ukraine after a similar vote.

Like in 2014, Washington, Berlin and Paris denounced the latest referendums and said the international community would never recognize the results.

German Chancellor Olaf Scholz said "Sham referendums" in four Russian-occupied regions of Ukraine would "of course never be accepted" by the international community, Scholz said, and would hence be "no justification" for Russia's "intention, namely to conquer land of its neighbor with violence".

"In the world in which we live, the law must win out over force and force can never be stronger than the law," he said.
French President Emmanuel Macron called them a "travesty", and White House National Security Advisor Jake Sullivan said they were "an affront to the principles of sovereignty and territorial integrity".

"Sham referenda and mobilization are signs of weakness, of Russian failure," the US ambassador in Ukraine, Bridget Brink, said on Twitter.
"This is just another proof of Putin that he is not interested in peace, that he's interested in escalating his war of aggression," said EU spokesman Peter Stano.

"This is also yet another sign of his desperation with how his aggression is going against Ukraine."
EU foreign policy chief Josep Borrell on Wednesday accused Russian leader Vladimir Putin of putting world peace "in jeopardy" by threatening to use nuclear weapons over the war in Ukraine.

"Putin's announcement of sham referenda, partial military mobilization and nuclear blackmail are a grave escalation," Borrell wrote on Twitter.

"Threatening with nuclear weapons is unacceptable and a real danger to all," he said.

"I thank all the friends and partners of Ukraine for their massive and firm condemnation of Russia's intentions to organize yet more pseudo-referendums," Ukrainian President Volodymyr Zelenskyy said in response.
The Ukrainian president has made it clear that his forces will work to retake all territory taken by Russia since 2014. And in recent weeks, Ukraine's military has indeed made striking advances.
This report was compiled using information from Reuters and Agence France-Presse
See all News Updates of the Day
Minneapolis Pays George Floyd Protesters
The city of Minneapolis will pay $50,000 each to 12 people injured by police during demonstrations that erupted after a white officer killed George Floyd by pinning the 46-year-old Black man's neck to the ground with a knee, court records show.
The 12 plaintiffs suffered injuries including bruising from less-lethal munitions, lingering respiratory issues from tear gas and psychological trauma, the American Civil Liberties Union [ACLU}said.
Along with the cash settlement, Minneapolis will also implement reforms in the way police officers handle demonstrations, prohibiting them from using physical force and from deploying chemical agents against peaceful protesters.
The settlement requires body cameras worn by Minneapolis police to be recording and unobstructed when they engage with protesters, court records showed.
"This agreement is a big step towards keeping peaceful protesters safe from police violence. I hope other police departments across the country see this outcome and proactively adopt these same policies and standards," Jordan Meyer, one of the plaintiffs in the case, said in a statement released by the Minnesota chapter of the American Civil Liberties Union.
The ACLU helped file the class action lawsuit against the city.
Demonstrations and, at times, violent riots erupted across Minneapolis hours after Officer Derek Chauvin pressed his knee against Floyd's neck for more than nine minutes during an arrest over a counterfeit $20 bill on May 25, 2020. Chauvin was later convicted of murder and pleaded guilty to federal charges.
A video of the incident circulating on social media helped spark demonstrations against police brutality and racism across the nation and in large cities around the globe.
al-Shabab Targeted by Somalia
Somali forces killed about 40 al Shabab fighters in the Middle Shabelle region, the government said on Thursday, the latest clashes in a months-long offensive that aims to weaken the grip of the Islamist militant group.
The ministry described it as a planned operation in a forest near the village of Ali Foldhere in Middle Shabelle on Wednesday night, but al Shabab and one clan fighter said the fighting arose from an attack by the militants.
The government, supported by clan militias and African Union troops, says it has killed more than 600 members of al Shabab and recaptured 68 settlements over the last three months, as part of concerted efforts to end the militants' control over large portions of the Horn of Africa country.
On Sunday al Shabab stormed a heavily guarded hotel near the president's residence in Mogadishu, killing nine people.
Al Shabab, an al Qaeda franchise that is seeking impose its interpretation of Islamic law across the country, frequently stages deadly attacks in the capital Mogadishu and elsewhere.
Al Shabaab's restrictions on deliveries of international aid have compounded the impact of the worst drought in four decades, officials say, leaving Somalia on the brink of famine.
Kyiv Claims Russian Pullback
Ukraine's military said on Thursday Russia had pulled some troops from towns on the opposite bank of the Dnipro River from Kherson city, the first official Ukrainian report of a Russian withdrawal on what is now the main front line in the south.
The Ukrainian military statement gave only limited details and made no mention of any Ukrainian forces having crossed the Dnipro.
"A decrease in the number of Russian soldiers and military equipment is observed in the settlement of Oleshky," the Ukrainian military said, referring to the town opposite Kherson city, on the far side of a destroyed bridge over the Dnipro.
"Enemy troops were withdrawn from certain settlements of the Kherson oblast and dispersed in forest strips along the section of the Oleshky - Hola Prystan highway," it said, referring to a 25-km (15-mile) stretch of road through riverside towns scattered in woods on the bank opposite Kherson city.
Russia has already told civilians to leave towns within 15 km of the river and withdrew its civilian administration from the city of Nova Kakhovska on the river bank.
Ukrainian officials have previously said Russia pulled back some artillery near the river to safer positions further away, but until now had stopped short of saying Russian forces were quitting towns.
Kyiv also stressed that Russia had intensified shelling across the river, knocking out power again in Kherson where electricity had only begun to be restored nearly three weeks after Russian troops vacated the city and fled across the river.
The Ukraine war is entering a relentless new phase with the onset of the first winter since Russia's Feb. 24 invasion.
After withdrawing in the south in November, Moscow has focused its firepower on a section of the front line in the east near the city of Bakhmut, where hundreds of soldiers are thought to be dying a day in some of the conflict's bloodiest fighting, yielding little reported gains of territory on either side.
Ukraine's armed forces reported heavy shelling of a number of frontline cities in the area.
"We are analyzing the intentions of the occupiers and preparing counter-measures - tougher counter-measures than is now the case," President Volodymyr Zelenskyy said in an overnight televised address.
The European Union called this week for a special tribunal to prosecute Russian officials accused of aggression, the war crime of attacking another state without justification. The Kremlin rejected this on Thursday.
"As for attempts to establish some kind of tribunal: they will have no legitimacy, will not be accepted by us and we will condemn them," Kremlin Spokesman Dmitry Peskov said in a briefing call with reporters.
DRC, M23 Clash Again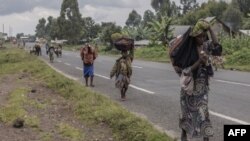 UPDATED WITH NEW DETAILS: Fighting with heavy weapons erupted between government forces and M23 insurgents in eastern DR Congo on Thursday, shaking a five-day-old truce, security sources and rebels said.
The Democratic Republic of Congo's army on Thursday accused a notorious rebel group of killing 50 civilians and of breaching a truce in fighting with the armed forces.

In a statement, spokesman General Sylvain Ekenge said the M23 group was "carrying out massacres... the most recent of which is that of 50 Congolese civilians, heinously murdered on Tuesday in Kishishe," a village north of the eastern city of Goma.
The sources said fighting resumed Thursday at Kirima, about 10 kilometers from the town of Kibirizi.

"Fighting resumed this morning between the FARDC and the M23," said Paul Lutibahwa, head of civil society groups for the Bambo region. The FARDC stands for the armed forces of the Democratic Republic of Congo (DRC).

"The rebels have crossed the bridge, heading for Kibirizi... there's panic," he said.

Juson Kaniki, a representative of civil groups in Kibirizi, confirmed that "people are starting to flee" in fear of the rebels' arrival.

A security official, speaking on condition of anonymity, accused the M23 of having breached the ceasefire and "carrying on looting and fighting."

A DRC army officer, who also asked not to be identified, said, "The fighting is heavy -- we are using heavy artillery."

The M23's military spokesman, Willy Ngoma, contacted by AFP, confirmed that there was fighting with the army.
Until Thursday's violence, there had been no fighting between government forces and the M23, although the rebels had clashed with local militia, especially in the Bambo area, where civilian casualties were reported.

Scores of armed groups roam eastern DRC, making it one of Africa's most violent regions.

Many are legacies of two wars before the turn of the century that sucked in countries from the region and left millions dead.
Abidjan Tries Machine-Gunners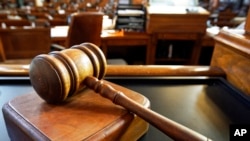 A court in Ivory Coast on Wednesday began the long-awaited trial of 18 people accused of abetting one of West Africa's bloodiest jihadist attacks -- a machine-gun assault on a beach resort in 2016 that left 19 dead.
The four present in court were identified as Cisse Hantao Ag Mohamed, Kounta Sidi Mohamed, Cisse Mohamed and Barry Hassan.
The others, including the suspected masterminds, are either on the run or being held in Mali, said Aude Rimailho, a lawyer for civilian plaintiffs.
"The people who planned the operation are in Mali," she said.
The charges against the 18 include acts of terrorism, murder, attempted murder, criminal concealment, illegal possession of firearms and ammunition "and complicity in these deeds," Public Prosecutor Richard Adou said last week.

Nineteen people were killed -- nine Ivorians, four French citizens, a Lebanese, a German, a Macedonian, a Malian, a Nigerian and a person who could not be identified.

Thirty-three people of various nationalities were wounded.

The four present in court were identified as Cisse Hantao Ag Mohamed, Kounta Sidi Mohamed, Cisse Mohamed and Barry Hassan.

Rimailho, representing French plaintiffs, said in the runup to the trial that the 18 were "small fry" and cautioned against seeing the proceedings as a chance for closure.
The attack on Grand-Bassam was the first and deadliest in a string of sporadic attacks on countries lying on the coast of the Gulf of Guinea, south of the Sahel.

In Ivory Coast's case, the assault had a deeply chilling impact on foreign tourism, an important money-spinner in an economy battered by a post-election conflict in 2010-11 that claimed 3,000 lives.
In January 2017, members of France's Barkhane anti-jihadist force captured a key suspect, Mimi Ould Baba Ould Cheikh.

He is described by Ivory Coast investigators as one of the instigators of the Grand-Bassam attack and by Burkina Faso as the "operation leader" in an assault on the Burkinabe capital Ouagadougou in January 2016 that claimed 30 lives.