Business and Technology
OPEC Chief Calls For Iran, Venezuela Oil Resumption
OPEC Secretary General Mohammad Barkindo said on Tuesday the oil and gas supply shortage could be eased if extra supplies from Iran and Venezuela were allowed on the market.
ABUJA —
OPEC Chief Mohammad Barkindo told an energy conference in Nigeria's capital, Abuja, that "We could unlock resources and strengthen capacity if the oil produced by the Islamic Republic of Iran and Venezuela were allowed to return to the market."
Both nations are under strong sanctions for sponsorship of terrorism and other acts.
"Our industry is now facing huge challenges along multiple fronts," he told conference delegates.
"And these threaten our investment potential now and in the long term. To put it bluntly, my dear friends, the oil and gas industry is under siege," he said, citing geopolitical developments in Europe, where the war in Ukraine has left many countries vulnerable to soaring energy prices.
Strain on the industry has been increased by some countries' efforts to divest from hydrocarbons, Barkindo stated.
While they are seeking to limit global warming, he said oil demand was growing even as investment in capacity falls and prices surge.
Nigeria's oil minister Timipre Sylva said Africa's top oil producer would not abandon fossil fuels.
"For us in Nigeria, fossil fuel will always have a share in our energy mix, for the foreseeable future. We will not at this time abandon fossil fuels. We have adopted ... gas as a transition fuel," he said.
Barkindo forecast primary demand for oil globally would increase up to 2045, while refining capacity in the Organization for Economic Cooperation and Development countries fell by 3.3% in 2021.
See all News Updates of the Day
Ethiopia Fills Controversial Dam
Ethiopia has completed the third filling of its mega-dam reservoir on the Blue Nile, Prime Minister Abiy Ahmed said Friday, a development that could raise further tensions with downstream neighbours Egypt and Sudan.
"Today as you see behind me, the third filling is complete," Prime Minister Abiy Ahmed said as images were shown on state television from the dam site.

"Compared to last year, we have reached 600 metres which is 25 metres higher than the previous filling," he said.

"The Nile is a gift of God given to us for Ethiopians to make use of it."
The massive $4.2 billion dam, set to be the largest hydro-electric scheme in Africa, has been at the center of a regional dispute ever since Ethiopia broke ground on the project in 2011.

There is still no agreement between Ethiopia and its downstream neighbors Egypt and Sudan about the GERD's operations despite talks held under the auspices of the African Union.

Cairo and Khartoum view it as a threat because of their dependence on Nile waters, while Ethiopia deems it essential for the electrification and development of Africa's second most populous nation.

Egypt, which relies on the Nile for about 97 percent of its irrigation and drinking water, last month protested to the UN Security Council about the third refilling.

The process of filling the GERD's vast reservoir, which has a total capacity of 74 billion cubic meters, began in 2020.

On Thursday, Abiy sought to reassure the two countries over the impact of dam and called for negotiations to reach an understanding.

"Any other option will not stop what we have started and will be futile," he said, insisting that the third filling was not causing any water shortages downstream.

Ethiopia first began generating electricity from the GERD in February. Currently, the two turbines, out of a total of 13, have a capacity to generate 750 megawatts of electricity.

It is ultimately expected to produce more than 5,000 megawatts, more than doubling Ethiopia's current output.

Project manager Kifle Horo said Thursday that overall the dam was now more than 83 percent complete and that the goal was for it to be finished in the next two and a half years.

The 145-metre (475-foot) high structure straddles the Blue Nile in the Benishangul-Gumuz region of western Ethiopia, near the border with Sudan.

The project was initiated under former prime minister Meles Zenawi, the Tigrayan leader who ruled Ethiopia for more than two decades until his death in 2012.

Ethiopia Amps GERD Output
Ethiopian Prime Minister Abiy Ahmed kickstarted electricity production from the second turbine at its controversial mega-dam on the Blue Nile on Thursday, despite continuing objections by Egypt and Sudan over the project.
Thursday's move to increase hydropower came even though there is still no agreement between Ethiopia and its downstream neighbors Egypt and Sudan about the Grand Ethiopian Renaissance Dam's (GERD) operations.

"We have repeatedly told downstream countries, especially Egypt and Sudan, that by generating power we're developing our economy, as well as (our desire) to see our citizens who live in the dark see light," he said.

There was "no aim to sideline and harm" those countries, he added.
PM Abiy also confirmed that a third filling of the $4.2 billion dollar dam was under way, a development that led Egypt last month to protest to the UN Security Council.
Ethiopia first began generating electricity at the dam in February. Currently, the two turbines, out of a total of 13 at the dam, are generating 750 megawatts of electricity.

The GERD is ultimately expected to produce more than 5,000 megawatts, more than doubling Ethiopia's current output.

The 145-metre (475-foot) high structure straddles the Blue Nile in the Benishangul-Gumuz region of western Ethiopia, near the border with Sudan.

The process of filling the GERD's vast reservoir, which has a total capacity of 74 billion cubic metres, began in 2020.
Last month, Egypt wrote to the Security Council voicing its objections to Ethiopia's plans to fill the dam for a third year without a three-way agreement.

Cairo and Khartoum fear it could threaten their access to vital Nile waters and have demanded a written agreement between on the dam's filling and operation.
The new US envoy for the Horn of Africa, Mike Hammer, discussed the project during visits to both Ethiopia and Egypt last month, saying Washington was "actively engaged" in supporting efforts to find a diplomatic solution to the dispute.
Mine Massacre Families May See Justice Soon
Outstanding claims of compensation from the massacre of 34 workers at a South African platinum mine a decade ago are likely to be settled this month, an official said on Wednesday.
Police gunned down 34 mineworkers and injured 78 others as they repressed a wildcat strike that had turned violent at the Marikana mine northwest of Johannesburg on August 16, 2012.

The massacre was the worst act of police violence since the end of apartheid, which had been legally dismantled 11 years earlier.
Solicitor-General Fhedzisani Pandelani announced that the last civil claims against the government were on track to be resolved before the end of August.

Forty-eight claims remain, Pandelani told a press briefing in the capital Pretoria.

"I can also give the assurance that to the extent that is possible, we could in fact be in a position to resolve all of those matters within this month," he said.

Pandelani said the last cases hinged on the extent of personal injuries, medical examinations or actuarial calculations.

Compensation claims directly related to miners who were killed had already been settled last year, with the state paying almost 76 million rand ($4.6 million) to the victims' families, he said.

He added it was "regrettable" it took so long to bring the cases to a close.

South Africa marks the 10th anniversary of the massacre that shocked the nation on August 16.

Algerian Education Scammers Get Jail
Two Algerian social media influencers were sentenced on appeal Tuesday to a year each in prison, with six months suspended, over a scam targeting students seeking education abroad, local media reported.
Among the charges faced by Farouk Boudjemline, known as Rifka, and Mohamed Aberkane, alias Stanley, were criminal association, forgery, theft, fraud and money laundering.

Their co-accused Numidia Lezoul faced the same charges but was acquitted.
All three are well-known in the north African country, and were originally sentenced to one year each and fined the equivalent of 650 euros for promoting the "Future Gate" agency.
Oussama Rezagui, the head of the agency, was given a six-year jail sentence, reduced on appeal from seven years, and a heavy fine.
The scam involved charging students large sums to arrange their university registration and provide accommodation, but left them to their fate once there.
This ruse had defrauded many Algerians wishing to study abroad, particularly in Russia, Ukraine and Turkey.
Crypto World's Cracks Widen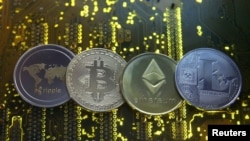 The recent Nomad hack was the eighth-biggest crypto theft on record. Other thefts from bridges this year include a $615 million heist at Ronin, used in a popular online game, and a $320 million theft at Wormhole, used in so-called decentralized finance applications.
When thieves stole an estimated $190 million from U.S. crypto firm Nomad last week, it was the seventh hack of 2022 to target an increasingly important cog in the crypto machine: Blockchain "bridges" - strings of code that help move crypto coins between different applications.
So far this year, hackers have stolen crypto worth some $1.2 billion from bridges, data from London-based blockchain analysis firm Elliptic shows, already more than double last year's total.
"This is a war where the cybersecurity firm or the project can't be a winner," said Ronghui Hu, a professor of computer science at Columbia University in New York and co-founder of cybersecurity firm CertiK.
"We have to protect so many projects. For them (hackers) when they look at one project and there's no bugs, they can simply move on to the next one, until they find a one weak point."
At present, most digital tokens run on their own unique blockchain, essentially a public digital ledger that records crypto transactions. That risks projects using these coins becoming siloed, reducing their prospects for wide use.
Blockchain bridges aim to tear down these walls. Backers say they will play a fundamental role in "Web3" - the much-hyped vision of a digital future where crypto's enmeshed in online life and commerce.
Yet bridges can be the weakest link.
"Blockchain bridges are the most fertile ground for new vulnerabilities," said Steve Bassi, co-founder and CEO of malware detector PolySwarm.
Nomad did not respond to requests for comment, but it has said it is working with law enforcement agencies and a blockchain analysis firm to track the stolen funds. Late last week, it announced a bounty of up to 10% for the return of funds hacked from the bridge.
Nomad said on Saturday it had recovered over $32 million of the hacked funds so far.
"The most important thing in crypto is community, and our number one goal is restoring bridged user funds," Mohan said. "We will treat any party who returns 90% or more of exploited funds as a white hats. We will not prosecute white hats," he said, referring to so-called ethical hackers.
Several cyber security and blockchain experts told Reuters that the complexity of bridges meant they could represent an Achilles' heel for projects and applications that used them.
"A reason why hackers have targeted these cross-chain bridges of late is because of the immense technical sophistication involved in creating these kinds of services," said Ganesh Swami, CEO of blockchain data firm Covalent in Vancouver, which had some crypto stored on Nomad's bridge when it was hacked.
"Cross-chain bridges are an attractive target for hackers because they often leverage a centralized infrastructure, most of which lock up assets," said Victor Young, founder and chief architect at U.S. blockchain firm Analog.
So how best to address the problem?
Some experts say audits of smart contracts could help to guard against cyber thefts, as well as "bug bounty" programs that incentivize open-sourced reviews of smart contract code.
Others call for less concentration of control of the bridges by individual companies, something they say could bolster resiliency and transparency of code.