Business and Technology
Musk Faces Challenging Judge in Twitter Suit
The judge overseeing Twitter Inc's $44 billion lawsuit against Elon Musk, Delaware Court of Chancery Chief Judge Kathaleen McCormick, has a no-nonsense reputation as well as the distinction of being one of the few jurists who has ever ordered a reluctant buyer to close a U.S. corporate merger.
NEW YORK —
Kathaleen McCormick took over the role of chancellor or chief judge of the Court of Chancery last year, the first woman in that role. On Wednesday, she was assigned the Twitter lawsuit which seeks to force Musk to complete his deal for the social media platform, which promises to be one of the biggest legal showdowns in years.
"She already has a track record of not putting up with some of the worst behavior that we see in these areas when people want to get out of deals," said Adam Badawi, a law professor who specializes in corporate governance at the University of California Berkeley. "She is a serious, no-nonsense judge."
Judges have ordered reluctant buyers to close corporate acquisitions only a handful of times, according to legal experts and court records. One of those was McCormick.
Last year, McCormick got the attention of Wall Street dealmakers by ordering an affiliate of private equity firm Kohlberg & Co LLC to close its $550 million purchase of DecoPac Holding Inc, which makes cake decorating products.
She described her ruling as "chalking up a victory for deal certainty" and rejected Kohlberg's arguments that it could walk away because of a lack of financing.
The case has many parallels to the Twitter deal. Like Musk, Kohlberg said it was walking away because DecoPac violated the merger agreement. Like Musk, Kohlberg argued in part that DecoPac failed to maintain ordinary operations.
There are also differences. Musk's deal is magnitudes bigger, involves a publicly traded target company in Twitter and might have implications for Tesla Inc , the electric vehicle maker that is the source of much of Musk's fortune.
After weeks of confrontational tweets suggesting Twitter was hiding the true number of fake accounts, Musk said on July 8 he was terminating the $54.20-per-Twitter share acquisition, worth $44 billion. On July 12, the social media platform sued, demanding Musk complete the transaction at the stated stock share price.
McCormick joined the Court of Chancery in 2018 as a vice chancellor and became the first woman to lead the Court of Chancery last year.
Despite her mild manner, Eric Talley, who specializes in corporate law at Columbia Law School, said he doubts McCormick would be cowed by Musk.
"I would not be placing my bets on Chancellor McCormick suddenly becoming weak-kneed," he said.
See all News Updates of the Day
Big Cocoa Hopes - Ivory Coast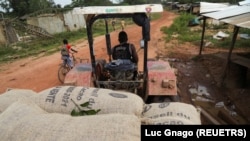 Above-average rains last week in most of Ivory Coast's cocoa regions could pave the way for an early and strong start to the October-to-March main crop if the weather remains favorable next month, farmers said..
Farmers in different regions of Ivory Coast said that cocoa pods were developing well on trees and that the next month would be crucial for the size of the main crop.
"If it rains heavily in September with lots of sunshine, the harvest will be abundant until at least January," said Albert N'Zue, who farms near Daloa, where 23.1 millimeters (mm) of rain fell last week, 1.2 mm above the five-year average.
Farmers made similar comments in the central regions of Bongouanou and Yamoussoukro, where rains were above average last week.
In the southern region of Divo, where rainfall was 12.3 mm last week, 1.1 mm above the average, farmers said signs so far pointed to an early start to the main crop.
"There are many average pods already on the trees compared to last season at this time. We will have enough crops by mid-September," said Alfred Yapo, who farms in the outskirts of Divo.
Farmers were also upbeat about the outlook for the main crop in the western region of Soubre, in the southern region of Agboville and in the eastern region of Abengourou. Rains there were below average but good soil moisture content has helped pods to develop well.
Weekly average temperatures ranged from 24.2 to 25.5 degrees Celsius.
Ivory Coast, the world's top cocoa producer, is in its rainy season that runs from April-to-mid-November, when rains are usually abundant and sometimes heavy.
Tunisia Stops Sea Bid
Tunisia said Tuesday it had foiled several attempts by almost 100 migrants to reach Europe via the Mediterranean Sea since the previous day.
Tunisia's National Guard said it had prevented five maritime crossings and rescued 80 people, mostly Tunisians and including 35 migrants from sub-Saharan Africa.

It said "preventive operations" were also carried out near Menzel Temime in the north, Mahdia and Kerkennah on the central coast and Zarzis in the south, leading to 11 arrests.

The National Guard said it had seized "a sum of money" without specifying the amount, and an inflatable boat in these operations.

On Monday, maritime and military authorities said 657 people were rescued or prevented from trying to cross in 46 separate incidents between Friday and Monday.

The defense ministry told AFP that 42 Egyptians who had set sail from Libya were rescued Sunday off Kerkennah, after their boat sank and they took refuge on an oil platform.
Tunisia and Libya are the main points of departure for migrants trying to reach Europe from Africa. Sea crossing attempts tend to increase during spring and summer.
The two countries are also the gateway for sub-Saharan Africans hoping for a better life by escaping impoverished and strife-torn countries such as Sudan.

The EU's Frontex border agency says the central Mediterranean route was used by more than 42,500 migrants between January and July, up 44 percent compared with the first seven months of 2021.

"Hello, Darkness!" - Eskom
South African state utility Eskom said it would implement "Stage 2" rotational power cuts between 1600 and 2400 local time (1400 and 2200 GMT) on Tuesday, due to a shortage of generation capacity.
Eskom in a statement also warned that there was a high probability of power cuts on Wednesday and Thursday evenings.
Earlier this month Eskom said in a statement that there had been a delay returning several generation units to service, while others had broken down.
Eskom has an aging power station fleet comprised mainly of coal plants that are highly prone to faults.
Government efforts to add additional capacity have been slow, and this year a record among of electricity is set to be cut from the grid.
South Africa Coal Sales Surge
South Africa's coal sales to Europe rose eight-fold during the first half of 2022 compared with last year as demand for the fossil fuel surged ahead of a ban on Russian coal, Thungela Resources said on Monday.
South African coal concern Thungela's Chief Financial Officer Deon Smith said "It's worth noting that coal exports from RBCT into Europe have increased by about 720% from half a million tons in the first half of 2021 to 4.1 million tons in the first half of 2022."
Thungela said the high demand had driven its realized average price to $240 per ton during the half-year to June 30, compared to $75 a ton last year, boosting its profit more than 20 times versus the year before.
The company, which was spun off global mining giant Anglo American Plc in June 2021, said it would return 8.2 billion rand ($503 million) to shareholders after declaring a dividend of 60 rand per share, driving its share price more than 6% up.
The leading South African coal exporter and part of a consortium which owns Africa's largest coal export facility, the Richards Bay Coal Terminal (RBCT), Thungela said Europe was competing with Asia for South African coal.
In April, the European Union announced a ban on coal imports from Russia as part of sanctions for its invasion of Ukraine. The ban came into effect on August 10.
Ahead of the ban, European countries, which previously imported 45% of their coal from Russia and have been switching away from expensive natural gas to coal, started to source the fossil fuel from other countries, including South Africa.
Figures obtained by Reuters in June showed that European countries, chiefly the Netherlands, Germany, Poland, Denmark, France, Italy and Ukraine were importing growing quantities of coal from South Africa
Thungela CEO July Ndlovu, however, said South Africa could not fully take advantage of the strong coal demand due to the limited capacity of the state-owned rail company Transnet to haul the mineral to port.
As a result of the rail woes, Thungela has revised its production guidance for 2022 to between 13 and 13.6 million tons, from the previous 14-15 million range. The company is exploring the possibility of using trucks to haul coal to port.
Nigeria Inflation Still Climbing
Nigeria's annual inflation quickened to 19.64% in July, rising for a sixth straight month on the back of price increases for both food and non-food items, the statistics office said on Monday.
Inflation, which has been in double digits in Africa's biggest economy since 2016, was at 18.60% year on year in June.
Along with continuing price hikes for food, fuel also remains at high cost despite some easing of the world petroleum market in July.
Nigeria's currency has been weakening on the parallel market since July 2021 due to a scarcity of foreign currency, contributing to rising inflation as the country imports many key goods and services.
Policymakers have said persistent inflationary pressures are structural and largely related to imports.