Conflict
More Mali Mayhem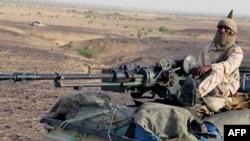 Gunfire rang out early Friday close to a key military base near the Malian capital, an AFP journalist and local residents said, although the cause was not immediately clear.
BAMAKO —
A resident, speaking on condition of anonymity, said "at around 5:00 am, unidentified armed men attacked Kati," a town on the edge of capital Bamako where a large military base is located.

"We were woken up at five o'clock by firing, by explosions, we don't know what's going on," another resident said.

A third source said: "Our base is being attacked."
The authorities in Kati could not be immediately reached for comment.
At 8:00 am, an AFP journalist also heard detonations that came from inside the camp.

Malian special forces personnel were deployed in the area, and two helicopters flew overhead.

The French embassy sent text messages to French nationals saying "attack underway at Kati" and urging caution.
The base at Kati has played an important part in military coups.

It was the springboard for mounting the 2020 putsch, and afterwards was used to detain Keita.

In the 2021 coup, the base was used to hold Keita's successor, Bah Ndaw, and prime minister Moctar Ouane.
At dawn on Friday, at about the same time as the gunfire was heard at Kati, suspected jihadists carried out further attacks on security forces, including at Kolokani, about 100 kilometres (60 miles) north of the capital.
In the latest attacks, central Mali and the Koulikoro region near Bamako were hit by six simultaneous assaults on Thursday.
A spat with France has triggered a pullout of French forces that have been fighting jihadists in Mali for nearly a decade. The withdrawal is expected to be completed in the coming weeks.

Tensions, meanwhile, have brewed with the UN's peacekeeping force MINUSMA, whose spokesman this week was told to leave the country.
See all News Updates of the Day
UN Resuming Mali Rotations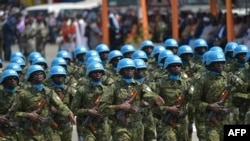 Troop rotations by the U.N. peacekeeping mission in Mali will resume on Monday, a mission spokesperson said on Saturday, one month after Malian authorities suspended them and accused foreign soldiers of entering the country without permission.
A MINUSMA spokesperson said the mission and Malian authorities had agreed on a streamlined rotation procedure and that the mission's request to resume rotations on Monday had been accepted.
Mali's ruling junta suspended troop rotations for the nearly 12,000-strong mission on July 14 after arresting 49 soldiers from Ivory Coast who it said had arrived in the country without permission. Ivory Coast denied this.
Ivory Coast says the soldiers were deployed as part of a support contract signed with MINUSMA, which was created in 2013 to provide security from Islamist militants. The Ivorian troops remain in detention.
Mali's foreign ministry could not be immediately reached for comment.
The July arrests highlighted friction between the junta, which seized power in an August 2020 coup, and international partners, who have criticized election delays and security cooperation with Russian mercenaries.
Relations between Mali and troop-contributing countries remain strained. On Friday, Germany said it was suspending its military reconnaissance mission, which provides intelligence to MINUSMA, after Malian authorities withheld a flight clearance.
Mali's foreign minister denied on Twitter that the government had done so and called on Germany to adhere to the new mechanism for approving troop rotations.
Tigray Denies Direct Addis Contact
Tigrayan rebels denied Saturday they have had "direct engagements" with the Ethiopian government, following a statement by the African Union which has been leading a push to end the 21-month conflict.
In a statement dated August 4 but posted on its website on Thursday, the AU's Peace and Security Council said it "commends the AU High Representative for the direct engagements between the Government of the Federal Democratic Republic of Ethiopia and the Tigray People's Liberation Front (TPLF)".

But an updated version of the statement on the website has replaced the word "between" by "with" and the original, which was published in both English and French, is no longer available.

AFP has contacted the PSC for comment but there was no immediate response.
Getachew Reda, spokesman for the Tigray People's Liberation Front (TPLF), said an AFP story that cited an AU statement was "pure fabrication".

"Such engagement simply didn't happen!" he said on Twitter.
Government forces have been at war with the TPLF since November 2020 but in recent weeks both sides have mooted the possibility of peace talks.

Prime Minister Abiy Ahmed's government wants any negotiations to be led by the AU, but the rebels want Kenya's outgoing President Uhuru Kenyatta to mediate.

TPLF leader Debretsion Gebremichael has also insisted that key services would have to be restored in Tigray before dialogue could begin.

In its statement, the AU council called on the warring sides "to place the supreme interests of Ethiopia and its people above all else and embrace inclusive political dialogue as the only viable approach towards finding a consensual solution to the current situation".

It also urged international partners to support AU-led mediation under former Nigerian president Olusegun Obasanjo "as the only viable and effective approach towards finding a negotiated lasting solution to the situation in Ethiopia".

Fighting has eased in northern Ethiopia since a humanitarian truce was declared at the end of March, allowing the resumption of desperately needed international aid convoys to Tigray's six million people.

Since the war broke out, Ethiopia's northernmost region has suffered food shortages and access to basic services such as electricity, communications and banking has been severely limited.

In November 2020 Abiy ordered troops into Tigray to topple the TPLF, accusing the rebels of attacking federal army camps.

The TPLF mounted a shock comeback in June last year, retaking Tigray and expanding into neighbouring Afar and Amhara, before the war reached a stalemate.
Ukraine Grain Africa-Bound
The first Africa-bound grain ship since Russia's invasion of Ukraine in February docked in Pivdennyi port on Friday, Ukraine's infrastructure minister said.
"The cargo ship Brave Commander arrived at the Pivdennyi Sea Port. Very soon (Ukrainian) grain will be delivered to Ethiopia," Infrastructure Minister Oleksandr Kubrakov wrote on Twitter.
Once loaded, the MV Brave Commander will carry a shipment of Ukrainian grain organized by the World Food Program to Ethiopia via a grain corridor through the Black Sea brokered by the U.N. and Turkey in late July.
WFP has purchased an initial 30,000 tons of Ukrainian wheat. MV Brave Commander has a capacity of 23,000 tons.

"The remaining balance will be loaded and shipped on another vessel soon," Phiri said.

"WFP is hopeful that the MV Brave Commander is the first of what will now become regular shipments out of Ukraine as the Black Sea Grain Initiative gains momentum."

It is not yet clear when the ship will depart and WFP did not release details of where it would be heading.

"Loading and moving ships in and out of ports in the context of the current conflict is a complex operation," said Phiri.

"Getting Ukrainian grain to WFP's humanitarian operations in places like Ethiopia, Somalia and Yemen will ensure a double benefit to both Ukraine's economy and famine risk populations in areas of the world hardest hit by the global food crisis."
CODECO Hits DRC Mine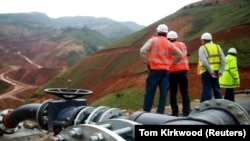 Four people have been killed and two Chinese workers gone missing after soldiers and militiamen battled over a mine in troubled eastern DRC, the army said on Friday.
The CODECO militia attacked a Chinese-managed mining site in Mungbwalu village, Ituri province, overnight on Wednesday, army spokesman Lieutenant Jules Ngongo told AFP.

Militiamen killed three miners in the attack and kidnapped four Chinese workers. But the army staged a counter-attack and managed to free two of the captives, Ngongo said.

"We lost a soldier, who succumbed to his wounds," he added.

Innocent Madukadala, the chief of a group of villages in the Mungbwalu area, confirmed that the army had freed two Chinese men.

The status of the missing two Chinese is unclear, however.

Armed groups often fight for control of mines in gold-rich Ituri, which has been plagued by militia violence for years.

Attacks on Chinese-managed mines in the Democratic Republic of Congo also appear to have increased of late. Two Chinese nationals were killed in a mine attack in Ituri in November.

The CODECO -- the name for the Cooperative for the Development of the Congo -- is a political-religious sect that claims to represent the interests of the Lendu ethnic group.

It is considered one of the deadliest of over 120 militias operating in the eastern DRC, blamed for a number of ethnic massacres in Ituri.

Last year, the Congolese government placed security officials in charge of the administration of Ituri and neighboring North Kivu province in a bid to curb violence.

The measure has failed to stop attacks.
Sudanese Protesters Clash With Security Forces
A Sudanese security armored vehicle on Thursday fired tear gas at demonstrators in Khartoum while anti-military protesters pelted it with rocks and bricks. Protests have continued weekly since an Oct. 25 military takeover that halted a democratic transition and plunged the country into turmoil.