Conflict
More Fighting Deaths in Darfur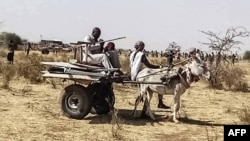 UPDATED WITH NEW DEATH TOLL: Nine people have been killed in fighting in Sudan's western Darfur region between groups of Arab Rizeigat and the Fur people, the government said Thursday.
KHARTOUM —
Shooting broke out late Wednesday in Zalingei, state capital of Central Darfur, after a Fur member was killed, sparking wider fighting, witnesses said.

Rizeigat gunmen on motorbikes then stormed a camp for displaced people in the city attacking Fur residents, said Adam Regal, spokesman for the General Coordination for Refugees and Displaced in Darfur, a Sudanese independent aid group.

"The clashes have left eight people killed and 11 wounded," said Regal.
Fighting raged overnight until Thursday morning in the city, 1,020 kilometers west of the capital Khartoum.
On Saturday, at least 11 people were reported killed following deadly clashes in South Darfur state. It was not clear what started that fighting.

The latest bouts of violence come as Sudan grapples with the crippling aftermath of a military coup led by army chief Abdel Fattah al-Burhan in October last year.

Civilian groups signed a preliminary deal with the military to end the crisis earlier this month but it has been criticized as "opaque".

Conflicts in Sudan's far-flung regions have killed around 900 people this year and driven almost 300,000 from their homes, according to the UN Office for the Coordination of Humanitarian Affairs.

See all News Updates of the Day
US Denies Nordstream Blast Involvement
The White House on Wednesday dismissed a blog post by a U.S. investigative journalist alleging the United States was behind explosions of the Nord Stream gas pipelines as "utterly false and complete fiction."
Reuters has not corroborated the report, published by U.S. investigative journalist Seymour Hersh, which said an attack was carried out last September at the direction of President Joe Biden.
"This is utterly false and complete fiction," said Adrienne Watson, a spokesperson for the White House National Security Council. Spokespeople for the CIA and State Department said the same.
On Wednesday, Russia's foreign ministry said the United States had questions to answer over its role in explosions on the pipelines.
The pipelines are multibillion-dollar infrastructure projects designed to carry Russian gas to Germany under the Baltic Sea.
Sweden and Denmark, in whose exclusive economic zones the blasts occurred, have both concluded the pipelines were blown up deliberately, but have not said who might be responsible.
The United States and NATO have called the incident "an act of sabotage." Moscow has blamed the West for the unexplained explosions that caused the ruptures. Neither side has provided evidence.
Construction of Nord Stream 2, designed to double the volume of gas that Russia could send directly to Germany under the sea, was completed in September 2021, but was never put into operation after Berlin shelved certification just days before Moscow sent its troops into Ukraine last February.
Hersh is a former New York Times and New Yorker reporter who won numerous awards for his investigative journalism, including about the Vietnam War and the 2004 Abu Ghraib scandal following the U.S. invasion of Iraq.
Moscow Offers Mauritania 'Help'
Russian Foreign Minister Sergei Lavrov on Wednesday offered support for Mauritania in the fight against jihadism in the Sahel, saying he respected the country's position in the Ukraine war.
"We have expressed our respect for Mauritania's consistent policy of neutrality on all axes," Lavrov told reporters Wednesday.

But, he said, that neutrality did not prevent Mauritania from actively addressing "problems" in the region.

"I am talking about the terrorist threat in the Sahel-Saharan region", Lavrov said.

He also cited the conflict between Morocco and the Algerian-backed Polisario Front over the Western Sahara, which borders Mauritania.

"We will actively support these efforts of our African friends, based on the principle that they are interested in assistance in this work," he added.
Mauritania is a pivotal country between the Maghreb and sub-Saharan Africa.

Jihadism has spread in the Sahel countries of Mali, Burkina Faso and Niger and now threatens the Gulf of Guinea farther south, although Mauritania has not seen an attack since 2011.

The vast, mostly desert country of 4.5 million voted in March 2022 in favour of a UN resolution calling on Russia to immediately cease its military operations in Ukraine.

Many African countries abstained or did not vote.

In October, Mauritania voted for a resolution against Russia's annexation of four regions of Ukraine. But in November it abstained from a vote on war reparations that Russia should pay to Ukraine.
Russia's "assistance" in the Sahel has included the convict-staffed mercenary "Wagner Group," which has been accused of many human rights violations in Africa and other regions.
There is no word as to whether Lavrov offered to send Wagner to Mauretania.

UK May Deliver Warplanes to Kyiv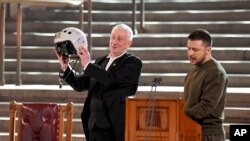 President Volodymyr Zelenskyy urged Britain and others on Wednesday to give Ukraine "wings for freedom" by sending combat aircraft to help turn the tide against Russia's offensive, hoping to overcome Western reluctance to take that step.
The UK will explore the possibility of sending fighter jets to Ukraine, Prime Minister Rishi Sunak's Downing Street office said Wednesday, adding it would only be a "long-term" solution.

"The prime minister has tasked the defense secretary with investigating what jets we might be able to give but, to be clear, this is a long-term solution rather than a short-term capability, which is what Ukraine needs most now," Sunak's spokesman said.
In London for a speech before the House of Commons, Ukraine President Vlodymyr Zelenskyy offered an air force helmet with the message "we have freedom, give us wings to protect it" to Sir Lindsay Hoyle, the speaker of the House of Commons, the lower house of parliament.
Zelenskyy praised Britain and the West for the support and the sanctions they had provided so far in his Westminster Hall speech in London.
Earlier, Britain announced an immediate surge of military deliveries to Ukraine to help it fend off an intensifying Russian offensive and pledged to train its pilots to be able to fly "sophisticated NATO-standard fighter jets in the future."
The government said that was "part of long-term investment in their military" - wording that suggested Britain had not yet shifted its view that providing Kyiv with the fighter jets it has asked for is not the right approach for now.
The move to train pilots was likely to involve simulators rather than advanced Western aircraft and did not mean Britain would soon supply such jets, Justin Bronk, an expert at the RUSI think tank said on Twitter. But it would help pilots now and prepare them for possible future such deliveries, he wrote.
This report was sourced from Reuters and Agence France-Presse.
Egypt Sets Death, Life Imprisonment For "Terror"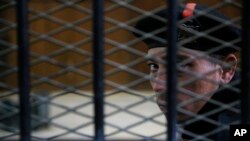 An Egyptian court sentenced one man to death and 11 to life imprisonment after convicting them of joining a "terrorist group" linked to the Islamic State group, state media reported Wednesday.
The same counter-terrorism court in Cairo also handed down three 15-year jail sentences, three 10-year sentences and four acquittals at Tuesday's hearing, the state-owned newspaper Al-Ahram reported.

The defendants were found guilty of "leading or joining a terrorist group" in the capital between 2015 and September 7, 2019, the paper said.
After then army chief now President Abdel Fattah al-Sisi toppled Islamist president Mohamed Morsi in 2013, jihadists, some inspired by the Islamic State group, carried out a wave of attacks on the security forces and other targets, particularly in the Sinai Peninsula.

The authorities responded with a sweeping crackdown on Islamists and other dissidents in which thousands were detained.

The Egyptian courts have handed down death sentences or long jail terms after mass trials that have drawn condemnation from the United Nations and human rights groups.

In a single trial last year, 215 defendants received sentences ranging from 10 years to the death sentence.

In January alone, the Egyptian courts handed down 85 death sentences, of which 39 have been approved by the grand mufti, according to the Egyptian Initiative for Personal Rights.

Putin Hand Suspected in Malaysian Airliner Downing
Russian President Vladimir Putin likely decided to supply the missile that shot down Malaysia Airlines flight MH17 over Ukraine, but there is no realistic prospect of prosecuting him or others, investigators said Wednesday.
Investigators said there were "strong indications" Putin had personally approved the transfer of the missile to pro-Russian separatists during fighting in eastern Ukraine in 2014, citing intercepted phone calls.

But the probe is being suspended because "all leads have been exhausted" into the shooting down of the plane, which crashed with the loss of all 298 people on board.

The announcement comes less than three months after a Dutch court convicted two Russians and a Ukrainian of murdering those aboard MH17, after trying them in their absence.

"There are strong indications that the Russian president decided on supplying the Buk TELAR to the DPR (Donetsk People's Republic) separatists," the Joint Investigation Team of six countries probing the crash said in a statement.

Russian officials even postponed a decision to send weapons to Ukrainian separatists because Putin was at a D-Day commemoration in France in June 2014, the investigators said.

They played an intercepted telephone call from an advisor saying the delay was "because there is only one who makes a decision (...), the person who is currently at a summit in France."
In 2019, international investigators released intercepted phone calls showing what they said were links between the rebels and "high-ranking" Russian officials, including Vladislav Surkov, a top aide to Putin.
Investigators had previously said they wanted to find out who actually crewed the BUK missile, and who was in the chain of command. The missile was allegedly brought from a Russian military base in the city of Kursk.

But they admitted that was not possible for now.

Putin however benefits from immunity as head of state, making any effort to prosecute the Russian leader impossible, the investigators said.

They added that "although we speak of strong indications, the high bar of complete and conclusive evidence is not reached" in relation to Putin.

"The investigation has now reached its limit, all leads have now been exhausted, the investigation is therefore being suspended," Dutch prosecutor Digna van Boetzelaer told a news conference in The Hague.

"The evidence is insufficient for more prosecutions."

Russia dismissed last year's Dutch verdict at the time as "scandalous" and politically motivated.

Moscow has consistently denied any involvement in the shooting down of MH17.

The victims of the disaster came from 10 countries, including 196 Dutch, 43 Malaysians and 38 Australian residents.