Conflict
Mekele Hit by Airstrike
An air strike has hit near a hospital in Mekele, the capital of Ethiopia's northern Tigray region, according to the head of another hospital which received casualties, less than a week after fighting shattered a four-month ceasefire.
NAIROBI —
Kibrom Gebreselassie, chief executive of Ayder General Hospital, tweeted that an area near Mekele General Hospital had been hit late on Tuesday.
The extent of damage and casualties was unclear.
Getachew Reda, the TPLF spokesperson, said on Twitter that at least three bombs had been dropped and that the Mekelle hospital was among the targets.
Another doctor at Ayder confirmed to Reuters he had heard three explosions late at night.
On Tuesday, the TPLF said an offensive had been broken and a counter-offensive launched. He underscored the devastation in the region, which has not had banking, phone or electricity services for more than a year.
Fuel restrictions have also limited aid distribution, while patients are dying for lack of medicine and equipment.
Restoring services is a key demand of the TPLF before peace talks. The government wants talks to begin without conditions.
Reuters was unable to reach people in Mekelle for confirmation because the region has not had phone communication since Ethiopian troops pulled out more than a year ago.
The latest strike follows a hit on a children's play area on Friday that killed seven people, including women and children.
On Saturday, the Ethiopian government communication service said it had pulled its forces out of the town of Kobo, in the Amhara region bordering Tigray, blaming the TPLF for sending "human waves" against the town and endangering civilians.
The government said Tigrayan forces were attacking in two directions - along the border with Amhara to the south and along the border with Afar to the east.
Ethiopian government spokesperson Legesse Tulu, military spokesperson Colonel Getnet Adane and the prime minister's spokesperson Billene Seyoum did not respond to requests for comment.
At war since late 2020, the Tigray People's Liberation Front (TPLF), which controls the region, and Prime Minister Abiy Ahmed's central government have blamed each other for renewed conflict that is disrupting desperately-needed food aid.
See all News Updates of the Day
Russia Set to Annex Occupied Parts of Ukraine
Russia was poised Wednesday to formally annex parts of Ukraine where occupied areas held a Kremlin-orchestrated referendum on living under Moscow's rule, denounced by the Ukrainian government and the West as illegal and rigged.
Armed troops had gone door-to-door with election officials to collect ballots in five days of voting.
The suspiciously high margins in favor were widely ridiculed and characterized as a bogus land grab by an increasingly cornered Russian leadership following military losses in Ukraine.
Moscow-installed administrations in the four regions of southern and eastern Ukraine claimed Tuesday night that 93% of the ballots cast in the Zaporizhzhia region supported annexation, as did 87% in the Kherson region, 98% in the Luhansk region and 99% in Donetsk.
"Forcing people in these territories to fill out some papers at the barrel of a gun is yet another Russian crime in the course of its aggression against Ukraine," Ukraine's Foreign Ministry said, adding that the balloting was "a propaganda show" and "null and worthless."
The Foreign Ministry asked the European Union, NATO and the Group of Seven major industrial nations to "immediately and significantly" step up pressure on Russia with new sanctions and by significantly increasing their military aid to Kyiv.
European Commission President Ursula von der Leyen urged the EU's 27 member countries to agree on a new package of sanctions on Russian officials and trade over the "sham referendums." She labeled the ballots "an illegal attempt to grab land and change international borders by force."
Pro-Russia officials in the four regions said they would ask Russian President Vladimir Putin to incorporate their provinces into Russia on the basis of announced vote results. Separatist leaders Leonid Pasechnik in Luhansk and Denis Pushilin in Donetsk said they were leaving for Moscow to settle the annexation formalities.
Western countries, however, dismissed the balloting as a meaningless pretense staged by Moscow in an attempt to legitimize its invasion of Ukraine launched on Feb. 24.
The U.S. ambassador to the United Nations, Linda Thomas-Greenfield, said Washington would propose a Security Council resolution to condemn the voting. The resolution would urge member states not to recognize any altered status of Ukraine and include a demand for Russia to withdraw its troops from its neighbor, she tweeted.
The Kremlin remained unmoved amid the hail of criticism. Spokesman Dmitry Peskov said that at the very least, Russia intended to drive Ukrainian forces out of the Donetsk region, where Moscow's troops and separatist forces currently control about 60% of the territory.
In an interview with The Associated Press, an adviser to Ukrainian President Volodymyr Zelenskyy said Ukraine was determined to reclaim all the territory that Russia has seized during seven months of war. At the same time, presidential adviser Mykhailo Podolyak insisted that annexation by Russia would change nothing on the battlefield.
"We will liberate our territory by military means," Podolyak said. "And for us, our actions depend not so much on what the Russian Federation thinks or wants, but on the military capabilities that Ukraine has."
Russia is calling up 300,000 reservists to fight in the war and warned it could resort to nuclear weapons after this month's counteroffensive by Ukraine dealt Moscow's forces heavy battlefield setbacks.
The partial mobilization is deeply unpopular in some areas, however, triggering protests, scatted violence and Russians fleeing the country by the tens of thousands.
In the partially occupied Donetsk region, Russian attacks killed five people and wounded 10 others over the last 24 hours, said Pavlo Kyrylenko, the head of the local military authority.
Authorities in the southern Ukrainian city of Nikopol said Russian rockets and artillery pounded the city overnight.
The city, across the Dnieper River from Russian-occupied territory, saw 10 high-rises and private buildings hit, as well as a school, power lines and other areas, said Valentyn Reznichenko, the head of the local military administration.
'Dozen' Dead in Burkina Faso Attack
A suspected jihadist attack in the north of Burkina Faso has killed around a dozen people, mostly soldiers, security sources told AFP on Monday.
Violence has raged in the landlocked West African country after Lt. Col. Paul-Henri Sandaogo Damiba seized power in a January coup, ousting Burkina's elected leader and promising to rein in jihadists.
But insurgents affiliated to al-Qaeda and the Islamic State group have stoked unrest, similar to neighboring countries.
In the latest attack, a convoy carrying supplies to local residents and escorted by a military unit "was the target of a terrorist attack" near Gaskinde in the Sahel region, an army statement said.
"The attack unfortunately caused human and material losses," and a full toll would be established "as soon as possible," it said.
A security source told AFP that a preliminary toll indicated "about a dozen dead among elements of the unit. There were also a number of seriously wounded."
The source added that reinforcements had been sent to the area, both to secure it and to aid the victims.
On Sunday, an improvised explosive device that targeted another army-escorted resupply convoy in the Sahel wounded four people, security sources said.
These attacks followed one on Saturday in the country's east near the borders with Niger and Benin. The army said at least two soldiers and two civilian auxiliaries were killed in an ambush on their patrol.
Thousands have died and about two million people have been displaced by the fighting since 2015 when the insurgency spread into Burkina Faso.
Earlier this month Damiba sacked his defense minister and assumed the role himself after a series of jihadist attacks.
UN 'Deeply Disturbed' as Thousands Arrested in Russia Protests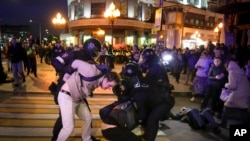 The U.N. voiced alarm on Tuesday at reports that nearly 2,400 people have been arrested in less than a week in Russia for protesting against the draft ordered by President Vladimir Putin.
Russian authorities have cracked down on criticism of the war in Ukraine, arresting thousands of protesters since the beginning of the conflict in February.
"We are deeply disturbed by the large number of people who have reportedly been arrested," United Nations rights office spokeswoman Ravina Shamdasani told reporters in Geneva.
Arrests have sky-rocketed since Putin announced last Wednesday a partial military mobilization to bolster troops in Ukraine.
Shamdasani pointed to "credible reports some 2,377 demonstrators had been arrested... in various locations across the country."
"It is unclear how many people remain in detention," she said.
On Saturday, police monitoring group OVD-Info counted at least 726 people in detention in 32 cities across Russia, nearly half of them in Moscow.
Shamdasani highlighted in particular the two days of protests in Russia's southern republic of Dagestan, where clashes erupted between demonstrators and the police.
"Dozens of people were reported to have been arrested," she said.
Dagestan — a poor, Muslim-majority republic in the North Caucasus — has seen more men killed in the Kremlin's military offensive in Ukraine than any other part of Russia, according to a tally made by independent Russian media of death notices published online.
In several regions, military and administrative buildings, including enlistment offices, have been attacked during anti-draft protests.
On Monday, a man opened fire and wounded a recruitment officer at an enlistment centre in Siberia.
But Shamdasani stressed that the majority of protests across Russia to date had reportedly been peaceful.
"We stress that arresting people solely for exercising their rights of peaceful assembly and freedom of expression constitutes an arbitrary deprivation of liberty," she said.
"We call for the immediate release of all those arbitrarily detained and for the authorities to abide by their international obligations to respect and ensure the rights to freedom of expression and of peaceful assembly."
WFP: Ethiopia Drone Strike Debris Hit Aid Truck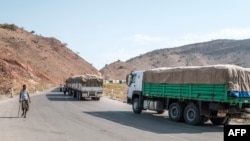 Debris from a drone strike in northern Ethiopia's Tigray region hit a World Food Program truck carrying humanitarian aid and injured the driver, a WFP spokesperson said on Monday.
In Tigray, a nearly two-year conflict has killed thousands of people and left millions in need of aid.
The drone strike on Sunday hit near an area called Zana Woreda in northwestern Tigray, the WFP spokesperson told Reuters.
"Flying debris from the strike injured a driver contracted by WFP and caused minor damage to a WFP fleet truck," the spokesperson said, adding it was not possible to say yet whether further distributions would be suspended in the area.
Two humanitarian workers, who asked not to be named, told Reuters that food distribution operations by another aid agency had been disrupted by shelling in Tigray.
Ethiopia's Government Communication Service said in a statement the government had asked aid organizations to avoid working in areas where it was taking preventive actions in response to attacks against it by the Tigray People's Liberation Front (TPLF), which governs Tigray.
The communication service said that in the past aid transport vehicles had been hijacked and that the TPLF had transported its combatants on trucks painted with U.N. logos.
The WFP truck was delivering food to internally displaced people, hundreds of thousands of which have been uprooted by renewed fighting since Aug. 24 when a five-month ceasefire ended, humanitarian sources say.
Since then, no truck carrying food aid has entered Tigray, the WFP said.
It says an estimated 13 million people in Tigray and neighboring regions of Amhara and Afar are in "desperate need of food assistance."
The conflict pits Prime Minister Abiy Ahmed's government against the TPLF, which used to dominate Ethiopia's ruling coalition.
The government accuses the TPLF of trying to reassert Tigrayan dominance over Ethiopia. The TPLF accuses Abiy of over-centralizing power and oppressing Tigrayans.
UN Urges Mali to Free Detained Ivorian Troops
The United Nations on Monday urged Mali to free 46 detained Ivorian soldiers after the junta in Bamako attacked U.N. chief Antonio Guterres over his comments on the detentions.
The U.N. secretariat in a statement voiced "grave concern" and said it "calls for the urgent release of the detained Ivorian soldiers."
"It strongly supports all efforts to facilitate this release as well as the restoration of confidence and promotion of good neighborliness between the two countries," it said.
Ivory Coast said that the soldiers were detained on July 10 at the Bamako airport as they flew in to provide backup to the U.N. peacekeeping force MINUSMA, one of the international body's largest and most dangerous missions.
The junta insists that they are mercenaries as the two-month standoff between the nations continues.
Guterres, in a recent interview with French broadcasts RFI and France 24, said it was "obvious" they were not mercenaries, prompting Mali's junta-appointed prime minister, Colonel Abdoulaye Maiga, to attack the U.N. chief in his speech to the General Assembly.
"Mr. Secretary-General, Mali shall exert all legal consequences over your actions," Maiga said in his Saturday address to the U.N.
Relations between Mali and Ivory Coast began to deteriorate after the military seized power in Mali in August 2020.