Conflict
Mali Insurgent Mayhem Continues
At least four soldiers, two civilians and five assailants were killed on Sunday in an attack in a strategic border zone between Mali, Burkina Faso and Niger, Mali's army said.
BAMAKO —
The army's death toll could be "much higher," an elected official told AFP, asking not to be named for security reasons.

The two civilians killed were local elected officials, their relatives told AFP.

Tessit is located on the Malian side of the so-called three-border area in a vast gold-rich region beyond state control.
The army blamed the attack on "terrorists" in an announcement late Sunday, using the term it typically uses for jihadists.

Earlier, it had said its troops had been repelling an attack by the Islamic State in the Greater Sahara (ISGS) group, affiliated with the Islamic State organization.

Armed groups under the umbrella of Al-Qaeda aligned jihadists Jama'at Nasr al-Islam wal Muslimin, or JNIM, are fighting ISGS there.

The Malian army, which has a military camp next to the town of Tessit, has frequently been attacked in the area.
Thousands of residents have fled the area, many heading to the town of Gao, some 150 kilometres (90 miles) away.

The Tessit area, like the whole of the so-called three-border zone, is even more isolated during the rainy season when heavy rainfall prevents passage.

In a separate attack Sunday morning, five police officers were killed in Sona, in the Koutiala area of southern Mali near the border with Burkina Faso.

On Friday, suspected jihadists killed about 12 civilians in central Mali with explosives planted in the bodies of slain civilians that relatives had come to collect.

Mali is struggling with a long jihadist insurgency that has claimed thousands of lives and forced hundreds of thousands from their homes.

Violence that began in the north has spread to the centre and south of the country, as well as to neighbouring Burkina Faso and Niger.

See all News Updates of the Day
Gunfire Erupts Again Amid Burkina Coup, French Embassy Attacked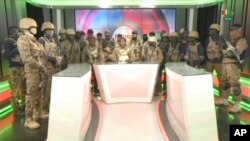 Angry protesters attacked the French Embassy in Burkina Faso's capital on Saturday after supporters of the West African nation's new coup leader accused France of harboring the ousted interim president, a charge French authorities vehemently denied.
Lt. Col. Paul Henri Sandaogo Damiba was overthrown late Friday only nine months after he'd mounted a coup himself in Burkina Faso, which has been failing to effectively counter rising violence by Islamic extremists.
Comments by a new junta spokesman earlier Saturday set into motion an outburst of anger in Ouagadougou, the capital.
Video on social media showed residents with lit torches outside the perimeter of the French embassy and other images showed part of the compound ablaze.
In Burkina Faso's second-largest city, Bobo-Dioulasso, angry crowds also vandalized the French institute.
France has denied any role in the events unfolding in its former colony, and warned its citizens to stay at home amid a "confusing" situation in Ouagadougou.
Damiba's whereabouts remained unknown but France's Foreign Ministry issued a strongly worded statement: "We formally deny involvement in the events unfolding in Burkina Faso. The camp where the French forces are based has never hosted Paul Henri Sandaogo Damiba nor has our embassy."
Capt. Ibrahim Traore, who was named in charge after the Friday evening coup was announced on state television, said in his first interview that he and his men did not seek to harm Damiba.
Gunshots rang out early Saturday in Burkina Faso's capital amid signs of lingering tensions.
Roads remained blocked off in Ouagadougou, where a helicopter could be heard flying overhead. An internal security analysis for the European Union seen by The Associated Press said there was "abnormal military movement" in the city.
The African Union and the West African region bloc known as ECOWAS sharply criticized the developments.
"ECOWAS finds this new power grab inappropriate at a time when progress has been made," the bloc said, citing the recent agreement Damiba had made to return to constitutional order by July 2024.
After taking power, Damiba made promises to end the Islamic extremist violence that has forced 2 million people to flee their homes in Burkina Faso. But a group of officers led by Capt. Ibrahim Traore said Friday that Damiba had failed and so was being removed as interim president.
The new junta leadership said it would commit "all fighting forces to refocus on the security issue and the restoration of the integrity of our territory."
But it remains to be seen whether the junta can turn around the crisis. Concerns already were mounting Saturday, though, that the latest political volatility would further distract the military and allow the jihadis to strengthen their grip on growing swaths of the once peaceful country.
Al-Shabab Kills Well Drilling Crew in Somalia
Islamist militants from al-Shabab on Friday killed 12 people drilling a well in drought-ravaged southern Somalia, a local resident and official said.
Conflict between the al-Qaeda-linked al-Shabab, which wants to implement a strict implementation of sharia, or Islamic law, and the central government has killed thousands of people since 2006.
The attack in the town of Gariley in the southern Gedo region happened when militants attacked the crew at its work site, burning their bodies and drilling equipment, said Mahad Abdi, a local resident who visited the scene and counted the bodies.
"I am very sorry that al-Shabab is causing such trouble for us while we are suffering from drought and lack of water in our area and we don't want water 100 km away from us," Abdi told Reuters.
The area is suffering from the Horn of Africa's worst drought in 40 years, leading the United Nations to warn of a looming famine.
Somali security forces say they have made gains on the battlefield in recent weeks while fighting alongside local self-defense groups, but that hasn't stopped al-Shabab's deadly raids.
Mahmoud Abdel Warsame, the mayor of Gariley, confirmed the death toll and said security forces also killed six al-Shabab fighters.
Al-Shabab has in recent weeks burned houses, destroyed wells and beheaded civilians in other parts of central and southern Somalia, residents say.
The attacks, and the group's demands for tax payments despite the drought, have pushed some residents to take up arms against al-Shabab.
In a separate incident in the capital Mogadishu, al-Shabab fighters killed Mogadishu's head of police, his two bodyguards and a police-based journalist, President Hassan sheik Mohamud was reported as saying on Somali National News Agency.
Putin Claims Ukraine Land, Kyiv Seeks NATO Entry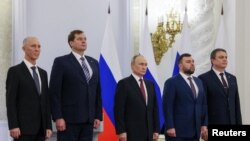 Russian President Vladimir Putin Friday signed treaties to annex parts of Ukraine into Russia, defying Western powers.
In a ceremony in the Kremlin's opulent white-and-gold St. George's Hall, Russian President Vladimir Putin, and the Russian-installed leaders of the four Ukrainian regions put their names on treaties for them to join Russia, in a sharp escalation of the seven-month conflict.
In response to the signing ceremony, Ukrainian President Volodymyr Zelenskyy and Kyiv's western allies, dismissed the annexation by calling it illegitimate and vowed to retaliate with new sanctions.
Zelenskyy held his own signing ceremony in Kyiv, releasing video of him putting pen to papers he said were a formal NATO membership request, calling it an "accelerated" application.
Putin has repeatedly made clear that any prospect of Ukraine joining the military alliance is one of his red lines and cited it as a justification for his invasion, now in its eighth month, in the biggest land war in Europe since World War II.
Of Putin's annexation, President Joe Biden said: "Make no mistake: These actions have no legitimacy."
Putin said his forces will defend the newly annexed territories "by all means necessary," leaving western officials alarmed over the implicit threat of nuclear weapons.
"The points that we have made both publicly and privately to the Russians is that the consequences would be real and extraordinary," said U.S. State Department Spokesperson Ned Price, adding, "The use of any nuclear weapons in this conflict would carry those consequences."
U.S. Senator Lindsey Graham supported Price's sentiments and added, "The use of a nuclear weapon by Russia would be an attack on NATO itself."
"The radiation would not be confined to Ukraine, it would be radiating in parts of Europe that are under the NATO banner," said Graham.
Michael Kimmage, an expert on U.S. – Russia relations, says it is impossible to know whether Moscow's leader is truly considering the use of nuclear weapons.
"That would be an enormous step for Russia to take and would change its image perhaps irretrievably on the international stage," said Kimmage, adding, "It is unclear as to whether it will lead to any different military results."
The separatist Donetsk and Luhansk regions in eastern Ukraine have been backed by Moscow since declaring independence in 2014, weeks after the annexation of Ukraine's Crimean Peninsula.
The southern Kherson region and part of neighboring Zaporizhzhia have been under Russian control since early in in the conflict, which began in February.
Russia Set to Annex Occupied Parts of Ukraine
Russia was poised Wednesday to formally annex parts of Ukraine where occupied areas held a Kremlin-orchestrated referendum on living under Moscow's rule, denounced by the Ukrainian government and the West as illegal and rigged.
Armed troops had gone door-to-door with election officials to collect ballots in five days of voting.
The suspiciously high margins in favor were widely ridiculed and characterized as a bogus land grab by an increasingly cornered Russian leadership following military losses in Ukraine.
Moscow-installed administrations in the four regions of southern and eastern Ukraine claimed Tuesday night that 93% of the ballots cast in the Zaporizhzhia region supported annexation, as did 87% in the Kherson region, 98% in the Luhansk region and 99% in Donetsk.
"Forcing people in these territories to fill out some papers at the barrel of a gun is yet another Russian crime in the course of its aggression against Ukraine," Ukraine's Foreign Ministry said, adding that the balloting was "a propaganda show" and "null and worthless."
The Foreign Ministry asked the European Union, NATO and the Group of Seven major industrial nations to "immediately and significantly" step up pressure on Russia with new sanctions and by significantly increasing their military aid to Kyiv.
European Commission President Ursula von der Leyen urged the EU's 27 member countries to agree on a new package of sanctions on Russian officials and trade over the "sham referendums." She labeled the ballots "an illegal attempt to grab land and change international borders by force."
Pro-Russia officials in the four regions said they would ask Russian President Vladimir Putin to incorporate their provinces into Russia on the basis of announced vote results. Separatist leaders Leonid Pasechnik in Luhansk and Denis Pushilin in Donetsk said they were leaving for Moscow to settle the annexation formalities.
Western countries, however, dismissed the balloting as a meaningless pretense staged by Moscow in an attempt to legitimize its invasion of Ukraine launched on Feb. 24.
The U.S. ambassador to the United Nations, Linda Thomas-Greenfield, said Washington would propose a Security Council resolution to condemn the voting. The resolution would urge member states not to recognize any altered status of Ukraine and include a demand for Russia to withdraw its troops from its neighbor, she tweeted.
The Kremlin remained unmoved amid the hail of criticism. Spokesman Dmitry Peskov said that at the very least, Russia intended to drive Ukrainian forces out of the Donetsk region, where Moscow's troops and separatist forces currently control about 60% of the territory.
In an interview with The Associated Press, an adviser to Ukrainian President Volodymyr Zelenskyy said Ukraine was determined to reclaim all the territory that Russia has seized during seven months of war. At the same time, presidential adviser Mykhailo Podolyak insisted that annexation by Russia would change nothing on the battlefield.
"We will liberate our territory by military means," Podolyak said. "And for us, our actions depend not so much on what the Russian Federation thinks or wants, but on the military capabilities that Ukraine has."
Russia is calling up 300,000 reservists to fight in the war and warned it could resort to nuclear weapons after this month's counteroffensive by Ukraine dealt Moscow's forces heavy battlefield setbacks.
The partial mobilization is deeply unpopular in some areas, however, triggering protests, scatted violence and Russians fleeing the country by the tens of thousands.
In the partially occupied Donetsk region, Russian attacks killed five people and wounded 10 others over the last 24 hours, said Pavlo Kyrylenko, the head of the local military authority.
Authorities in the southern Ukrainian city of Nikopol said Russian rockets and artillery pounded the city overnight.
The city, across the Dnieper River from Russian-occupied territory, saw 10 high-rises and private buildings hit, as well as a school, power lines and other areas, said Valentyn Reznichenko, the head of the local military administration.
'Dozen' Dead in Burkina Faso Attack
A suspected jihadist attack in the north of Burkina Faso has killed around a dozen people, mostly soldiers, security sources told AFP on Monday.
Violence has raged in the landlocked West African country after Lt. Col. Paul-Henri Sandaogo Damiba seized power in a January coup, ousting Burkina's elected leader and promising to rein in jihadists.
But insurgents affiliated to al-Qaeda and the Islamic State group have stoked unrest, similar to neighboring countries.
In the latest attack, a convoy carrying supplies to local residents and escorted by a military unit "was the target of a terrorist attack" near Gaskinde in the Sahel region, an army statement said.
"The attack unfortunately caused human and material losses," and a full toll would be established "as soon as possible," it said.
A security source told AFP that a preliminary toll indicated "about a dozen dead among elements of the unit. There were also a number of seriously wounded."
The source added that reinforcements had been sent to the area, both to secure it and to aid the victims.
On Sunday, an improvised explosive device that targeted another army-escorted resupply convoy in the Sahel wounded four people, security sources said.
These attacks followed one on Saturday in the country's east near the borders with Niger and Benin. The army said at least two soldiers and two civilian auxiliaries were killed in an ambush on their patrol.
Thousands have died and about two million people have been displaced by the fighting since 2015 when the insurgency spread into Burkina Faso.
Earlier this month Damiba sacked his defense minister and assumed the role himself after a series of jihadist attacks.