Business and Technology
Ghana GDP Growth Slows
Ghana's economic growth slowed to 2.9% year-on-year in the third quarter this year compared with 6.6% in the same period last year, the statistics service said on Wednesday, its worst performance since the first quarter of 2021.
ACCRA —
Government statistician Samuel Kobina Annim said the third quarter growth figure - 2.9% - was the lowest since the economy expanded 3.1% in the first quarter of 2021.
"This is the least we've grown since the economy began to bounce back from the COVID-19 pandemic," Annim told reporters.
This year's third quarter growth was underpinned by the agricultural sector, where most growth came from fishing.
Industry saw the lowest growth, with its manufacturing sub-sector shrinking by 7.4% but mining expanding by 14.9%.
Ghana revised growth for the first quarter of this year to 3% and to 4.7% for the second quarter, down from 3.3% and 4.8% respectively, Annim added.
The West African country, experiencing its worst economic crisis in a generation, defaulted on most of its external debt on Monday.
Growth has slowed since a post-COVID pandemic recovery in 2021 as Ghana has grappled with runaway inflation, a depreciating local currency and spiraling debt.
The economic woes have been a central theme of street protests this year. In a bid to stabilize the economy, the government has negotiated a $3-billion staff-level agreement with the International Monetary Fund (IMF). Its approval is conditional on comprehensive debt restructuring.
See all News Updates of the Day
Google Using AI in Battle With Microsoft
Google on Wednesday announced a slew of features powered by Artificial Intelligence (AI) as it ramped up a battle with Microsoft to maintain its dominance of the web search industry.
The two Silicon Valley titans are rushing into the "AI" [artificial intelligence] space after the ChatGPT bot caught the imagination of web users around the world with its ability to generate essays, speeches and even exam papers in seconds.

Microsoft has announced a multibillion-dollar partnership with ChatGPT maker OpenAI and unveiled new products on Tuesday, while Google tried to steal the march a day earlier by announcing its "Bard" chatbot.

Google vice-president Prabhakar Raghavan told an event in Paris that Bard was now being used by "trusted testers" but did not give a timeline for a public release, which is expected within weeks.
AI chatbots like ChatGPT hold the promise of supplying users with ready-made answers from multiple sources, replacing the familiar list of links and ads that have been Google's bread and butter for two decades.

Media reports said the overnight success of ChatGPT was designated a "code red" threat at Google with founders Sergey Brin and Larry Page -- who left several years ago -- brought back to brainstorm ideas and fast-track a response.

The pressure to act was heightened last week when Google-parent Alphabet posted disappointing results and announced it was laying off 12,000 employees.
AI chatbots like ChatGPT hold the promise of supplying users with ready-made answers from multiple sources, replacing the familiar list of links and ads that have been Google's bread and butter for two decades.
While tech fans applaud the emergence of AI on social media platforms and other places, academics have expressed concerns that artificial intelligence will enable students to write papers, essays, and other assignments with a few mouse clicks and computer keyboard strokes.



Court Delays Naira Deadline
Nigeria's Supreme Court on Wednesday prevented the government from enforcing a Friday deadline for citizens to swap old banknotes for new ones, as the International Monetary Fund flagged disruptions to trade and payments.
Supreme Court Judge John Inyang Okoro said the decision to suspend the deadline was unanimous, pending a legal challenge from three states who had argued that the note swap plan was causing hardship ahead of the elections.
The court is due to hear the states' challenge on Feb. 15.
Earlier on Wednesday, the IMF's resident representative in Nigeria urged the Central Bank of Nigeria (CBN) to consider extending the deadline for notes to be swapped given disruption caused by the shortage of new notes.
Nigerians were due to turn in old 1,000, 500 and 200 naira banknotes in exchange for newly designed notes by Friday, February 10, as part of a central bank initiative to curb cash in circulation and control double-digit inflation.
The plan has caused huge controversy, with people saying there are not yet enough new notes available, leading to chaotic scenes at banks and acute cash shortages.
About 1.3 trillion naira ($2.8 billion) in old notes has been deposited into the bank since the announcement in October, according to the bank.
Some politicians have criticized the timing ahead of Feb. 25 elections for a new president and lawmakers, as campaigns are funded by mostly hard to trace cash.
Some ruling party officials have publicly accused the CBN of a plot to turn voters against its candidate in the presidential election, Bola Tinubu.
President Muhammadu Buhari is not running. He will complete his constitutionally allowed two terms in May.
Twitter Turns "Inaccessible" in Turkey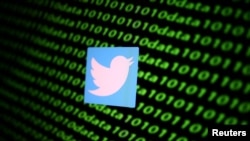 Twitter became inaccessible on major Turkish mobile providers on Wednesday as online criticism mounted of the government's response to this week's deadly earthquake.
The netblocks.org social media monitor showed Twitter becoming throttled and then completely blocked across all major cell phone providers.

"The filtering measure is likely to impact community rescue efforts underway after the series of deadly earthquakes on Monday," netblocks.com warned.

"Turkey has an extensive history of social media restrictions during national emergencies and safety incidents," the monitor added.
AFP reporters were unable to access the social media network across Turkey. It still worked using VPN services that disguise a user's location and are generally free to use.
Turkish social media have been filled with posts by people complaining about a lack of search and rescue efforts in their provinces.
Officials released no immediate statements about the Twitter outage.

But they had issued repeated warnings about spreading misinformation in advance of a crucial May 14 election in which Erdogan will try to extend his two-decade rule.

Turkey's opposition leaders and celebrities warned that Twitter's absence threatened to disrupt rescue efforts and humanitarian relief work.

"Let's stop this disgrace immediately," the secular main opposition CHP party's leader Kemal Kilicdaroglu declared.

"We know everything they are trying to hide."

Nationalist opposition Iyi Party chief Meral Aksener said Twitter was needed "to relay the needs of earthquake victims."

The two leaders head a six-party alliance that is trying to agree on a single presidential candidate to run against Erdogan.

The Twitter outage came as Erdogan toured two of the hardest-hit Turkish provinces.

He directly acknowledged "shortcomings" in the government's handling of the disaster but pledged to redouble efforts to help the victims.

"It's not possible to be ready for a disaster like this," Erdogan said during a visit to the hard-hit Hatay province.

Rwanda 2023 GDP Expecting Moderate Growth
Rwanda's economy is forecast to grow at a slightly slower pace this year before picking up speed again in 2024 and 2025, Finance Minister Uzziel Ndagijimana said on Wednesday.
Finance Minister Ndagijimana told parliament the economy was forecast to grow 6.2% in 2023 and around 7.5% in 2024 and 2025. The finance ministry estimates the economy grew 6.8% in 2022.
He said overall spending for the 2022/23 fiscal year that runs from July to June would rise by just over 2% to 4.76 trillion Rwandan francs ($4.42 billion) from the 4.66 trillion Rwandan francs announced in June, when he first presented the 2022/23 budget.
The Rwandan government, on its official website, painted this picture of the nation's economy:
Rwanda's Gross Domestic Product (GDP) has risen from $752 million in 1994 to $9.5 billion in 2018, and the GDP per capita has grown from $125.5 to $787 during the same period.
The country registered an average GDP growth of around 8 percent per year over the last two decades, with a double-digit growth recorded in the last two quarters of 2019 (12% growth in the 2nd quarter, and 11.9% in the 3rd quarter).
Zim Adds More Coal Generation
Zimbabwe will start operating a new unit at its only coal-fired power plant by March, the country's deputy energy minister said on Wednesday, providing relief to millions of citizens rocked by frequent power outages in recent months.
The new unit of the Hwange power plant will lift the African nation's installed capacity by more than 14% to 2400 megawatts. The next unit is expected to be commissioned soon after, Magna Mudyiwa said, without giving a timeline.
"We have the capacity to generate up to 2100 megawatts (MW)from our power sources but at the moment we're generating far less than that..about 1000MW," Mudyiwa told Reuters.
"But our demand for electricity is about 1700MW so we have a serious deficit," she said.
Deficient rainfall has led to a decline in hydropower generation, while the efficiency of the sole, decades-old coal-fired utility has dipped sharply over time while power demand has surged in recent years due to higher mining and agricultural activity.
Less than half of Zimbabwe's 16 million citizens have access to electricity, and a global squeeze on funding new coal-fired capacity has limited the country's ability to plug chronic power cuts that have lasted as long as 18 hours in recent days.
Lack of funding for coal-fired power is driving the mining and agriculture-dependent economy to import costly power from regional neighbors including Zambia and Mozambique.
The International Monetary Fund counts electricity shortages as one of the major factors weighing on Zimbabwe's growth prospects.