Conflict
Germany Receives Nearly Million Ukrainians
Germany has registered almost a million refugees from Ukraine since Russia invaded its neighbor in February, the interior ministry said on Tuesday.
BERLIN —
A total of 967,546 people fleeing the war have entered Germany at least temporarily, 36 percent of them children, the ministry said in a statement.

Around 97 percent are Ukrainian nationals.

Among the adults, three in four are women and around eight percent are over the age of 64.
There were almost 155,000 Ukrainian pupils enrolled at German schools by the end of last week, according to the conference of state education ministers in Berlin.

The UN refugee agency UNHCR says more than 6.6 million Ukrainians have been registered as refugees across Europe since the Russian invasion.
"Many in our society have gone above and beyond to help refugees," said German Interior Minister Nancy Faeser, calling the influx "the largest movement of refugees (in Europe) since World War II."
According to the German ministry, citing the UNHCR, some 3.8 million Ukrainian refugees have returned to their home country at some point since the start of the war.

Of those registered in Germany, "a significant number" may have travelled on to other EU states or returned to Ukraine, it added.

Most Ukrainian refugees want to return home as soon as possible, according to a UN survey published in July, but do not expect to do so until the war is over.
Countries including the Czech Republic, Poland, Romania and Slovakia have also opened their borders, homes and wallets to help those fleeing the war.
See all News Updates of the Day
UN 'Deeply Disturbed' as Thousands Arrested in Russia Protests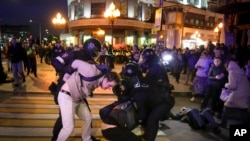 The U.N. voiced alarm on Tuesday at reports that nearly 2,400 people have been arrested in less than a week in Russia for protesting against the draft ordered by President Vladimir Putin.
Russian authorities have cracked down on criticism of the war in Ukraine, arresting thousands of protesters since the beginning of the conflict in February.
"We are deeply disturbed by the large number of people who have reportedly been arrested," United Nations rights office spokeswoman Ravina Shamdasani told reporters in Geneva.
Arrests have sky-rocketed since Putin announced last Wednesday a partial military mobilization to bolster troops in Ukraine.
Shamdasani pointed to "credible reports some 2,377 demonstrators had been arrested... in various locations across the country."
"It is unclear how many people remain in detention," she said.
On Saturday, police monitoring group OVD-Info counted at least 726 people in detention in 32 cities across Russia, nearly half of them in Moscow.
Shamdasani highlighted in particular the two days of protests in Russia's southern republic of Dagestan, where clashes erupted between demonstrators and the police.
"Dozens of people were reported to have been arrested," she said.
Dagestan — a poor, Muslim-majority republic in the North Caucasus — has seen more men killed in the Kremlin's military offensive in Ukraine than any other part of Russia, according to a tally made by independent Russian media of death notices published online.
In several regions, military and administrative buildings, including enlistment offices, have been attacked during anti-draft protests.
On Monday, a man opened fire and wounded a recruitment officer at an enlistment centre in Siberia.
But Shamdasani stressed that the majority of protests across Russia to date had reportedly been peaceful.
"We stress that arresting people solely for exercising their rights of peaceful assembly and freedom of expression constitutes an arbitrary deprivation of liberty," she said.
"We call for the immediate release of all those arbitrarily detained and for the authorities to abide by their international obligations to respect and ensure the rights to freedom of expression and of peaceful assembly."
WFP: Ethiopia Drone Strike Debris Hit Aid Truck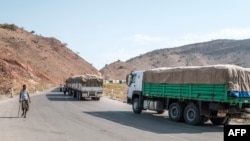 Debris from a drone strike in northern Ethiopia's Tigray region hit a World Food Program truck carrying humanitarian aid and injured the driver, a WFP spokesperson said on Monday.
In Tigray, a nearly two-year conflict has killed thousands of people and left millions in need of aid.
The drone strike on Sunday hit near an area called Zana Woreda in northwestern Tigray, the WFP spokesperson told Reuters.
"Flying debris from the strike injured a driver contracted by WFP and caused minor damage to a WFP fleet truck," the spokesperson said, adding it was not possible to say yet whether further distributions would be suspended in the area.
Two humanitarian workers, who asked not to be named, told Reuters that food distribution operations by another aid agency had been disrupted by shelling in Tigray.
Ethiopia's Government Communication Service said in a statement the government had asked aid organizations to avoid working in areas where it was taking preventive actions in response to attacks against it by the Tigray People's Liberation Front (TPLF), which governs Tigray.
The communication service said that in the past aid transport vehicles had been hijacked and that the TPLF had transported its combatants on trucks painted with U.N. logos.
The WFP truck was delivering food to internally displaced people, hundreds of thousands of which have been uprooted by renewed fighting since Aug. 24 when a five-month ceasefire ended, humanitarian sources say.
Since then, no truck carrying food aid has entered Tigray, the WFP said.
It says an estimated 13 million people in Tigray and neighboring regions of Amhara and Afar are in "desperate need of food assistance."
The conflict pits Prime Minister Abiy Ahmed's government against the TPLF, which used to dominate Ethiopia's ruling coalition.
The government accuses the TPLF of trying to reassert Tigrayan dominance over Ethiopia. The TPLF accuses Abiy of over-centralizing power and oppressing Tigrayans.
UN Urges Mali to Free Detained Ivorian Troops
The United Nations on Monday urged Mali to free 46 detained Ivorian soldiers after the junta in Bamako attacked U.N. chief Antonio Guterres over his comments on the detentions.
The U.N. secretariat in a statement voiced "grave concern" and said it "calls for the urgent release of the detained Ivorian soldiers."
"It strongly supports all efforts to facilitate this release as well as the restoration of confidence and promotion of good neighborliness between the two countries," it said.
Ivory Coast said that the soldiers were detained on July 10 at the Bamako airport as they flew in to provide backup to the U.N. peacekeeping force MINUSMA, one of the international body's largest and most dangerous missions.
The junta insists that they are mercenaries as the two-month standoff between the nations continues.
Guterres, in a recent interview with French broadcasts RFI and France 24, said it was "obvious" they were not mercenaries, prompting Mali's junta-appointed prime minister, Colonel Abdoulaye Maiga, to attack the U.N. chief in his speech to the General Assembly.
"Mr. Secretary-General, Mali shall exert all legal consequences over your actions," Maiga said in his Saturday address to the U.N.
Relations between Mali and Ivory Coast began to deteriorate after the military seized power in Mali in August 2020.
Renewed Clashes Kill 5 in Western Libya
At least five people have been killed over the weekend in western Libya, including a 10-year-old girl, as militia infighting continued on Monday, according to authorities.
The fighting broke out on Sunday between rival militias in the western town of Zawiya, where armed groups — like in many other towns and cities in oil-rich Libya — are competing for influence. It was the latest round of violence to rock the North African nation mired in decade-long chaos.
Along with the five who were killed, at least 13 other civilians were wounded in the clashes, the Health Ministry's emergency services said.
The fighting trapped dozens of families living in the area for many hours, said Malek Merset, a spokesman for the emergency services. He said emergency services were still trying to evacuate trapped civilians.
Local media reported that one militia fired at a member of its rivals, wounding a militiaman who was taken to hospital. Footage circulating online shows heavy fire lighting up the sky at night.
The clashes caused widespread panic among residents, and many government facilities and businesses in the town closed down.
By midday Monday, the Libyan Red Crescent announced a cease-fire, without offering further details.
Violence has regularly escalated between militias in western Libya. In August, clashes in the capital, Tripoli, killed more than 30 people — one of the deadliest bouts of fighting in Libya in many months.
Libya was plunged into chaos after a NATO-backed uprising toppled and killed longtime dictator Moammar Gadhafi in 2011. The oil-rich county has now for years been split between rival administrations, each backed by rogue militias and foreign governments.
Prime Minister Abdul Hamid Dbeibah has refused to step down after Libya failed to hold elections last year. His rival, Prime Minister Fathy Bashagha, operates from the eastern city of Benghazi after failed efforts to install his government in the capital.
Lavrov Lashes at "Russophobia"
Russian Foreign Minister Sergei Lavrov, at the UNGA podium, bitterly criticized Western nations Saturday over the Ukraine war, telling the United Nations that the United States and its allies sought to "destroy" his country.
"The official Russophobia in the West is unprecedented. Now the scope is grotesque," Lavrov said in a fiery UN General Assembly speech delivered Saturday afternoon.

"They are not shying away from declaring the intent to inflict not only military defeat on our country but also to destroy and fracture Russia."
"Declaring themselves victorious in the Cold War, Washington erected themselves almost into an envoy of God on Earth, without any obligations but the sacred right to act with impunity wherever and wherever they want," he said.

After days of Western leaders denouncing Russia's invasion of Ukraine, Lavrov used Russia's turn at the General Assembly rostrum to hit back at pressure on Moscow led by Washington.

The United States, he said, was expanding the Monroe Doctrine -- its 19th-century declaration of Latin America as its exclusive sphere of influence -- and "trying to turn the entire world into its own backyard."

Lavrov added "It's pure, unadulterated dictatorship, or an attempt to impose it."
He also defended referendums Friday in Russian-occupied parts of Ukraine, describing them as people claiming land "where their ancestors have been living for hundreds of years."

"The West is now throwing a fit" on the referendums, Lavrov said.

US President Joe Biden and other Western leaders have vowed never to accept results from what he and other leaders call the "sham" referendums, seeing them as part of an effort to change borders by force.
Biden rebuffed statements by Putin that Russia was threatened, telling the General Assembly "No one threatened Russia. No one but Russia sought conflict."
Biden said Russian President Vladimir Putin's attack on Ukraine since February is "a significant violation of the U.N. Charter,"
The United States and its Western allies have imposed a barrage of sanctions on Moscow following its attack upon Ukraine, which has caused a notable strain on the Russian economy and walled the nation off from normal international commerce.
This report was compiled with information from Reuters and Agence France-Presse