Business and Technology
Foxconn Worker Fight Grows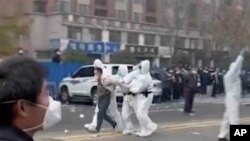 Hundreds of workers joined protests at Foxconn's flagship iPhone plant in China, with some men smashing surveillance cameras and windows, footage uploaded on social media showed.
SHANGHAI/TAIPEI —
The trigger for the protests, which began early on Wednesday, appeared to be a plan to delay bonus payments, many of the demonstrators said on livestream feeds. The videos could not be immediately verified by Reuters.
"Give us our pay!", chanted workers surrounded by people in full hazmat suits, some carrying batons, according to footage from one video. Other footage showed tear gas being deployed and workers taking down quarantine barriers. Some workers had complained they were forced to share dormitories with colleagues who had tested positive for COVID-19.
Foxconn, formally called Hon Hai Precision Industry Co Ltd, said in a statement it had fulfilled its payment contracts and that reports of infected staff living on campus with new recruits were "untrue."
"Regarding any violence, the company will continue to communicate with employees and the government to prevent similar incidents from happening again," the company added.
As for what drives these protests, one person said "Foxconn never treats humans as humans."
A source familiar with the situation in Zhengzhou said production at the plant was unaffected by the worker unrest and output remained "normal."
Discontent over strict quarantine rules, the company's inability to stamp out outbreaks and poor conditions including shortages of food had caused workers to flee the factory campus since the Apple Inc. supplier imposed a so-called closed loop system at the world's biggest iPhone plant in late October.
Under closed-loop operations, staff live and work on site, isolated from the wider world.
The rare scenes of open dissent in China mark an escalation of unrest at the massive factory in Zhengzhou city that has come to symbolize a dangerous build-up in frustration with the country's ultra-severe COVID rules as well as inept handling of the situation by the world's largest contract manufacturer.
Reuters earlier reported that iPhone output at factory could slump by as much as 30% in November, and that Foxconn aimed to resume full production there by the second half of the month. Apple Inc. had warned it expects lower shipments of premium iPhone 14 models than previously anticipated.
While the latest unrest has added "uncertainties" to the target, the source said the company was still working hard to reach it, adding that "only a portion" of the new recruits took part in the unrest.
A second source familiar with the matter, however, said Foxconn was unlikely to hit the target, pointing to disruptions caused by the unrest, impacting particularly new recruits who were hired to bridge the gap in the workforce.
The disruptions may shift some iPhone sales into the March quarter from the key holiday quarter, D.A. Davidson analyst Thomas Forte said.
Foxconn accounts for 70% of iPhone shipments globally. It makes most of the phones at the Zhengzhou plant, though it has other smaller production sites in India and southern China.
Apple did not respond to requests for comment.
See all News Updates of the Day
Harare Cuts Key Rate
Zimbabwe's central bank has cut its policy rate by 50 percentage points to 150%, it said in a statement on Thursday, driven by a downward trend in inflation since late last year.
"The moderation in interest rates is important and necessitated by the downward trend in the month-on-month inflation since the last quarter of 2022," said the bank, adding it expects the trend to continue into 2023.
Monthly inflation fell to 1.1% in January from 2.4% in December, while yearly inflation dipped to 229.8% from 243.8%.
"The Bank will continue its tight monetary policy stance," it added.
Zimbabwe's interest rates are among the highest in the world.
"Ban Tik Tok From App Stores!" - US Lawmaker
TikTok, owned by China's ByteDance, should be removed from app stores run by Apple Inc. and Alphabet's Google because the short video social media app poses a risk to national security, Senator Michael Bennet, a Democrat on the Senate Intelligence Committee, said in a letter dated Thursday.
"No company subject to CCP (Chinese Communist Party) dictates should have the power to accumulate such extensive data on the American people or curate content to nearly a third of our population," Bennet wrote in the letter to Alphabet Chief Executive Sundar Pichai and Apple CEO Tim Cook.
"Given these risks, I urge you to remove TikTok from your respective app stores immediately," he wrote.
The app, which Congress has already banned from federal government devices, has come under increasing criticism because of concern that China's government could use it to harvest data on Americans or advance Chinese interests.
Prior to Bennet's letter, Republicans have largely led the charge on TikTok and national security concerns.
In the US House of Representatives, which is now in Republican hands, the Foreign Affairs Committee plans to hold a vote this month on a bill aimed at blocking TikTok's use in the United States, the committee has confirmed.
In 2020, then-President Donald Trump attempted to block new users from downloading TikTok and ban other transactions that would have effectively prevented TikTok's use in the United States, but the move was rebuffed by the courts.
For its part, the company says China's government cannot access the personal data of US citizens or manipulate the app's content.
TikTok Chief Executive Shou Zi Chew is due to appear before the US House Energy and Commerce Committee in March.
Seriti "Goes Wind" to Power Coaling
South African miner Seriti Resources, a top thermal coal supplier to struggling state power utility Eskom, is investing in wind power in the latest move by industry to wean itself off a national grid plagued by power cuts.
Seriti on Thursday said it would build a 155 megawatt (MW) wind farm over the next two years that will be able to supply 75% of the power required by its coal mines in Mpumalanga, South Africa's coal heartland.
"There are short-term solutions to alleviate some stages of load-shedding, but the only long-term solution is new generation," said Peter Venn, chief executive officer of Seriti's renewable energy subsidiary Seriti Green.
The 4 billion rand ($234 million) wind farm will be the first step in 900 MW of renewable energy projects planned by Seriti, saying these will help ease rolling power cuts in Africa's most advanced economy.
It raises the prospect that mines powered mostly by wind would produce coal for Eskom's power plants to burn to produce electricity.
The move by Seriti is a stark illustration of the switch to renewables being hastened by Eskom's inability to meet demand and implementation of "loadshedding", or scheduled power cuts, which have reached record levels.
Seriti last August launched its foray into renewable energy with the acquisition of Windlab Africa's wind and solar energy assets.
Seriti Resources chief executive Mike Teke said the wind farm is expected to feed power into the national grid from 2025.
"We felt that it's important that we take our responsibility and consider investing in renewable energy because we believe climate change is reality, we believe carbon neutrality is important and we have to make sure that we participate," said Teke.
Another South African coal and fuel producer, Sasol last month annonced it had signed three 229 MW wind power purchase deals as it shifts towards renewable energy to meet its carbon emissions targets.
Africa Gets Renewable Energy Funding
The World Bank has signed an agreement with four West and Central African nations worth $311 million to fund renewable energy projects.
The recipient nations are Sierra Leone, Liberia, Togo and Chad. The funds will support electricity distribution and transmission interventions.
The funds will finance around 106 megawatts (MW) of solar power generation capacity with battery energy and storage systems, and 41 MW expansion of hydroelectric capacity.
Sierra Leone President Julius Maada Bio, who presided over the signing ceremony on Wednesday, said the deal was the beginning of a revolution in energy supply and access in the respective countries.
"We are paying far more for energy now than we were 18 months ago. Very high and rising energy prices continue to have an adverse impact on other sectors of our economies," Maada Bio said.
The West Africa Power Pool, a regional approach to improve electricity in the sub-region, will also receive some funds that approved in December under a new World Bank Regional Emergency Solar Power Intervention Project.
Boutheina Guermazi, World Bank Director for Regional Integration said the project was the first time four countries had been brought together for a regional energy approach.
"It is a continental approach to make sure that we reach universal access to clean affordable energy by 2030," Guermazi said, adding that the project would be completed in four years.
West Africa and Central Africa has one of the lowest electrification rates coupled with some of the highest electricity costs in Sub-Saharan Africa. Energy costs have increased further because of the impacts of Russia's February 2022 invasion of Ukraine as fuel prices rise.
Iran Social Media Remains Blocked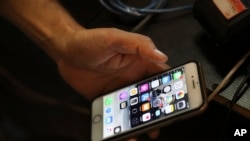 Iran's President Ebrahim Raisi has vowed that WhatsApp and Instagram will remain blocked in the country, blaming the online platforms for stoking protests that started over four months ago.
President Raisi charged that the two platforms, owned by US internet giant Meta, "were at the root of the insecurity in the country during the recent riots", speaking on national television Tuesday evening.

"The two platforms will only be allowed to operate if they have a legal representative in the country who is responsible for their users' activities," the president said.

Telecommunications Minister Issa Zarepour said Wednesday that the continued Whatsapp and Instagram blocks were approved by "the Supreme National Security Council in the presence of the president, the head of the judiciary and the head of parliament".

The online services were the most widely used in Iran after authorities earlier blocked access to Facebook, Twitter, YouTube, Telegram and TikTok.
The Islamic republic was rocked by major demonstrations after the mid-September death of Mahsa Amini, a 22-year-old Iranian Kurd, after her arrest for allegedly breaching the country's dress code for women.

Raisi also said that he had "told the country's leaders that internet disruptions were causing discontent" among the population of Iran, which has become a highly connected country in recent years.

Former government spokesman Ali Rabiei warned late last month that the activities of "about three million companies and the jobs of 12 million people" were linked to the internet in Iran.

Even before the protests, internet access was restricted and most foreign websites could only be accessed through virtual private networks.