Conflict
Finding al-Zawahiri in Kabul
al-Qaeda leader Ayman al-Zawahiri had been in hiding for years and the operation to locate and kill him was the result of "careful patient and persistent" work by the counter-terrorism and intelligence community, a senior U.S. administration official has told reporters.
WASHINGTON —
This year, officials identified that Zawahiri's family - his wife, his daughter and her children - had relocated to a safe house in Kabul and subsequently identified Zawahiri at the same location.
Over several months, intelligence officials grew more confident that they had correctly identified Zawahiri at the Kabul safe house and in early April started briefing senior administration officials. Jake Sullivan, National Security Advisor, subsequently briefed President Joe Biden.
"We were able to build a pattern of life through multiple independent sources of information to inform the operation," the official said.
Once Zawahiri arrived at the Kabul safe house, officials were not aware of him leaving it and they identified him on its balcony - where he was ultimately struck - on multiple occasions, the official said.
Officials investigated the construction and nature of the safe house and scrutinized its occupants to ensure the United States could confidently conduct an operation to kill Zawahiri without threatening the structural integrity of the building and minimizing the risk to civilians and Zawahiri's family, the official said.
In recent weeks, the president convened meetings with key advisors and Cabinet members to scrutinize the intelligence and evaluate the best course of action. On July 1, Biden was briefed on a proposed operation in the White House Situation Room by members of his cabinet including CIA Director William Burns
Biden "asked detailed questions about what we knew and how we knew it" and closely examined a model of the safe house the intelligence community had built and brought to the meeting.
He asked about lighting, weather, construction materials, and other factors that could affect the success of the operation, the official said. The president also requested analysis of the potential ramifications of a strike in Kabul.
A tight circle of senior inter-agency lawyers examined the intelligence reporting and confirmed that Zawahiri was a lawful target based on his continuing leadership of Al Qaeda.
On July 25, the president convened his key Cabinet members and advisors to receive a final briefing and discuss how killing Zawahiri would affect America's relationship with the Taliban, among other issues, the official said. After soliciting views from others in the room, Biden authorized "a precise tailored air strike" on the condition that it minimize the risk of civilian casualties.
The strike was ultimately carried out at 9:48 p.m. ET (0148 GMT) on July 30 by a drone firing so-called "hellfire" missiles.
See all News Updates of the Day
The US Vetoes UN Resolution Condemning Violence Against Civilians in Israel-Gaza Conflict
UNITED NATIONS - The United States has vetoed a U.N. resolution that would have condemned all violence against civilians in the Israel-Hamas war and urged humanitarian aid to Palestinians in Gaza.
The U.S. vetoed a U.N. resolution Wednesday to condemn all violence against civilians in the Israel-Hamas war and to urge humanitarian aid to Palestinians in Gaza, saying it was too early to craft an appropriate Security Council response to the crisis.

U.S. Ambassador Linda Thomas-Greenfield said the council needs to allow current diplomatic efforts, including by President Joe Biden, to unfold and to find out more facts on the ground first. She also criticized the measure for failing to underline Israel's right to self-defense.

The resolution sponsored by Brazil had wide support and would have condemned all violence against civilians, including "the heinous terrorists attacks by Hamas" against Israel. The vote in the 15-member Security Council was 12 votes in favor and the U.S. against, with Russia and Britain abstaining.

Thomas-Greenfield said that Biden was in the region engaging in diplomacy hoping to protect civilians, secure the release of hostage and prevent the conflict from spreading. "We need to let that diplomacy play out," she said.

She said the Security Council must speak out, but should be "informed by facts on the ground and support direct diplomacy efforts that can save lives -- the council needs to get this right."

The American ambassador criticized the resolution for not saying anything about Israel's right to self-defense following Hamas' surprise Oct. 7 attacks that killed more than 1,400 people in Israel. Since then, the Gaza Health Ministry says nearly 3,500 people have been killed in Gaza and more than 12,000 wounded.

Britain's U.N. Ambassador Barbara Woodward also criticized the resolution's failure to mention Israel's right to self-defense.

Brazil, the current council president, plus France, China, the United Arab Emirates and several other council members expressed regret and disappointment at the U.S. veto.

The voting and debate followed Tuesday's huge explosion and fire at a Gaza City hospital packed with patients, relatives and Palestinians seeking shelter, in which the hospital said hundreds of people died. Hamas said it was from an Israeli airstrike, while Israel blamed a misfired rocket by the Palestinian militant group Islamic Jihad. Islamic Jihad denied any involvement.

Council members rejected two proposed Russian amendments to the resolution, which failed to get the minimum nine "yes" votes. One called for a "humanitarian cease-fire" and the other would condemn indiscriminate attacks on civilians and "civilian objects" in Gaza, which include hospitals and schools.

Russia's U.N. Ambassador Vassily Nebenzia said the Brazil resolution, which called for "humanitarian pauses" to deliver aid, wouldn't have helped to avoid Tuesday's explosion at the Gaza hospital. "It is only a cease-fire that will help to do this," he said.
He told council members who abstained or opposed the Russian amendments – the U.S. voted against both – that they will have to "bear responsibility" for what happens now to people in their own countries, the region, "and the people who are living under this deadly threat."

Nebenzia accused the United States of "hypocrisy" and "double standards," saying the Americans didn't want a solution in the Security Council.

Brazil's U.N. Ambassador Sérgio França Danese called the defeated resolution "robust and balanced." stressing that it also called for the immediate release of all hostages, protection of civilians in Gaza from forced relocation, and "the ethical necessity" to provide them with food, fuel, water and medicine.

"Sadly, very sadly, the council was yet again unable to adopt a resolution on the Israeli-Palestinian conflict," he said. "Council paralysis in the face of a humanitarian catastrophe is not in the interest of the international community."
The U.S. will have to explain its veto to the 193-member General Assembly within 10 working days under a resolution its members adopted in April 2022. Supporters of the defeated Brazil draft could go to the assembly, where there are no vetoes, to win approval for a resolution on the Israeli-Hamas war. But unlike Security Council resolutions, which are legally binding, assembly resolutions are not.
Immediately after Tuesday's votes and speeches, the council started an emergency meeting —called for by Russia, the United Arab Emirates and China — to discuss the Gaza hospital blast.
The council's actions took place amid frantic diplomatic efforts to prevent the Israeli-Hamas conflict from spreading, including Biden's lightning trip to Israel where he met with Prime Minister Benjamin Netanyahu.
U.N. humanitarian chief Martin Griffiths noted in a video briefing from Doha, Quatar, that Tuesday's massive explosion deprived Gaza of a hospital that cared for more than 45,000 patients a year.
After the hospital blast, Palestinian President Mahmoud Abbas backed out of a meeting with Biden, Egyptian President Abdel Fattah el-Sissi and King Abdullah II of Jordan, leading the Jordanians to cancel the meeting,
The 22-member Arab Group at the United Nations expressed "outrage" at the hospital deaths and called for an immediate cease-fire to avoid further Palestinian casualties and the opening of a corridor to safely deliver aid to millions in Gaza.
Egypt's U.N. ambassador, Osama Mahmoud, told reporters that a summit will take place Saturday in Cairo as scheduled with regional leaders and U.N. Secretary-General Antonio Guterres. The five permanent Security Council nations are also invited, he said.
Mahmoud said the summit will address the humanitarian crisis sparked by the Israeli-Palestinian conflict, how to achieve a cease-fire, and whether "any serious attempt to have a political horizon" exists to tackle the issues blocking an Israeli-Palestinian peace agreement.
U.N. Mideast envoy Tor Wennesland told the emergency council meeting, "I fear that we are at the brink of a deep and dangerous abyss that could change the trajectory of the Israeli-Palestinian conflict, if not of the Middle East as a whole."
After a century of conflict and half a century of Israeli occupation, he said the international community has "failed collectively" to help Israel and the Palestinians reach a political settlement. And he warned that events following the Hamas attacks "have served to re-ignite grievances and re-animate alliances across the region."
Wennesland said the immediate objectives must be unrestricted humanitarian access to Gaza and freeing the hostages followed by collective action to end the hostilities and prevent an expansion of the conflict. Beyond that, he said, there must be an international effort to find "a political horizon" to end the Israeli-Palestinian conflict — not "a patchwork" of "temporary fixes."
Biden Scheduled for Israel Visit as Gaza Ground Invasion Looms
U.S. President Joe Biden is scheduled to visit Israel on Wednesday in an act to show "ironclad" support amid attempts by Washington to prevent the escalating war against Hamas militants in Gaza from spilling over into wider Middle East conflict.
Speaking in Israel after completing a whistle stop regional tour, U.S. Secretary of State Antony Blinken said Biden's visit would be a statement of "solidarity with Israel" and an "ironclad commitment to its security."
The U.S. Secretary Monday met with Israeli Prime Minister Benjamin Netanyahu.
While meeting the Israeli official, Blinken signaled that there was no firm agreement on humanitarian relief, but there was a "commitment" to work on a plan to be enacted ahead of and during Biden's visit.
Blinken also said the two sides were discussing the "possibility of creating areas to help keep civilians out of harm's way."
Biden hopes to "hear from Israel how it will conduct its operations in a way that minimizes civilian casualties and enables humanitarian assistance to flow to civilians in Gaza in a way that does not benefit Hamas," Blinked added.
As an act of solidarity, Washington has already sent two aircraft carrier strike groups to the eastern Mediterranean "to deter hostile actions against Israel."
Biden's trip will happen 12 days after Hamas burst through Israel's heavily fortified Gaza border, shooting, stabbing and burning to death over 1,400 people, among them civilians and foreign nationals.
Shell-shocked Israel has responded with withering air strikes that have killed more than 2,700 people, also mainly civilians.
The Middle Eastern nation also imposed a crippling siege on Gaza and deployed tens of thousands of troops to the border in preparation for a full-scale ground offensive.
Israel has vowed to destroy Hamas while also seeking to rescue the at least 199 hostages taken into Gaza by the Islamist Hamas, which has released a video of one of the captives, French-Israeli woman Mia Shem.
Her mother, Keren Shem, made an emotional plea for her safe return, at a Tel Aviv press conference.
"I ask world leaders that my daughter be returned to us in the state that she is today, as well as the other hostages," Shem said.
"I am begging the world to bring my baby back home," she added.
Israel army spokesman Jonathan Conricus Tuesday said their forces "will commence the enhanced military activities when the timing suits the goal".
Conricus stressed "if hostages are dead, that is the responsibility of Hamas and Hamas will pay the price."
Jamil Abdullah, a Palestinian-Swede that hopes to flee the conflict in Gaza said, "the situation is catastrophic beyond what I could have imagined."
"There are corpses in the streets. Buildings are crashing down on their inhabitants. Blood is everywhere. The smell of the dead is everywhere," Abdullah added.
AFP reporters in Gaza said mortuaries were overflowing, and corpses wrapped in white body bags were even being stored in an ice cream truck.
The UN agency for Palestinian refugees says more than one million Palestinians — almost half of Gaza's population of 2.4 million — have fled their homes.
World Health Organization regional director Ahmed Al-Mandhari said Gaza was barreling towards "real catastrophe."
"There are 24 hours of water, electricity and fuel left," Al-Mandhari added.
Israel has demanded that residents of north Gaza leave for the south, hoping to clear the area of civilians in preparation for a perilous ground assault that would involve grueling urban combat.
Catholic Patriarch in Jersualem Offers to Swap Himself for Hostages
VATICAN CITY - Pope Francis' representative in the Holy Land said on Monday he was willing to exchange himself for Israeli children taken hostage by Hamas and held in Gaza.
Cardinal Pierbattista Pizzaballa, the Patriarch of Jerusalem, made his comment in response to a question during a video conference with journalists in Italy.
"I am ready for an exchange, anything, if this can lead to
freedom, to bring the children home. No problem. There is total willingness on my part," the cardinal said.

"The first thing to do is to try to win the release of the hostages, otherwise there will be no way of stopping (an escalation). We are willing to help, even me personally," he added.
Pizzaballa stressed, however, that he and his office had not yet had any direct contact with Hamas, the militant Islamist group that attacked Israel on Oct. 7, killing 1,300 people.

"You can't talk to Hamas. It is very difficult," he said.

About 200 people were taken hostage and about a dozen of
them are believed to be children.

Pizzaballa oversees Roman Catholic activities in Israel and the Palestinian territories as well as Jordan and Cyprus, a region which is home to an estimated 300,000 Roman Catholics.
Diplomatic efforts have been intensifying to get aid into Gaza as Israel prepares a ground invasion to destroy Hamas.
Authorities in Gaza said at least 2,750 people had so far been killed by the Israeli strikes, a quarter of them children, and nearly 10,000 wounded. Another 1,000 people were missing and believed to be under rubble.

Pizzaballa said about 1,000 Christians were sheltering in Church buildings in northern Gaza after their homes were
destroyed in Israeli strikes.

"They don't know where to go because moving is dangerous,"
he said.

Israel has urged exhausted Gazans to evacuate to the south,
which hundreds of thousands have already done in the enclave that is home to more than 2 million people.
Hamas, which runs Gaza, has told people to ignore Israel's message.
Blinken and Saudi Crown Prince Discuss Israel-Hamas War
RIYADH - US Secretary of State Antony Blinken called for pressure on Hamas during a meeting Sunday with the de facto leader of Saudi Arabia, which has warming ties with Israel but has put normalisation on hold.
The top US diplomat met for nearly an hour in the early morning with Crown Prince Mohammed bin Salman at the royal's farm residence in the Riyadh area, a US official said.

"Very productive," Blinken said when asked about the meeting after returning to his hotel.

Blinken "highlighted the United States' unwavering focus on halting terrorist attacks by Hamas, securing the release of all hostages and preventing the conflict from spreading," State Department spokesman Matthew Miller said.

"The two affirmed their shared commitment to protecting civilians and to advancing stability across the Middle East and beyond," Miller said.

Prince Mohammed highlighted Riyadh's diplomatic outreach "to calm the situation," the official Saudi Press Agency (SPA) reported, an effort that has involved calls to regional leaders including Iranian President Ebrahim Raisi.
He also reiterated the Gulf kingdom's condemnation of attacks on civilians and "vital interests that affect their daily lives," while stressing the need for Palestinians to "obtain their legitimate rights and achieve just and lasting peace," SPA said.

Blinken has been touring the region after Hamas fighters infiltrated Israel from the blockaded Gaza Strip on October 7 and killed 1,300 people, mostly civilians, and took about 150 hostages.

The attack sparked a massive retaliatory campaign targeting the Islamist group in Gaza that has killed more than 2,300 people.

Before the violence, the Saudi crown prince had spoken of progress in US-led diplomacy to normalise relations between Saudi Arabia and Israel.

Saudi Arabia has put the process on hold after the violence, and Blinken has said that disrupting Saudi-Israel normalisation efforts may have partly motivated the Hamas attack.

The kingdom is the guardian of Islam's two holiest sites, making recognition a historic coup for Israel, which in 2020 normalised relations with three other Arab states including the United Arab Emirates.

- Next stop: Egypt -

As part of a package, Saudi Arabia -- which like Israel has tense relations with Iran's Shiite clerical state -- has been seeking security guarantees from the United States, its longtime partner and consumer of its oil.

But Prince Mohammed is deeply controversial in the United States, where intelligence linked him to the 2018 killing and dismemberment of Jamal Khashoggi, a US-based Saudi journalist.

Riyadh denies this, blaming rogue operatives.

President Joe Biden -- who once vowed to make the kingdom a pariah -- drew protests at home after a visit to Saudi Arabia last year when he shared a friendly fist-bump with Prince Mohammed.
The State Department said Blinken and the crown prince also discussed Yemen, where an uneasy peace has been holding between the Saudi-backed government and Iranian-backed Huthi rebels.

They also addressed Sudan, on which the Saudis have been working with the United States to mediate between warring generals, with limited success.

Blinken will travel later Sunday to Egypt, the sixth Arab country he will visit as he seeks to pressure Hamas and prevent the war from spreading.

Egypt is a key intermediary between Israel and Hamas, and US officials say Cairo worked on an arrangement to let US citizens leave the Gaza Strip but that Hamas impeded their movement on Saturday to the sole border crossing at Rafah.
Google Warned by EU About Disinformation in Israel-Hamas Conflict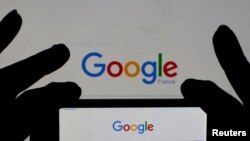 BRUSSELS - The EU's top tech enforcer, Commissioner Thierry Breton, warned Google parent Alphabet on Friday to be wary of potential "illegal content and disinformation" on its YouTube platform.
In the latest in a series of messages to tech CEOs that has already seen him sparring with Elon Musk on X, formerly Twitter, the EU industry commissioner wrote to Alphabet CEO Sundar Pichai.

The letter was also posted online on the Bluesky social media platform, an upstart rival to Musk's X, and warns YouTube to comply with the terms of the EU's new Digital Services Act (DSA).

"Following the terrorist acts carried out by Hamas against Israel, we are seeing a surge of illegal content and disinformation being disseminated in the EU via certain platforms," Breton wrote.
This warning mirrored the previous letters to Musk, Facebook and Meta's Mark Zuckerberg and Chinese giant TikTok's Shou Zi Chew earlier this week.

Breton noted that YouTube in particular is used by many children and teenagers and warned that Google thus has a special responsibility to protect users from propaganda and violent or harmful images.

"Notwithstanding the fact that my team will follow up with a specific request on a number of issues to establish DSA compliance, I urge you to proactively report in a prompt, accurate and complete manner to the aspects raised in this letter," Breton wrote.

"As you know, following the opening of a potential investigation and a finding of non-compliance, penalties can be imposed."