Business and Technology
EU to Ban Petrol, Diesel Vehicle Sales by 2035
BRUSSELS —
"We have just finished the negotiations on CO2 standards for cars," tweeted French MEP Pascal Canfin, who heads the European parliament's environment commission.

"Historic (EU) decision for the climate which definitively confirms the target of 100 percent zero emission vehicles in 2035 with intermediary phases between 2025 and 2030."
The agreed text, based on a proposal by the EU executive in July 2021, calls for reducing CO2 emissions from new cars in Europe to zero by 2035.

This means a de facto halt to sales of new petrol and diesel cars, light commercial vehicles and hybrids in the bloc by that date, in favor of all-electric vehicles.

European Commission chief Ursula von der Leyen praised the agreement as "a crucial milestone to reach our 2030 climate target".

There is a waiver for "niche" manufacturers, or those producing fewer than 10,000 vehicles per year.

Sometimes called the "Ferrari amendment" as it will benefit luxury brands in particular, these vehicles are allowed to be equipped with a combustion engine until the end of 2035.
BMW CEO Oliver Zipse, who is also the president of the European Automobile Manufacturers' Association (ACEA), said the decision was "extremely far-reaching".

"Make no mistake, the European automobile industry is up to the challenge of providing these zero-emission cars and vans," he said.

But more needed to be done for the industry to meet this target, added Zipse, such as having "an abundance of renewable energy, a seamless private and public charging infrastructure network, and access to raw materials."
The European Parliament had in June voted in favor of the 2035 ban on all vehicles with internal combustion engines.
Conservative MEPs and Germany had shown reluctance over some of the targets, fearing the costly burden they will place on EU automakers competing against global rivals with looser targets.

Currently around 12 percent of new cars sold in the European Union are electric vehicles, with its consumers shifting away from CO2-emitting models as energy costs and greener traffic regulations bite.

Meanwhile, China -- the world's biggest automobile market -- wants at least half of all new cars to be electric, plug-in hybrid or hydrogen-powered by 2035.

See all News Updates of the Day
Ghana Seeks Gold Surrender
Ghana has ordered all large-scale mining companies to sell 20% of their entire stock of refined gold at their refineries to the Bank of Ghana from Jan. 1, 2023, Vice-President Mahamudu Bawumia said on Facebook on Friday.
"The gold to be purchased by the Bank of Ghana and the PMMC will be in cedis [Ghana's currency] at spot price with no discounts," VP Bawumia added.
Community mining schemes and licensed small-scale miners will also have to sell gold to the government, Bawumia said, without specifying how much of their reserves would be affected.
Bank of Ghana communications officer Sam Opoku said he could not confirm or deny whether Bawumia's order was being considered.
Ghana's government is carrying out a new policy whereby gold rather than U.S. dollar reserves will be used to buy oil products. The move is meant to tackle dwindling foreign currency reserves coupled with demand for dollars by oil importers, which is weakening the local cedi and increasing living costs.
A spokesperson for AngloGold Ashanti Ltd. said via email it had not yet received a formal directive on its gold reserves but looked forward to studying and engaging with the government once it does.
One gold concern, Gold Fields, said neither the Ghana Chamber of Mines nor its Gold Fields Ghana unit had been formally approached on Bawumia's plan and it could not comment, though it added that it and other miners had already agreed to a gold purchasing program with the Bank of Ghana.
Other gold producers, including Newmont Corp., Galiano Gold Inc. and Asante Gold Corp., did not immediately respond to requests for comment.
Ghana produces crude oil but has relied on imports of refined oil products since its only refinery shut down after an explosion in 2017. It has seen its cedi currency plummet more than 40% against the U.S. dollar this year.
An International Monetary Fund spokesperson did not immediately respond to a request for comment. Ghana is negotiating a relief package with the IMF as it faces its worst economic crisis in a generation.
U.S. Retailers Launch "Black Friday" Sales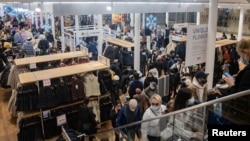 Retailers unveiled a trove of fresh seasonal promotions Friday, as they try to coax sales from reticent shoppers whose holiday cheer has been tempered by inflation and worries over a softening economy.
"Black Friday," the unofficial start of the US holiday shopping season, announced itself with the annual day-after-Thanksgiving deluge of online promotions and early store openings.

But industry experts have been cautious about this year's prospects, in light of price pressures that have exacerbated concerns about an oversupply of goods.
"Supply shortages was yesterday's problem," said Neil Saunders, managing director for GlobalData Retail, a consultancy. "Today's problem is having too much stuff."
A year ago, retailers faced product shortfalls in the wake of shipping backlogs and factory closures related to Covid-19. To avert a repeat, the industry front-loaded its holiday imports this year, leaving it vulnerable to oversupply at a time when consumers are cutting back.

Saunders said retailers have made progress in reducing excess inventories, but oversupply will mean deep discounts in many categories, including electronics, home improvement and apparel.
US shoppers have remained resilient throughout the pandemic, often spending more than expected even when consumer sentiment surveys suggest they are in a gloomy mood.

Leading forecasts from Deloitte and the National Retail Federation project a single-digit percentage rise in sales, but this is unlikely to exceed the inflation rate.

Adobe has forecast an overall holiday sales increase of 2.5 percent, less than a third of the level from last year. Besides inflation, Adobe cited higher Federal Reserve interest rates and an uptick in brick-and-mortar shopping as factors.

European countries like Britain and France have been marking Black Friday for a few years now too, but with soaring inflation, merchants there face a similar dilemma.

"Retailers are desperate for some spending cheer but the worry is that it could turn out to be more of a Bleak Friday," said Hargreaves Lansdown analyst Susannah Streeter.
Consumers like Charmaine Taylor, who checks airline websites frequently, are staying vigilant.

Taylor, who works in child care, has had her travel plans thwarted due to exorbitant plane ticket prices -- and she is unsure of how much she can spend on family this year.

"I'm trying to give them some little gifts," she said at a park in Harlem earlier this week. "I don't know if I'll be able to. Inflation is hitting pretty hard."
"Gold for Oil!" - Ghana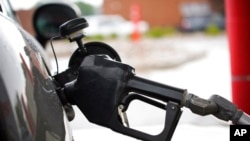 Ghana's government is working on a new policy where gold rather than U.S. dollar reserves will be used to buy oil products, Vice-President Mahamudu Bawumia said on Facebook on Thursday.
The "gold for oil" scheme is meant to tackle dwindling foreign currency reserves coupled with demand for dollars by oil importers, which is weakening the local "cedi" currency and increasing living costs.
If implemented as planned for the first quarter of 2023, the new policy "will fundamentally change our balance of payments and significantly reduce the persistent depreciation of our currency," VP Bawumia said.
Using gold would prevent the exchange rate from directly impacting fuel or utility prices as domestic sellers would no longer need foreign exchange to import oil products, he explained.
"The barter of gold for oil represents a major structural change," he added.
Ghana's Gross International Reserves stood at around $6.6 billion at the end of September 2022, equating to less than three months of imports cover. That is down from a stock position of around $9.7 billion at the end of last year, according to the government.
Bawumia's announcement was posted as Finance Minister Ken Ofori-Atta unveiled measures to cut spending and boost revenues in a bid to tackle a spiraling debt crisis.
In a 2023 budget presentation to parliament on Thursday, Ofori-Atta warned the West African nation was at high risk of debt distress and that the cedi's depreciation was seriously affecting Ghana's ability to manage its public debt.
The government is negotiating a relief package with the International Monetary Fund as the cocoa, gold and oil-producing nation faces its worst economic crisis in a generation.
Foxconn Worker Fight Grows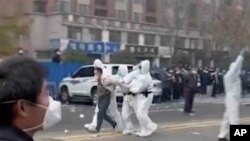 Hundreds of workers joined protests at Foxconn's flagship iPhone plant in China, with some men smashing surveillance cameras and windows, footage uploaded on social media showed.
The trigger for the protests, which began early on Wednesday, appeared to be a plan to delay bonus payments, many of the demonstrators said on livestream feeds. The videos could not be immediately verified by Reuters.
"Give us our pay!", chanted workers surrounded by people in full hazmat suits, some carrying batons, according to footage from one video. Other footage showed tear gas being deployed and workers taking down quarantine barriers. Some workers had complained they were forced to share dormitories with colleagues who had tested positive for COVID-19.
Foxconn, formally called Hon Hai Precision Industry Co Ltd, said in a statement it had fulfilled its payment contracts and that reports of infected staff living on campus with new recruits were "untrue."
"Regarding any violence, the company will continue to communicate with employees and the government to prevent similar incidents from happening again," the company added.
As for what drives these protests, one person said "Foxconn never treats humans as humans."
A source familiar with the situation in Zhengzhou said production at the plant was unaffected by the worker unrest and output remained "normal."
Discontent over strict quarantine rules, the company's inability to stamp out outbreaks and poor conditions including shortages of food had caused workers to flee the factory campus since the Apple Inc. supplier imposed a so-called closed loop system at the world's biggest iPhone plant in late October.
Under closed-loop operations, staff live and work on site, isolated from the wider world.
The rare scenes of open dissent in China mark an escalation of unrest at the massive factory in Zhengzhou city that has come to symbolize a dangerous build-up in frustration with the country's ultra-severe COVID rules as well as inept handling of the situation by the world's largest contract manufacturer.
Reuters earlier reported that iPhone output at factory could slump by as much as 30% in November, and that Foxconn aimed to resume full production there by the second half of the month. Apple Inc. had warned it expects lower shipments of premium iPhone 14 models than previously anticipated.
While the latest unrest has added "uncertainties" to the target, the source said the company was still working hard to reach it, adding that "only a portion" of the new recruits took part in the unrest.
A second source familiar with the matter, however, said Foxconn was unlikely to hit the target, pointing to disruptions caused by the unrest, impacting particularly new recruits who were hired to bridge the gap in the workforce.
The disruptions may shift some iPhone sales into the March quarter from the key holiday quarter, D.A. Davidson analyst Thomas Forte said.
Foxconn accounts for 70% of iPhone shipments globally. It makes most of the phones at the Zhengzhou plant, though it has other smaller production sites in India and southern China.
Apple did not respond to requests for comment.
Kenya Lights Out
Kenya Power, the country's sole electricity distributor, reported power outages across parts of the nation on Thursday.
The company issued a statement on Twitter saying "We have lost bulk power supply to various parts of the country due to a system disturbance," but said it was working to "restore normalcy within shortest time possible."
Kenya Power did not provide specifics as to what caused the problem in its grid.
The outages follow widespread blackouts this month in East Africa's economic powerhouse.
In January a high voltage transmission line connecting the capital broke, causing a nationwide blackout.
Later that month, three senior managers Kenya Power were charged with sabotage and negligence.