Business and Technology
EU Taking Bigger Apple Bite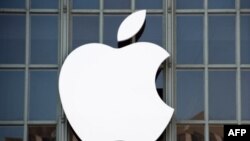 EU antitrust regulators are set to beef up an investigation into Apple triggered by Spotify with new evidence but not new charges, in the hope of speeding up the case, people familiar with the matter said.
BRUSSELS —
Apple found itself in the European Commission's crosshairs after Spotify had complained that the U.S. tech company unfairly restricted rivals to its own music streaming service Apple Music on iPhones.
The EU competition enforcer set out its charges in a so-called statement of objections or charge sheet.
The Commission is now expected to send a "Letter of Facts" to Apple instead, other people familiar with the matter said, adding that there was no final decision yet.
A letter of facts typically contains new evidence reinforcing the original charges against companies which can then counter with a written submission.
The watchdog subsequently considered sending a supplementary statement of objections, a person familiar with the matter told Reuters earlier this year.
The company was hit with another EU antitrust charge in May related to its mobile payment system Apple Pay.
The alleged practices in both cases will be illegal under new EU tech rules known as the Digital Markets Act that will come into force next year with penalties as high as 10% of a company's global turnover.
Apple, which risks a fine as much as 10% of its global turnover if found guilty of breaching EU antitrust rules, did not respond to emailed requests and phone calls for comment.
The Commission also declined to comment.
See all News Updates of the Day
Nigeria Inflation Still Climbing
Nigeria's annual inflation quickened to 19.64% in July, rising for a sixth straight month on the back of price increases for both food and non-food items, the statistics office said on Monday.
Inflation, which has been in double digits in Africa's biggest economy since 2016, was at 18.60% year on year in June.
Along with continuing price hikes for food, fuel also remains at high cost despite some easing of the world petroleum market in July.
Nigeria's currency has been weakening on the parallel market since July 2021 due to a scarcity of foreign currency, contributing to rising inflation as the country imports many key goods and services.
Policymakers have said persistent inflationary pressures are structural and largely related to imports.
Tik Tok Settlement Allows Opt-Outs
In a boon for consumers, the judge overseeing a $92 million class action settlement of claims that TikTok Inc improperly harvested users' private data ruled on Thursday that 851 class members can opt out of the deal, despite TikTok's claims that the opt-outs were improperly solicited.
Some members of the privacy class-action lawsuit against China's social media company believe they can recover more from TikTok in individual arbitration -- and Thursday's ruling from U.S. District Judge John Lee of Chicago means that 851 of them can attempt to do just that.
About 1.2 million TikTok users submitted claims, according to Thursday's decision, out of an estimated 89 million TikTok users in the class, for an overall claims rate of 1.4%. (The claims rate was higher, 13%, for a subclass of Illinois residents who alleged violations of the state's biometric privacy law.)
Judge Lee granted final approval to the $92 million nationwide settlement with video sharing service TikTok and its parent, ByteDance Inc, on Thursday. The judge also awarded about $29 million in fees to class counsel from Lynch Carpenter; Bird Marella Boxer Wolpert Nessim Drooks Lincenberg & Rhow; FeganScott and a host of other plaintiffs' firms that did work for the class that launched the suit.
TikTok has denied harvesting biometric data at all and has said it did not compromise users' privacy.
A handful of plaintiffs' firms had objected to the deal's stringent rules for opt-outs, arguing that law firms should instead be permitted to opt out their clients en masse, via a single electronic filing, rather than advising their clients to complete, sign and submit individual opt-out forms. Lee nixed that request.
Tik Tok defense lawyers at Wilson, Sonsini, Goodrich, & Rosati had argued that the plaintiffs' firms had improperly solicited clients with deceptive ads, then used internet technology to obtain electronic "signatures" from potentially unwitting class members.
"This technology does not change the fact that these firms are still soliciting and submitting opt-out requests en masse to disrupt the court-approved settlement," the TikTok brief argued. "All of the same concerns discussed with traditional mass opt-outs still apply to these mass-auto-generated individual electronic opt-outs."
But the TikTok opt-out plaintiffs' firms said their situation is not analogous. In a strong response to TikTok, they said they didn't use deceptive ads – and that if anyone is being deceptive, it's TikTok, which accused them of running one ad they had nothing to do with and claiming another solicitation was misleading when, in fact, it contained no misrepresentations.
TikTok's "speculative and unprofessional attacks," the plaintiffs' firms said, were really just an attempt to stymie class members trying to exercise their contractual right to arbitrate. "In TikTok's view, absentee class members not only should be deprived of their due process rights to opt out, they also lose a right to hire counsel," the brief said. "This position is contrary to the law, ethics and reason."
TikTok lawyer Tony Weibell of Wilson Sonsini declined to provide a statement on the opt-out issue. Opt-out lawyers Yana Hart of Clarkson, Michael Kind of Kind Law and Joshua Swigart didn't respond to email requests for comment.
Ethiopia Fills Controversial Dam
Ethiopia has completed the third filling of its mega-dam reservoir on the Blue Nile, Prime Minister Abiy Ahmed said Friday, a development that could raise further tensions with downstream neighbours Egypt and Sudan.
"Today as you see behind me, the third filling is complete," Prime Minister Abiy Ahmed said as images were shown on state television from the dam site.

"Compared to last year, we have reached 600 metres which is 25 metres higher than the previous filling," he said.

"The Nile is a gift of God given to us for Ethiopians to make use of it."
The massive $4.2 billion dam, set to be the largest hydro-electric scheme in Africa, has been at the center of a regional dispute ever since Ethiopia broke ground on the project in 2011.

There is still no agreement between Ethiopia and its downstream neighbors Egypt and Sudan about the GERD's operations despite talks held under the auspices of the African Union.

Cairo and Khartoum view it as a threat because of their dependence on Nile waters, while Ethiopia deems it essential for the electrification and development of Africa's second most populous nation.

Egypt, which relies on the Nile for about 97 percent of its irrigation and drinking water, last month protested to the UN Security Council about the third refilling.

The process of filling the GERD's vast reservoir, which has a total capacity of 74 billion cubic meters, began in 2020.

On Thursday, Abiy sought to reassure the two countries over the impact of dam and called for negotiations to reach an understanding.

"Any other option will not stop what we have started and will be futile," he said, insisting that the third filling was not causing any water shortages downstream.

Ethiopia first began generating electricity from the GERD in February. Currently, the two turbines, out of a total of 13, have a capacity to generate 750 megawatts of electricity.

It is ultimately expected to produce more than 5,000 megawatts, more than doubling Ethiopia's current output.

Project manager Kifle Horo said Thursday that overall the dam was now more than 83 percent complete and that the goal was for it to be finished in the next two and a half years.

The 145-metre (475-foot) high structure straddles the Blue Nile in the Benishangul-Gumuz region of western Ethiopia, near the border with Sudan.

The project was initiated under former prime minister Meles Zenawi, the Tigrayan leader who ruled Ethiopia for more than two decades until his death in 2012.

Ethiopia Amps GERD Output
Ethiopian Prime Minister Abiy Ahmed kickstarted electricity production from the second turbine at its controversial mega-dam on the Blue Nile on Thursday, despite continuing objections by Egypt and Sudan over the project.
Thursday's move to increase hydropower came even though there is still no agreement between Ethiopia and its downstream neighbors Egypt and Sudan about the Grand Ethiopian Renaissance Dam's (GERD) operations.

"We have repeatedly told downstream countries, especially Egypt and Sudan, that by generating power we're developing our economy, as well as (our desire) to see our citizens who live in the dark see light," he said.

There was "no aim to sideline and harm" those countries, he added.
PM Abiy also confirmed that a third filling of the $4.2 billion dollar dam was under way, a development that led Egypt last month to protest to the UN Security Council.
Ethiopia first began generating electricity at the dam in February. Currently, the two turbines, out of a total of 13 at the dam, are generating 750 megawatts of electricity.

The GERD is ultimately expected to produce more than 5,000 megawatts, more than doubling Ethiopia's current output.

The 145-metre (475-foot) high structure straddles the Blue Nile in the Benishangul-Gumuz region of western Ethiopia, near the border with Sudan.

The process of filling the GERD's vast reservoir, which has a total capacity of 74 billion cubic metres, began in 2020.
Last month, Egypt wrote to the Security Council voicing its objections to Ethiopia's plans to fill the dam for a third year without a three-way agreement.

Cairo and Khartoum fear it could threaten their access to vital Nile waters and have demanded a written agreement between on the dam's filling and operation.
The new US envoy for the Horn of Africa, Mike Hammer, discussed the project during visits to both Ethiopia and Egypt last month, saying Washington was "actively engaged" in supporting efforts to find a diplomatic solution to the dispute.
Mine Massacre Families May See Justice Soon
Outstanding claims of compensation from the massacre of 34 workers at a South African platinum mine a decade ago are likely to be settled this month, an official said on Wednesday.
Police gunned down 34 mineworkers and injured 78 others as they repressed a wildcat strike that had turned violent at the Marikana mine northwest of Johannesburg on August 16, 2012.

The massacre was the worst act of police violence since the end of apartheid, which had been legally dismantled 11 years earlier.
Solicitor-General Fhedzisani Pandelani announced that the last civil claims against the government were on track to be resolved before the end of August.

Forty-eight claims remain, Pandelani told a press briefing in the capital Pretoria.

"I can also give the assurance that to the extent that is possible, we could in fact be in a position to resolve all of those matters within this month," he said.

Pandelani said the last cases hinged on the extent of personal injuries, medical examinations or actuarial calculations.

Compensation claims directly related to miners who were killed had already been settled last year, with the state paying almost 76 million rand ($4.6 million) to the victims' families, he said.

He added it was "regrettable" it took so long to bring the cases to a close.

South Africa marks the 10th anniversary of the massacre that shocked the nation on August 16.