Business and Technology
EU OK's Microsoft Activision Blizzard Buy
BRUSSELS - The E.U. on Monday gave the green light to Microsoft's $69-billion takeover bid for U.S. video game giant Activision Blizzard, just weeks after the British competition regulator blocked the deal, putting it at risk.
The European Commission, the bloc's powerful anti-trust authority, said the approval was "conditional on full compliance with the commitments offered by Microsoft."

The European Commission said that if Microsoft lives up to its promises, it will allow gamers to stream Activision's titles on any cloud gaming streaming services operating in Europe.

"The European Commission has required Microsoft to license popular Activision Blizzard games automatically to competing cloud gaming services," Microsoft vice chair Brad Smith said.

"This will apply globally and will empower millions of consumers worldwide to play these games on any device they choose."

But, unless Microsoft wins an appeal against the block by Britain's Competition and Markets Authority (CMA) last month, experts say it will be game over for the bid.
The CMA blocked the bid over concerns it could kill competition in the fast-growing cloud gaming market, and lead to less choice for British gamers in the future.

"If Microsoft does not win the appeal in the CAT, it cannot proceed with the acquisition even if the European Commission now approves it," said Anne Witt, a professor of anti-trust law at EDHEC business school in France.

"Unless, of course, Microsoft decides to leave the U.K. market. But that seems unlikely," she told AFP earlier this year.
The deal is also under threat in the U.S. giant's homeland, where last year the Federal Trade Commission launched a legal action to block it, one of Washington's biggest ever interventions to stop tech industry consolidation.

Xbox-owner Microsoft launched its gigantic bid for Activision Blizzard early last year to create the world's third biggest gaming firm by revenue after China's Tencent and Japan's PlayStation maker Sony, provoking antitrust concerns.

Activision Blizzard's hit titles also include "Candy Crush" and "World of Warcraft." If it goes ahead, it will be the biggest deal ever in gaming.
See all News Updates of the Day
EU, US Creating Agreement on AI Limits
STOCKHOLM - The European Union and the United States said Wednesday that they would soon release a voluntary code of conduct on artificial intelligence, hoping to develop common standards among democracies as China makes rapid gains.
In a joint statement released by the White House and the European Commission, the two sides called AI a "transformative technology with great promise for our people, offering opportunities to increase prosperity and equity."

"But in order to seize the opportunities it presents, we must mitigate its risks," it said.

It added that experts from the two sides would work on "cooperation on AI standards and tools for trustworthy AI and risk management."
After talks with E.U. officials in Sweden, U.S. Secretary of State Antony Blinken told reporters that Western partners felt the "fierce urgency" to act and would ask "like-minded countries" to join the voluntary code of conduct.

"There's almost always a gap when new technologies emerge," Blinken said, with "the time it takes for governments and institutions to figure out how to legislate or regulate."

European Commission Vice President Margrethe Vestager added that a draft would be put forward "within weeks."

"We think it's really important that citizens can see that democracies can deliver," she said.

She voiced hope "to do that in the broadest possible circle - with our friends in Canada, in the UK, in Japan, in India, bringing as many onboard as possible."
The E.U. has been moving forward on the world's first regulations on AI, which would ban biometric surveillance and ensure human control of the technologies, though the rules would not enter into force before 2025 at the earliest.

China has also discussed regulations, but Western powers fear that Beijing, with its growing prowess in the field and willingness to export to fellow authoritarian countries, could effectively set global standards.

While concerns have risen about China in the European Union, the bloc as a whole has yet to take as assertive a stance as the U.S. has, with French President Emmanuel Macron recently leading a major business delegation to the world's second-largest economy.

But Blinken played down differences between the U.S. and European positions on China, saying that "None of us are looking for a Cold War."

"On the contrary, we all benefit from trade and investment with China, but as opposed to de-coupling, we are focused on de-risking," he said.
Hoping to demonstrate both the strengths and risks of AI, Danish Prime Minister Mette Frederiksen on Wednesday delivered a speech to parliament partly written by the AI software ChatGPT.

"Even if it didn't always hit the nail on the head, both in terms of the details of the government's work program and punctuation... it is both fascinating and terrifying what it is capable of," she said.

The Computer and Communications Industry Association, which represents major technology firms, in a statement welcomed the "heightened, pointed transatlantic engagement" on AI at the meeting in in the northern Swedish city of Lulea.
But it reiterated its opposition to any E.U. fees or actions against foreign tech companies.
Kenya May Inflation Up Eight Percent
NAIROBI - Kenya's inflation rose to 8% year-on-year in May, from 7.9% last month, data from the statistics office showed on Wednesday.
On a monthly basis, May inflation was at 0.9% compared to 0.5% in April, the Kenya National Bureau of Statistics said in a statement.
The government has a preferred inflation range of 2.5%-7.5% in the medium term.
Meanwhile, Kenya's central bank has lowered its 2023 GDP forecast from 5.8% growth to 5.5%.
Prices Triple as Nigeria Stops Fuel Subsidy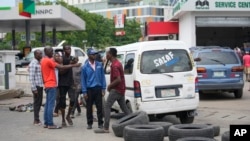 ABUJA - Nigeria's state oil firm NNPC Ltd on Wednesday hiked fuel prices to as high as 557 naira ($1.21) per liter - from 189 naira - days after new President Bola Tinubu said fuel subsidies would be scrapped.
The fuel price hike signals an end to the fuel subsidy regime that the NNPC says costs it $867 million every month.
On Tuesday, the NNPC's chief executive said the corporation was owed $6.1 billion in fuel subsidy payments by the federal government and that Nigeria could no longer afford to pay for the subsidies.
NNPC said in a statement that petrol prices were now being adjusted "in line with the current market realities."
"It is pertinent to note that prices will continue to fluctuate to reflect market dynamics," said NNPC.
Nigerians will now have to brace for higher transport fares - while businesses which rely on petrol generators because the grid electricity supply is meagre, face higher costs.
Facing economic hardships, many Nigerians consider cheap petrol a right and the last time a government tried to remove the subsidy in 2012, it caused nationwide protests. Tinubu, then an opposition leader, opposed the removal of the subsidy.
Rating agency Moody said Tinubu's pledge to remove the subsidy and unify Nigeria's multiple exchange rates was "credit positive" but it warned of risks in the initial period, including higher inflation, weaker economic activity and more social discontent.
ILO: Jobs Divide Widens Between Rich, Poorer Nations
BERLIN - A global employment divide between high-income and low-income countries is worsening as rising debt levels hit developing countries disproportionately, the International Labor Organization (ILO) said on Wednesday.
While global unemployment is expected to fall below pre-pandemic levels to 191 million this year - a rate of 5.3% - low-income countries lag in the recovery process, said the International Labor Organization's 11th edition of the Monitor on the World Of Work.
Low-income countries in Africa and the Arab region are unlikely to recover to pre-pandemic levels of unemployment this year, with the jobless rate in North Africa expected to be 11.2% compared to 10.9% in 2019, said the report.
"Investing in people through jobs and social protection will help narrow the gap between rich and poor nations and people," said ILO Director-General Gilbert F. Houngbo.
Rising debt levels compound challenges facing developing states, making policy intervention more difficult, said the ILO, which is launching a "Global Coalition for Social Justice" to push social justice as a national, regional and global policy.
The ILO urged nations to offer global financial support on job creation and social protection to help narrow the gap.
S&P Forecasts Lower Sub-Saharan GDP Growth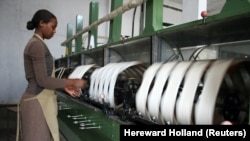 JOHANNESBURG - Economic growth in key Sub-Saharan African economies will slow this year as weaker global growth makes the backdrop less favorable and high interest rates deter investment, ratings agency Standard & Poors (S&P) said in a research report.
S&P said it now forecast the gross domestic product of eight Sub-Saharan African economies it tracks would expand 2.9% in 2023, down from 3.4% in 2022.
S&P now forecasts South Africa's economy will grow 0.7% this year, down from a 1.6% forecast given in June 2022 because of an intensifying electricity crisis.
Democratic Republic of Congo and Ethiopia were poised to be the growth leaders in 2023 with GDP expansions of 6% this year, supported by mining in Congo and a recovery in investment in Ethiopia after a ceasefire between the government and Tigray forces, S&P said.
Looking to 2024, S&P projected average growth of 3.4% in the eight countries.
Its latest forecast is slightly more gloomy than a research report from June last year that predicted 2023 growth of 3.2% for seven African economies.
"The economic environment remains far from growth friendly, reflecting elevated policy uncertainty and above-average systemic financial stress," S&P said.
"Policymakers face a tricky trade-off between public debt management, especially given higher interest rates, and macroeconomic stability."
The end of the COVID-19 pandemic, the reopening of tourism and services sectors, and falling food and fuel prices should bring some relief, S&P added.
This year's report included economic forecasts for Angola, Democratic Republic of Congo, Ethiopia, Ghana, Kenya, Mozambique, Nigeria and South Africa. S&P's 2022 report did not feature Mozambique forecasts.