Conflict
EU Floats Russia War Crimes Tribunal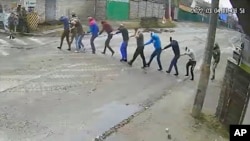 European Union chief Ursula von der Leyen on Wednesday floated the idea of a "specialized court" to put Russia's top officials on trial over the war in Ukraine.
BRUSSELS —
"While continuing to support the International Criminal Court, we are proposing to set up a specialized court backed by the United Nations to investigate and prosecute Russia's crime of aggression," said European Union chief Ursula von der Leyen.
Ukraine has long been pushing for such a specialized tribunal, with its president, Volodymyr Zelensky, saying Russia must be brought to justice for its "atrocities".

But the initiative faces formidable legal and political obstacles.

The problem Ukraine and its Western allies butt up against is that the International Criminal Court (ICC) does not have jurisdiction over Russia's "crimes of aggression" -- its invasion and war in Ukraine -- because Moscow is not a signatory to the court's treaty.

The only way the ICC can be called in to judge Russia's war is through a decision by the UN Security Council -- something that is impossible because Russia, with its permanent seat on the council, would veto it.

To get around that, von der Leyen is proposing to have a court set up in an EU country that could tackle Russia specifically on the crime of aggression, while leaving war crimes and crimes against humanity to the ICC.

The Netherlands, which already hosts the ICC in The Hague, has indicated its willingness to establish the mooted new court on its territory.
A proposal text circulated by von der Leyen's European Commission noted that 14 EU member states had already opened investigations into acts carried out in Ukraine "based either on personal or universal jurisdiction".

It said that, where it came to crimes of aggression, "an alternative investigation mechanism could be considered" where EU countries' interests or citizens were affected.

Commission officials said that path would run alongside the ICC -- to which "the EU will continue to give its full support" -- and would need UN support.

That would involve a procedural gambit where the proposal would submitted to the UN Security Council -- where Russia is sure to shoot it down -- and then to the wider UN General Assembly of all UN member states, where it stands a chance of passing.
In a separate "options paper" also circulated Wednesday, the commission was exploring ways to tap Russian assets frozen under sanctions to support the reconstruction of Ukraine.

Von der Leyen has said the aim was to confiscate the assets seized so far -- which the commission says amounts to around 19 billion euros ($20 billion) in the EU.

But commission officials said legal barriers meant it was more likely only cash proceeds generated from management of those frozen assets could be taken, not the assets themselves.

After any future peace agreement to end the war in Ukraine, "eventually, the assets themselves would need to be returned to the owners," one official said.

See all News Updates of the Day
Russians in CAR "Only 'Instructors'" - Moscow
The Russian ambassador to the Central African Republic said in an interview published on Friday that 1,890 "Russian instructors" were present in the country, a focus of operations for the Kremlin-linked Wagner Group mercenary outfit.
Russian state-owned news agency RIA quoted ambassador Alexander Bikantov as saying: "Today, there are 1,890 Russian instructors in the C.A.R..
The mercenary Wagner Group, founded by Putin ally Yevgeny Prigozhin, has become a major player in the Central African Republic, largely displacing former colonial power France.
The government in Bangui is interested in increasing their number, and says it has has sent the relevant application to the UN Security Council.
Wagner initially intervened on the side of the government to quell a civil war which has raged since 2012.
Wagner has previously deployed to Syria, Libya and Mali, among other countries.
Russia also has Wagner fighters in Ukraine, often in front-line positions to serve, according to some observers, as "cannon fodder" to take Kyiv's bullets instead of regular Russian forces.
The mercenary group has been accused in multiple countries of egregious human rights violations.
More Western Missiles for Ukraine
Three Western nations - the United States, France, and Italy, are sending additional missile systems to Ukraine as Kyiv girds for an expected Russian spring offensive.,
A new $2.2 billion US arms package for Ukraine includes a new rocket-propelled precision bomb that could nearly double Kyiv's strike range against the Russians, the Pentagon said Friday.

Pentagon spokesman Pat Ryder said the new package includes the ground-launched small-diameter bombs (GLSDB), a munition that can fly up to 150 kilometers, threatening Russian positions and depots far behind the front lines.

"This gives them a longer range capability ... that will enable them to conduct operations in defense of their country and to take back their sovereign territory," Ryder said.

Ukraine had been asking the Untied States for munitions that can fly farther than the HIMARS rockets with an 80 kilometer (50 mile) range.

The GLSDB potentially gives Ukraine forces an ability to strike anywhere in the Russian-occupied Donbas, Zaporizhzhia and Kherson regions, and the northern part of occupied Crimea.

That could threaten key Russian supply lines, arms depots and air bases.

Ryder said he did not know how Ukraine planned to use the munition.

The GLSDB, made by Boeing and Saab, is a gliding rocket with a small bomb attached.

Saab says it can hit a target from any angle within one meter.

"The precision of GLSDB is so high it can hit within the radius of a car tire," Saab said on its website.
Additionally, France and Italy have agreed to deliver mobile surface-to-air missile systems to Ukraine, the French defense ministry said Friday.

The systems, called MAMBA or SAMP, contain a vehicle-mounted, medium-range battery of missiles designed to offer protection from airborne threats such as missiles and aircraft.
Kyiv has pressed allies for additional and longer-range missiles, anticipating a new Russian offensive once Spring begins.

Sankara Grave at Murder Spot
The body of Burkina Faso's revered revolutionary leader Thomas Sankara is to be buried alongside 12 comrades at the spot where in 1987 they were assassinated, the country's ruling junta said on Friday.
The ceremony will take place "in February" at the site of a memorial that already marks the location, the government's spokesman, Communications Minister Jean-Emmanuel Ouedraogo, said in a statement, without giving a date.

Sankara came to power in August 1983 as an army captain aged just 33.

Nicknamed Africa's Che Guevara, he was a fiery Marxist-Leninist who blasted the West for neo-colonialism and hypocrisy.

He changed the country's name from the colonial-era Upper Volta to Burkina Faso -- "the land of honest men" -- and pushed through a range of reforms, including promoting vaccination and banning female genital mutilation.

Sankara was idolized by supporters of Pan-Africanism and egalitarianism, but his tenure was short-lived.

He and a dozen other leaders were gunned down by a hit squad at a meeting of the ruling National Revolutionary Council in the capital Ouagadougou on October 15, 1987.

The killings took place on the same day that Sankara's comrade-in-arms, Blaise Compaore, seized power.

He went on to rule for 27 years, during which Sankara's death was a strict taboo. He was ousted by public protests and fled to Ivory Coast.

After Compaore's downfall, the 13 bodies were exhumed from a cemetery on the outskirts of the city for an investigation.

It led to a lengthy trial that culminated in April 2022 in life terms in absentia for Compaore and the suspected hit squad leader, and a similar term for a detained general who had been army commander at the time.

In the light of this trial, the 13 should be buried "honorably," Friday's statement said.

Burkina Faso, a landlocked state in the heart of West Africa's Sahel, is battling a seven-year-old jihadist insurgency that has claimed thousands of lives and driven more than two million people from their homes.

Anger within the military at failures to stem the bloodshed helped spark two coups last year.

Abiy Holds First Tigray Meeting
Ethiopian Prime Minister Abiy Ahmed and other government officials on Friday held their first meeting with Tigrayan leaders since a November peace deal, officials and state media said.
The meeting, which took place at a resort in southern Ethiopia, is where the two sides evaluated "actions carried out on the implementation of the Pretoria and Nairobi peace agreements so far" and discussed issues that "need further attention," according to the Ethiopian Broadcasting Corporation.
Abiy's national security adviser, Redwan Hussein, said on Twitter that Abiy and other government officials "met today and held discussion with TPLF delegation regarding the progress of the peace process."

"As a result, PM Abiy passed decisions about increasing Flights, Banking & other issues that would boost trust & ease lives of civilians," he tweeted.
A peace deal between Abiy's government and the Tigray People's Liberation Front (TPLF) signed in South Africa's capital Pretoria in November last year silenced the guns in northern Ethiopia.

Under the terms of the agreement, the TPLF agreed to disarm and re-establish the authority of the federal government in return for the restoration of access to Tigray, which was largely cut off from the outside world during the two-year war.

Since the deal was signed, there has been a limited resumption of aid deliveries to Tigray, which has long faced dire shortages of food, fuel, cash and medicines.

Basic services such as communications, banking and electricity are slowly being restored to the stricken region of six million people, with the national carrier Ethiopian Airlines resuming commercial flights between Addis Ababa and Tigray's capital Mekele last month.

While the TPLF announced it has begun disarming, local residents and aid workers say the Eritrean army and forces from the neighboring region of Amhara remain in parts of Tigray and accuse them of murder, rape and looting.

Access to Tigray is restricted, and it is impossible to independently verify the situation on the ground.
Saturday Summit on DRC Violence
East African leaders are expected to travel to Burundi on Saturday for a summit on the conflict in eastern DRC, officials said on Friday.
A diplomat in the Democratic Republic of Congo confirmed a meeting was due to take place.
No official announcement has yet been made, but a presidency official said that President Felix Tshisekedi would attend talks in Burundi hosted by the East African Community (EAC).
It is not yet clear which other EAC leaders will attend the summit in Burundi's capital Bujumbura.
Militias have plagued eastern Democratic Republic of Congo for decades, many of which are a legacy of regional wars that flared during the 1990s and the early 2000s.
Since November 2021, M23 rebels have also seized swathes of territory in the turbulent region and come within miles (kilometres) of its main commercial hub Goma.

The DRC accuses its smaller central African nation Rwanda of backing the M23, something United Nations experts, the United States and other western countries agree with.

Rwanda denies the charge.

The EAC decided to create a military force to pacify eastern Congo last year, with the first troops arriving in Goma in November.

The force is permitted to use force to dislodge M23 fighters but it has not yet done so.