Business and Technology
Ethiopia Fills Controversial Dam
Ethiopia has completed the third filling of its mega-dam reservoir on the Blue Nile, Prime Minister Abiy Ahmed said Friday, a development that could raise further tensions with downstream neighbours Egypt and Sudan.
ADDIS ABABA —
"Today as you see behind me, the third filling is complete," Prime Minister Abiy Ahmed said as images were shown on state television from the dam site.

"Compared to last year, we have reached 600 metres which is 25 metres higher than the previous filling," he said.

"The Nile is a gift of God given to us for Ethiopians to make use of it."
The massive $4.2 billion dam, set to be the largest hydro-electric scheme in Africa, has been at the center of a regional dispute ever since Ethiopia broke ground on the project in 2011.

There is still no agreement between Ethiopia and its downstream neighbors Egypt and Sudan about the GERD's operations despite talks held under the auspices of the African Union.

Cairo and Khartoum view it as a threat because of their dependence on Nile waters, while Ethiopia deems it essential for the electrification and development of Africa's second most populous nation.

Egypt, which relies on the Nile for about 97 percent of its irrigation and drinking water, last month protested to the UN Security Council about the third refilling.

The process of filling the GERD's vast reservoir, which has a total capacity of 74 billion cubic meters, began in 2020.

On Thursday, Abiy sought to reassure the two countries over the impact of dam and called for negotiations to reach an understanding.

"Any other option will not stop what we have started and will be futile," he said, insisting that the third filling was not causing any water shortages downstream.

Ethiopia first began generating electricity from the GERD in February. Currently, the two turbines, out of a total of 13, have a capacity to generate 750 megawatts of electricity.

It is ultimately expected to produce more than 5,000 megawatts, more than doubling Ethiopia's current output.

Project manager Kifle Horo said Thursday that overall the dam was now more than 83 percent complete and that the goal was for it to be finished in the next two and a half years.

The 145-metre (475-foot) high structure straddles the Blue Nile in the Benishangul-Gumuz region of western Ethiopia, near the border with Sudan.

The project was initiated under former prime minister Meles Zenawi, the Tigrayan leader who ruled Ethiopia for more than two decades until his death in 2012.

See all News Updates of the Day
Europe Reaches Deal on World's First Comprehensive AI Rules
LONDON, UK — European Union negotiators clinched a deal Friday on the world's first comprehensive artificial intelligence rules, paving the way for legal oversight of AI technology that has promised to transform everyday life and spurred warnings of existential dangers to humanity.
Negotiators from the European Parliament and the bloc's 27 member countries overcame big differences on controversial points including generative AI and police use of face recognition surveillance to sign a tentative political agreement for the Artificial Intelligence Act.
"Deal!" tweeted European Commissioner Thierry Breton just before midnight. "The EU becomes the very first continent to set clear rules for the use of AI."
The result came after marathon closed-door talks this week, with the initial session lasting 22 hours before a second round kicked off Friday morning.
Officials were under the gun to secure a political victory for the flagship legislation. Civil society groups, however, gave it a cool reception as they wait for technical details that will need to be ironed out in the coming weeks. They said the deal didn't go far enough in protecting people from harm caused by AI systems.
"Today's political deal marks the beginning of important and necessary technical work on crucial details of the AI Act, which are still missing," said Daniel Friedlaender, head of the European office of the Computer and Communications Industry Association, a tech industry lobby group.
The EU took an early lead in the global race to draw up AI guardrails when it unveiled the first draft of its rulebook in 2021. The recent boom in generative AI, however, sent European officials scrambling to update a proposal poised to serve as a blueprint for the world.
The European Parliament will still need to vote on the act early next year, but with the deal done that's a formality, Brando Benifei, an Italian lawmaker co-leading the body's negotiating efforts, told The Associated Press late Friday.
"It's very very good," he said by text message after being asked if it included everything he wanted. "Obviously we had to accept some compromises but overall very good." The eventual law wouldn't fully take effect until 2025 at the earliest, and threatens stiff financial penalties for violations of up to 35 million euros ($38 million) or 7% of a company's global turnover.
Generative AI systems like OpenAI's ChatGPT have exploded into the world's consciousness, dazzling users with the ability to produce human-like text, photos and songs but raising fears about the risks the rapidly developing technology poses to jobs, privacy and copyright protection and even human life itself.
Race for AI rules
Now, the U.S., U.K., China and global coalitions like the Group of 7 major democracies have jumped in with their own proposals to regulate AI, though they're still catching up to Europe.
Strong and comprehensive rules from the EU "can set a powerful example for many governments considering regulation," said Anu Bradford, a Columbia Law School professor who's an expert on EU law and digital regulation. Other countries "may not copy every provision but will likely emulate many aspects of it."
AI companies subject to the EU's rules will also likely extend some of those obligations outside the continent, she said. "After all, it is not efficient to re-train separate models for different markets," she said.
The AI Act was originally designed to mitigate the dangers from specific AI functions based on their level of risk, from low to unacceptable. But lawmakers pushed to expand it to foundation models, the advanced systems that underpin general purpose AI services like ChatGPT and Google's Bard chatbot.
Foundation models looked set to be one of the biggest sticking points for Europe. However, negotiators managed to reach a tentative compromise early in the talks, despite opposition led by France, which called instead for self-regulation to help homegrown European generative AI companies competing with big U.S rivals, including OpenAI's backer Microsoft.
Also known as large language models, these systems are trained on vast troves of written works and images scraped off the internet. They give generative AI systems the ability to create something new, unlike traditional AI, which processes data and completes tasks using predetermined rules.
The companies building foundation models will have to draw up technical documentation, comply with EU copyright law and detail the content used for training. The most advanced foundation models that pose "systemic risks" will face extra scrutiny, including assessing and mitigating those risks, reporting serious incidents, putting cybersecurity measures in place and reporting their energy efficiency.
Researchers Warning
Researchers have warned that powerful foundation models, built by a handful of big tech companies, could be used to supercharge online disinformation and manipulation, cyberattacks or creation of bioweapons.
Rights groups also caution that the lack of transparency about data used to train the models poses risks to daily life because they act as basic structures for software developers building AI-powered services.
What became the thorniest topic was AI-powered face recognition surveillance systems, and negotiators found a compromise after intensive bargaining.
European lawmakers wanted a full ban on public use of face scanning and other "remote biometric identification" systems because of privacy concerns. But governments of member countries succeeded in negotiating exemptions so law enforcement could use them to tackle serious crimes like child sexual exploitation or terrorist attacks.
Rights groups said they were concerned about the exemptions and other big loopholes in the AI Act, including lack of protection for AI systems used in migration and border control, and the option for developers to opt-out of having their systems classified as high risk.
"Whatever the victories may have been in these final negotiations, the fact remains that huge flaws will remain in this final text," said Daniel Leufer, a senior policy analyst at the digital rights group Access Now.
Lawsuit Settlement Talks Continue Between Kenya and Meta
NAIROBI - Kenyan Facebook content moderators said settlement talks to resolve a labor lawsuit against Meta, the parent company, collapsed on Monday, setting the stage for a renewed court battle.
In March, 184 moderators sacked by Sama, a company contracted by Meta to review Facebook posts, brought a lawsuit claiming unfair dismissal and alleging that workers in Kenya were subjected to inhumane conditions, including forced labor and irregular pay.

A Kenyan court suspended the mass sacking in June and two months later allowed Meta and the moderators to pursue an out-of-court settlement.

"The looming court battle follows the collapse today of talks," UK-based legal activist firm Foxglove, which is supporting the case, said in a statement.

"The moderators informed the court that Meta and Sama made very little attempt to address core issues raised by the petitioners," it said, adding that they will also sue for contempt of court.

The talks — mediated by Kenya's former chief justice Willy Mutunga and an official from the labour ministry — were due to last for 21 days from August 23.
The moderators' counsel, Mercy Mutemi, accused Meta and Sama of "buying time and not being genuine."

"We kept waiting for them to participate... only for them to keep asking for an extension of time and then come back every time to refuse to take accountability," Mutemi said in the Foxglove statement.

"As long as the respondents are serious in engaging, we are happy to engage," she added.

Meta — which also owns Instagram and WhatsApp — is yet to comment on Monday's announcement.

The company is facing two other legal cases in Kenya.

In 2022, a former South African employee of Sama, Daniel Motaung, filed a complaint in Kenya against Sama and Facebook.

Motaung alleged, among other things, poor working conditions and a lack of mental health support.

The Silicon Valley giant is also facing another complaint in Kenya, where a local NGO and two Ethiopian citizens have accused Meta of failing to act against online hate speech in Africa.

AFP is involved in a partnership with Meta providing fact-checking services in Asia-Pacific, Europe, the Middle East, Latin America and Africa.
IMF, World Bank Meeting Makes Progress on Lending
MARRAKECH - The International Monetary Fund and World Bank wrapped up annual meetings in Morocco on Sunday with some progress towards increasing their lending resources but confronting a new economic shock from the Israel-Gaza conflict.
Discussions in the tourist hub of Marrakech, not far from the epicenter of a devastating September earthquake, focused on a flagging global economy weighed down by debt, inflation and conflict, a growing wealth gap between rich and poor countries and floundering efforts to tackle climate change.

Here are the main takeaways:

SOME FUNDING PROGRESS

IMF member countries pledged to increase quota contributions by year-end to help ensure the Fund has adequate lending firepower to respond to another large-scale crisis. They fell short of agreeing to a U.S. plan that would delay shareholding changes that would cede more influence to China, with more talks in the next two months.

The World Bank's governing body approved its new vision statement to "create world free of poverty on a liveable planet," incorporating its new mission to tackle climate change, and endorsed new steps to allow the use of debt-like hybrid capital and a new portfolio guarantee platform that could together yield up to $100 billion in new lending over a decade.

NO CONSENSUS ON MIDDLE EAST CONFLICT

Hamas' attack on Israel upset a carefully crafted script for the meetings, but IMF and World Bank leaders were slow to respond to risks presented by the conflict, ranging from higher energy prices, potential trade impacts and a new refugee crisis.

G20 finance leaders and the steering committees of both institutions also failed to issue joint communiques due to disagreement over Russia's invasion of Ukraine war, but unlike the strong condemnation of the Hamas attacks by G7 democracies, the larger, more diverse groups failed to mention the Middle East conflict


'LIMPING' ECONOMY

The new IMF outlook - signed off before the escalation of the conflict between Israel and Hamas - sees global economic growth slowing from 3.5% last year to 3% this year and 2.9% next year, a 0.1% point downgrade from a previous 2024 estimate.

Global inflation is seen dropping from 6.9% this year to a still-high 5.8% next. Central bankers signaled readiness to endinterest rate hikes if events allow, hopeful that inflation can be finally tamed without too hard a landing. IMF chief economist Pierre-Olivier Gourinchas described the global economy as "limping along, not sprinting."

DEBT SQUEEZE

The heavy debt burdens of advanced economies - from the United States to China and Italy - was a recurrent theme in the meetings, which came after financial markets in recent weeks pushed U.S. bond yields higher. Italian central bank governor Ignazio Visco said there was an impression markets were "reevaluating the term premium" as investors become more nervous about holding longer term debt.

JPMorgan chair of global research Joyce Chang put it another way. "The bond vigilantes are back, and the Great Moderation is over," she told a panel of the two-decade era of relative economic calm before the 2008/09 financial crisis.

One policy area where this could have a knock-on effect is the fight against climate change. Vitor Gaspar, head of the IMF's fiscal division, warned current subsidies-based policies were failing to deliver net zero emissions and that scaling them up would explode public debt without carbon pricing to generate revenue.

DEBT DEALS AND REFORMS

Looking beyond the major developed economies, higher policy rates, a strong dollar and geopolitical uncertainties are adding to challenges for the rest of the world.

Turkey was in the spotlight as Finance Minister Mehmet Simsek pitched its reform plan. "The biggest structural issue is to bring inflation down. And they're working on it," said Murat Ulgen, Global Head of Emerging Markets Research at HSBC.

Kenya is looking to avoid slipping into debt distress and its central bank governor told Reuters it plans a buyback of a quarter of its $2 billion international bond maturing in June - pushing its 2024 bond up 1.2 cents on the dollar.

One debt restructuring deal emerged: Zambia finally agreed a debt rework memorandum of understanding with creditors including China and France.

Progress on Sri Lanka was less clear. Sri Lanka said on Thursday it reached an agreement with the Export-Import Bank of China covering about $4.2 billion of debt, while talks with other official creditors are stalling.

RISKS SKEWED TO DOWNSIDE

High interest rates will put some borrowers in more precarious positions, the IMF warned in its Global Financial Stability Report. Around 5% of banks globally are vulnerable to stress if those rates remain higher for longer, it estimated, and a further 30% of banks - including some of the world's largest - would be vulnerable if the global economy enters a prolonged period of low growth and high inflation.

JOSTLING FOR INFLUENCE

The Ukraine war, growing trade protectionism and tensions between the United States and China are all making consensus-building tougher. There was much talk ahead of Marrakech on revamping the IMF and World Bank to better reflect the emergence of economies like China and Brazil, but actions taken at the meetings may delay them.

"The big theme this week is G7 countries papering over the cracks of shattered promises," said Kate Donald, Head of Oxfam International's Washington DC Office. "Despite the wringing of hands about the billions of dollars needed to tackle poverty and climate breakdown, there has been no sign of new money."
Google Warned by EU About Disinformation in Israel-Hamas Conflict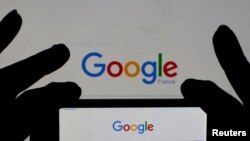 BRUSSELS - The EU's top tech enforcer, Commissioner Thierry Breton, warned Google parent Alphabet on Friday to be wary of potential "illegal content and disinformation" on its YouTube platform.
In the latest in a series of messages to tech CEOs that has already seen him sparring with Elon Musk on X, formerly Twitter, the EU industry commissioner wrote to Alphabet CEO Sundar Pichai.

The letter was also posted online on the Bluesky social media platform, an upstart rival to Musk's X, and warns YouTube to comply with the terms of the EU's new Digital Services Act (DSA).

"Following the terrorist acts carried out by Hamas against Israel, we are seeing a surge of illegal content and disinformation being disseminated in the EU via certain platforms," Breton wrote.
This warning mirrored the previous letters to Musk, Facebook and Meta's Mark Zuckerberg and Chinese giant TikTok's Shou Zi Chew earlier this week.

Breton noted that YouTube in particular is used by many children and teenagers and warned that Google thus has a special responsibility to protect users from propaganda and violent or harmful images.

"Notwithstanding the fact that my team will follow up with a specific request on a number of issues to establish DSA compliance, I urge you to proactively report in a prompt, accurate and complete manner to the aspects raised in this letter," Breton wrote.

"As you know, following the opening of a potential investigation and a finding of non-compliance, penalties can be imposed."
Kenyan Court Allows Use of Genetically Modified Crops
NAIROBI - A Kenyan court on Thursday dismissed a lawsuit challenging a government decision to allow the importation and cultivation of genetically modified crops to help combat its food crisis.
In October last year, the government lifted a decade-old ban on GM crops in response to dwindling food security following the worst drought to ravage the Horn of Africa region in 40 years.

Kenyan lawyer Paul Mwangi swiftly launched a court challenge, arguing the decision was unconstitutional as there were concerns over the safety of the crops.

But environment court judge Oscar Angote ruled on Thursday that there was no evidence to show any harm to nature or human health.

"As a country, we need to trust the institutions that we have in place and call them to order when they breach the law," Angote said, making reference to government bodies that regulate GM foods.

"We should be confident that our health is in good hands."
There was no immediate response about the ruling from Mwangi, a lawyer who is close to the opposition.

Kenya, like many other African nations, banned GM crops over health and safety concerns and to protect smallholder farms, which account for the vast majority of rural agricultural producers in the country.

However, the East African powerhouse faced criticism over the ban including from the United States which is a major producer of GM crops.

Activists and agriculture lobby groups have protested over the lifting of the ban, saying it opened the market to US farmers using sophisticated technologies and highly subsidised farming that threatened the livelihoods of small-scale farmers.
Agriculture is the biggest single contributor to Kenya's economy, generating more than 21 percent of gross domestic product (GDP) last year, according to government figures.

The agricultural sector employs about 12 percent of Kenya's 19 million workers, behind the education sector and manufacturing.