Conflict
DRC Amps Eastern Security
Soldiers and armed police were deployed in several towns in eastern Democratic Republic of Congo on Wednesday after 15 people, including three United Nations peacekeepers, were killed in anti-UN protests, AFP reporters said.
BENI, DRC —
On Wednesday, AFP correspondents saw tighter security in the towns of Beni and Butembo, as well as in Goma, the provincial capital.

Armed police and soldiers were patrolling Beni in jeeps and a highway leading out of the town towards several MONUSCO bases was heavily guarded.

Relative calm had also returned to Goma, where shops were beginning to open again as security forces deployed across the city.

In the town of Sake about 30 kilometres (18 miles) from Goma, Congolese police fired tear gas to disperse protesters near a UN base, which was ringed with soldiers and police officers.

"We will protest until they leave," said Jackson Kibuya, a protester in Sake, holding up a banner reading "Bye Bye MONUSCO".

More than 120 armed groups roam the volatile region, where civilian massacres are common and conflict has displaced millions of people.
Crowds stormed a UN peacekeeping base and a supply centre in the city of Goma in North Kivu province on Monday, looting valuables and chanting hostile slogans.

Protests quickly spread and on Tuesday, three UN peacekeepers were killed in an attack on their base in the town of Butembo.

Twelve protesters have died, in addition to the peacekeepers, according to a government toll.

The UN mission in the DRC, known as MONUSCO, is one of the world's biggest peacekeeping operations.

But it has come under regular criticism in Congo's troubled east, where many accuse it of failing to do enough to end decades-old attacks by armed groups.

See all News Updates of the Day
UN Temporarily Leaves Butembo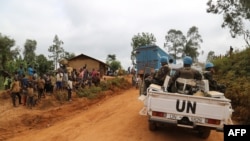 The United Nations peacekeeping mission in Democratic Republic of Congo has pulled out of one of the largest cities in the country's east after deadly protests against its failure to protect civilians, DRC and U.N. officials said Thursday.
The UN MONUSCO mission's hundreds of troops and civilian personnel in Butembo have left and discussions are planned over how to evacuate their equipment, General Constant Ndima, the military governor of North Kivu province, told reporters.
Ndeye Khady Lo, the spokesperson for the mission, which is known by its French acronym MONUSCO, said the departure was temporary.
"MONUSCO is not leaving Butembo. After consultations with local and national authorities, the mission has proceeded to a temporary redeployment of its personnel outside Butembo," she told Reuters, without saying when they might return.
Butembo, a trading hub of almost a million people, has been one of the epicentres of violent demonstrations since last month that have killed dozens, including civilians, peacekeepers and Congolese police.
The protests, which also hit the cities of Goma and Uvira, have laid bare public frustration with the U.N. peaceekepers, who have been deployed to Congo for more than two decades. MONUSCO has around 12,400 troops and costs more than $1 billion per year.
Even after a peace deal in 2003 drew a line under a five-year regional conflict in which millions died, U.N. peacekeepers and Congolese forces have been unable to stamp out persistent violence by dozens of rebel groups in the eastern areas bordering Uganda, Rwanda and Burundi.
Local residents often accuse the peacekeepers of being too passive. The protests that broke out last month were called for by a faction of the ruling party's youth wing.
In a plan drawn up last year, the United Nations laid out a set of minimum conditions that would be necessary for MONUSCO's withdrawal, which it aimed to achieve by the end of 2024.
The conditions include a reduction in the militant threat, the re-establishment of state authority in conflict zones and progess toward disarming and demobilising former rebels.
Burundi Troops Split DRC Opinions
The deployment of Burundian troops to help quell rebel groups in the Democratic Republic of Congo's east has divided local people, with some fiercely opposed but others giving a cautious welcome.
Some people are skeptical that the Burundian deployment will improve security, but others hope for an improvement.

Others are enraged that Burundi -- accused like Rwanda of past meddling in the mineral-rich region -- has been invited into the DRC.

The deployment is "one more humiliation for our nation," said 2018 Nobel Peace co-laureate Denis Mukwege, a surgeon who has treated thousands of rape victims in the region.
"Let's end the policy of outsourcing our security to destabilizing states & work on reforming our army to make it professional and operational," he said on Twitter on Tuesday.
Burundian forces began arriving in South Kivu province on Monday, pushing ahead with a plan by the seven-nation East African Community (EAC) to stabilize the chronically troubled region.
Thousands of people have died at the hands of rebels in the country's east over the past decade, and tens of thousands have fled their homes.
The DRC's armed forces, supported by a large UN peacekeeping mission, have been unable to stem the bloodshed.
Attacks have continued, even though the provinces of North Kivu and Ituri were placed under emergency measures in May last year to help the fight against the rebels.

Under this so-called "state of siege," senior civilian officials have been replaced by members of the security forces.
A campaign group in South Kivu, the New Dynamics of Civil Society, said foreign forces "only intensify rather than resolve the problem."

"The majority" of these forces have been on the DRC's territory for years, it charged, alluding to long-standing suspicions of interference by the country's neighbors.

Some nations support armed groups to "maintain chaos... (and) loot our mineral resources," it said.
Saint-Cadet Kibibi, head of civil society group Minembwe, said the Burundian troops were "welcome," although he questioned whether the forces would be able to bring peace.

"We want to see this force do its job correctly, with respect for international humanitarian law," he said.
An estimated 120 armed groups, many of them organized along ethnic lines, operate in the region.

Among the bloodiest are the Allied Democratic Forces (ADF), which the self-described Islamic State claims as its regional affiliate, and a Congolese Tutsi militia called the M23.

Some groups are historic opponents of regimes in neighboring countries and have holed up in the DRC -- which could complicate the EAC mission.

In Burundi's case, this includes the Burundian rebel groups RED Tabara and the FNL, or National Liberation Forces.
Kelvin Bwija, of a group called the Civil Society of Compatriots/Uvira-Fizi, said he hoped the operations would be given a "precise timeline" for winding up.

The EAC comprises Burundi, the DRC, Kenya, Rwanda, South Sudan, Tanzania and Uganda.

In June, the bloc's leaders decided to set up a regional force that would work alongside Congolese troops.

Kenyan and Ugandan forces will be deployed to North Kivu and Ituri, while South Sudanese forces will be sent to Haut-Uele province.

Kinshasa accuses Kigali of supporting the M23 rebel group in North Kivu and has rejected any participation of Rwandan troops in the EAC force.

"No Nuke Demilitarization" - Moscow
Russia's Foreign Ministry on Thursday dismissed a proposal by United Nations Secretary General Antonio Guterres to demilitarise the area around the Russian-controlled Zaporizhzhia nuclear power plant in southern Ukraine.
During a press briefing, Foreign Ministry spokesman Ivan Nechaev said the proposals were "unacceptable".
The Zaporizhzhia nuclear plant was captured by Russia in March, shortly after it ordered tens of thousands of troops into Ukraine in what it calls a "special military operation."
The facility remains near the frontlines, and has repeatedly come under fire in recent weeks, sparking fears of a nuclear disaster.
Both Ukraine and Russia have accused each other of shelling the plant.
The nuclear facility is the largest in Europe, and there are fears that the reactors and radioactive nuclear fuel could be hit and exposed by conflict, spreading radiation across the region, as was the case in 1986 when the Chernobyl nuclear plant, also in Ukraine, had an explosion following a test of its cooling system.
WHO Chief Suggests Racism Why Tigray Ignored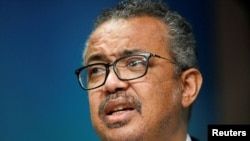 The World Health Organization's director-general Tedros Adhanom Ghebreyesus has suggested that racism is behind a lack of international attention being paid to the plight of civilians in Ethiopia's war-shattered Tigray region.
Calling it the "worst humanitarian crisis in the world", with 6 million people unable to access basic services, Tedros questioned in an emotional appeal why the situation is not getting the same attention as the Ukraine conflict.
"Maybe the reason is the color of the skin of the people," Tedros, who is from Tigray, told a virtual media briefing on Wednesday. In April this year at a briefing, he questioned whether "black and white lives" in emergencies worldwide are given equal attention.
WHO emergencies director Mike Ryan also hit out at an apparent shortage of concern about the drought and famine unfolding in the Horn of Africa, and the ensuing health crisis.
"No one seems to give a damn about what's happening in the Horn of Africa," said Ryan, speaking at a virtual media briefing on Wednesday.
The WHO called for $123.7 million to tackle the health problems resulting from growing malnutrition in the region, where around 200 million people live and millions are going hungry.
Chad Rebel Leader Erdimi Returns
An exiled rebel leader returned to Chad Thursday two days before the start of landmark talks aimed at paving the way for elections after 18 months of military rule.
Timan Erdimi, arrived at N'Djamena International Airport early Thursday, where around 50 relatives and supporters were waiting for him, an AFP journalist saw.
Erdimi, the head of the Union of Resistance Forces (UFR), has been living in exile in Qatar for at least a decade.
His armed group attempted to overthrow his uncle, former president Idriss Deby Itno, first in 2008 and again in 2019.
"I am very happy to return home after so many years in exile," said Erdimi, 67, sporting a small white beard and dressed in a traditional gown and white hat.

Erdimi will be a key participant at an "inclusive national dialogue" opening in N'Djamena on Saturday.
The brainchild of junta chief General Mahamat Idriss Deby, the forum will bring together 1,400 delegates from the military government, civil society, opposition parties, trade unions and rebel groups.

Deby has hailed it as a chance for reconciliation in the fractured country, opening the way to "free and democratic" elections within 18 months of the military takeover.

He took power in April last year at the age of just 37 after his father, who ruled for 30 years, was killed during a military operation against rebels.

The "dialogue" should have started in February but was repeatedly delayed as Chad's myriad rebel groups, meeting in Qatar, squabbled over whether to attend.

In the end, around 40 groups on August 8 signed up to a deal, entailing a ceasefire and guarantee of safe passage.

The UFR, one of the signatories, is estimated to have several hundred fighters, based in southern Libya and northern Chad.

The elder Deby, like his nephew Erdimi, hailed from the Zaghawa ethnic group. His successor, the younger Deby, is Erdimi's cousin.
Saleh Kebzabo, a vice president of the forum's organising committee and one-time opponent of the older Deby, said the upcoming talks would facilitate a new constitution which would then be put to a referendum.

But observers say the conference faces major challenges, starting with the pressure of time.

"The timetable for the dialogue, which is supposed to last 21 days, isn't credible," said Enrica Picco of the International Crisis Group (ICG) think tank.

The junta's 18-month deadline runs out in October, leaving scant time for organising a referendum and then elections in this vast, arid country.
Those boycotting the forum include two of the biggest rebel groups and a major political alliance.

Absentees include the Front for Change and Concord in Chad (FACT), which triggered the offensive in the northeast last year that ended in the elder Deby's death. It says the forum is "skewed in advance."

Among political groups, Wakit Tamma, a large coalition of opposition parties and civil society groups, is also snubbing the talks.

"We estimate that 80 percent of (those attending) are close to the junta," said Succes Masra, head of The Transformers party, which is part of the alliance.

It accuses the junta of violating human rights and using the "dialogue" as a springboard for Deby's election candidacy, something that he has previously ruled out.