Business and Technology
Bangladesh Garment Workers Exploited - Study
Major international fashion brands are operating unfairly toward Bangladesh clothing suppliers, with some allegedly paying for items below the cost of production, according to a study recently published.
LONDON —
The study's compilers, Aberdeen University and the advocacy group Transform Trade, surveyed 1,000 Bangladeshi factories making garments for global brands and retailers during the Covid pandemic.

More than half of the factories experienced at least one of the following: order cancellations, refusal to pay, price reductions or delayed payment for goods.

"This research highlights reports of unfair trading practices encountered by manufacturers during Covid-19," the report found.

Such practices resulted in lower wages for the factories' workers, job losses and high staff turnover, it said.

One in five factories revealed they had struggled to pay the Bangladeshi legal minimum wage as a result.

The report also uncovered incidents where some companies demanded reductions for clothing ordered before the pandemic erupted in March 2020.

And some fashion firms refused to budge on price, despite soaring costs and rampant inflation.

The study called for the creating of a fashion industry regulator in importing nations to improve purchasing practices.

Respondents told researchers that the "highest proportion" of unfair business practices included major brands such as H&M, Next, Primark and Zara owner Inditex.

The responses of some companies to the claims were included in the report.

Inditex said it has "guaranteed payment for all orders already placed and in process of production and worked with financial institutions to facilitate the provision of loans to suppliers on favourable terms".

German supermarket chain Lidl said it took the "accusations very seriously".

It added that it "takes its responsibility towards workers in Bangladesh and other countries where our suppliers produce very seriously and is committed to ensuring that core social standards are complied with throughout the supply chain".

Primark said that owing to the pandemic, it had taken "the incredibly difficult decision in March 2020 to cancel all orders which had not yet been handed over".

Companies named in the report did not immediately return AFP requests for comment.
See all News Updates of the Day
Nigeria: From Cash to Cards
Nigeria's central bank has launched a domestic card scheme to rival foreign cards like Mastercard and Visa, hoping to enhance its drive to make Africa's biggest economy a cashless society and save the country foreign transaction fees.
Central Bank of Nigeria (CBN) governor Godwin Emefiele told a virtual launch of the "AfriGo" card scheme that although penetration of card payments in Nigeria had grown over the years, many citizens remained excluded.
"The challenges that have limited the inclusion of Nigerians include the high cost of card services as a result of foreign exchange requirements of international card schemes and the fact that existing card products do not address local peculiarities of the Nigerian market," said Emefiele.
The announcement follows the bank's decision last year to phase out old higher denomination bank notes.
AfriGo is owned by CBN and Nigerian banks and Emefiele said that Nigeria was joining China, Russia, India and Turkey in launching a domestic card scheme.
International card service providers like Mastercard and Visa would not be stopped in Nigeria, he added.
"Rather, it (AFRIGO) is aimed at providing more options for domestic consumers while also promoting the delivery of services in a more innovative, cost effective and competitive manner," he said.
Africa's most populous nation Nigeria, has more than 200 million people and the majority still use cash because they live in rural areas where there are not banks.
Ivorians Boost Cocoa Production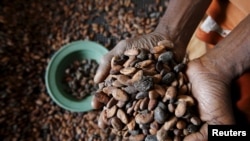 Ivory Coast will increase the amount of cocoa it processes domestically to 49% of production starting from October with the addition of several new plants, the head of the sector regulator said on Friday.
Ivory Coast is the world's top cocoa producer with annual production of about 2.2 million tons. Currently about 35-40% is processed in country and the rest exported, but the government has a goal of increasing that to at least 50%.
The West African country has signed an agreement with the United Arab Emirates for the construction of a new plant in San Pedro with a grinding capacity of 120,000 tons, said Yves Brahima Kone, director general of the Coffee and Cocoa Council (CCC), who was in Abu Dhabi this month to open a new CCC office.
"This permanent representation (in Abu Dhabi) is the fruit of our new vision for Ivorian cocoa that we want to export all over the world. This office will allow us to explore markets in Asia, the Middle East and North Africa," he told Reuters.
Ivory Coast also expects two new factories financed by China to enter into production in October, with a production capacity of 50,000 tons each, Kone said.
The new plants will allow the country to process more than 1 million tons of cocoa annually, making it the world's leading cocoa grinder, he said. Currently it vies with the Netherlands for top spot.
The state has implemented an aggressive policy in recent years to make local processing attractive, including offering tax cuts and other incentives to Ivorian companies.
US Inflation Slows in December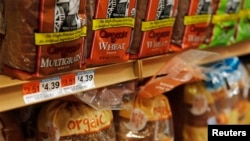 A key indicator of US inflation, the personal consumption expenditures (PCE) price index, eased in December as spending dipped, according to government data released Friday, opening the door to smaller interest rate hikes as efforts to cool the economy ripple through sectors.
The central bank focuses on the PCE price index as it reflects actual consumer spending, including shifts to less expensive items, unlike the more well-known consumer price index.

The indicator ticked up 0.1 percent from November to December, as prices for goods decreased 0.7 percent and energy costs dropped 5.1 percent, said the report.

But services prices rose from the preceding month.
The Federal Reserve has hiked the benchmark lending rate seven times last year, with an aim to ease demand as inflation surged, while trying to avoid tipping the world's biggest economy into a recession.

And the tightening measures are showing effect, with the Fed's preferred inflation gauge, the personal consumption expenditures (PCE) price index rising 5.0 percent last month from a year ago, down from 5.5 percent in November, Commerce Department data showed on Friday.

This extends a downward trend since mid-2022, when American households found themselves increasingly squeezed by rising costs.

"The Fed views the job market as the primary battleground in its fight against inflation," said economist Bernard Yaros Jr of Moody's Analytics.

"As long as wage gains in labor-intensive services are robust, the Fed will be loath to declare victory," he added.

Household spending also dipped further 0.2 percent between November and December, the report said, adding that personal incomes rose 0.2 percent.

Analysts believe spending is set to slow further in the coming months.

"The latest data offer among the first tangible signs that the economy's main engine is slowing," said Oren Klachkin of Oxford Economics.

"Looking ahead, a cooling labor market, a depleted savings cushion, and less willingness to rely on credit cards in a high inflation environment will lead consumers to pull back," he added.

For now, consumer sentiment remains low from a historical perspective, according to a University of Michigan survey of consumers also released Friday.

Stripping out the volatile food and energy components, the PCE price index was up 4.4 percent from December 2021, signaling that there remains some way to go before the Fed pauses its aggressive battle to rein in inflation.

While the Fed's preferred inflation measures are moving in the right direction, they "remain well above target," said Economist Rubeela Farooqi of High Frequency Economics.
Egypt, India Amp Trade Partnership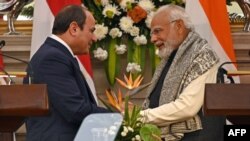 Egypt and India announced Thursday a "strategic partnership" to increase trade by billions of dollars and strengthen diplomatic ties, as President Abdel Fattah al-Sisi concluded a visit to New Delhi.
President al-Sisi Sisi and Indian Prime Minister Narendra Modi expect annual bilateral trade to rise "to $12 billion within the next five years", said the meeting statement, capping the Egyptian president's three-day visit.

The two leaders agreed to increase Indian investments in Egypt, which currently stand at "over $3.15 billion" according to their statement, including through a potential "dedicated land area for Indian industries in the Suez Canal Economic Zone."

The statement also notes "strengthened bilateral cooperation" in agriculture, space research and tourism.
Facing a worsening economic crisis, Egypt is scrambling to boost international trade and attract investors.

India is already Egypt's seventh-largest trading partner, according to data from Cairo's central bank, with a joint statement issued Thursday touting "a record high of $7.26 billion" during the last fiscal year.
The economic crisis in Egypt, triggered by Russia's invasion of Ukraine last year, has sent the local currency plummeting.

The Egyptian pound has lost half its value against the US dollar since March, following a devaluation demanded as part of a $3 billion loan agreement with the International Monetary Fund.

In a sign of closer diplomatic ties, Modi has also invited Sisi to participate in the G20 summit in India in September to represent "the interests and priorities of the global south", their statement said.

The two leaders also called for "comprehensive reforms in the UN Security Council, including by expanding membership categories and strengthening representation for developing countries."

S. Africa Power Cuts Gutting Growers
Situated in Ceres, one of the country's major fruit growing regions around 120km (75 miles) north east of Cape Town, the century-old family farm "Remhoogte" needs a steady electricity supply for an automated irrigation pump network that sprays thousands of trees heavy with fruit.
South African deciduous farmer Heinie du Toit frets as the worst power cuts on record threaten to take the shine off his apple and pear crop destined for foreign markets.
Too little water during the irrigation peak, from end of November to mid-March, affects the size and quality of a wide variety of apple and pear cultivars, hitting produce and revenue as only premier grades are shipped to the European Union, UK, China and the Middle East.
"The trees have a certain need for water and if they don't get that water it's going to affect the quality negatively and then you can't export the fruit," Du Toit said.
A 10% reduction in exports from the farm may result in some 7.5 million rand ($435,600) lost revenue, Du Toit said, with lower grades destined for the domestic market and juice processors.
Daily power outages, which utility Eskom anticipates would continue for two more years at least, have hammered economic growth, fueling widespread discontent among businesses and households.
"Many farmers said this is their last chance and if something doesn't happen very quickly they are going to sell their farms ... It is a huge concern," Du Toit said as the steady throb of a diesel generator kicked in.
At the Bella Frutta fruit exporters' packaging warehouse in Ceres, two massive diesel generators help keep conveyor belts moving and cold storage units at -1.5 degrees Celsius.
Earlier in January, the pack house used 5,000 liters of diesel in just under three days to keep operations running.
"We struggle to keep a constant cooling supply to our cold rooms," said Fransu Viljoen, engineering manager at Bella Frutta, adding it was frustrating to get up before the crack of dawn to reset the generators.
Cape Town vegetable farmer Carl Gorgens has given up on about half of his farming area because he cannot irrigate as frequently as needed.
"It's impossible to farm like this, to farm half the amount of seedlings in a season, when you're supplying supermarkets. I might as well stop and close the doors," said Gorgens.
Roughly 20% of maize, 15% of soybeans, 34% of sugarcane and nearly half of South Africa's wheat production was under irrigation, said Wandile Sihlobo, chief economist at the Agricultural Business Chamber of South Africa, adding farmers had raised concerns about power cuts hitting output.