Conflict
Russia Blasts Black Sea Tanker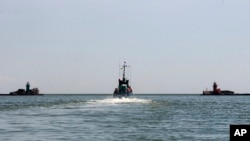 A Russian missile has hit a tanker that has been drifting in the Black Sea for over four months and had been carrying diesel, the Interfax-Ukraine news agency reported on Thursday, citing Ukraine's military which called the ship an "ecological bomb".
KYIV —
The Moldova-flagged tanker Millennial Spirit has now been struck twice since Russia invaded Ukraine on Feb. 24.
It said a Russian Kh-31 air-to-surface missile had struck the ship.
"Probably the remainder of the cargo is burning," the military said in a statement cited by Interfax-Ukraine saying the tanker had been hit for a second time.
It was first hit with a missile fired from a warship days after the invasion. Moldova said at the time that the ship had a Russian crew and two were seriously wounded.
"Probably the remainder of the cargo is burning," the military said in a statement cited by Interfax-Ukraine saying the tanker had been hit for a second time.
It called the vessel a "delayed-action ecological bomb" and blamed the fact it was drifting without a crew on a Russian blockade of Ukrainian ports.
Details of the attack could not immediately be confirmed independently by Reuters.
Ukraine's southern military command said when the vessel was struck in February it had more than 500 tonnes of diesel on board and that since then it had been drifting without a crew.
Kyiv called the vessel a "delayed-action ecological bomb" and blamed the fact it was drifting without a crew on a Russian blockade of Ukrainian ports. It said a Russian Kh-31 air-to-surface missile had struck the ship.
See all News Updates of the Day
Mali Doubles Death Toll
Forty-two Malian soldiers died in an attack at the weekend by suspected jihadists, the army said Wednesday in a document naming the fatalities, revising an earlier figure of 21 dead.
The attack occurred on Sunday in the town of Tessit, in the troubled "three-border" region where the frontiers of the three nations - Mali, Niger, and Burkina Faso - converge.
The toll is one of the bloodiest in Mali's decade-long insurgency, which has spread from the north of the country to the centre and south and into neighbouring Burkina Faso and Niger.

The document revising the fatality number to 42 was authenticated to AFP by several senior military officials.
On Monday, the army had said 17 soldiers and four civilians had died. Relatives of the victims, speaking on condition of anonymity, said that some of the civilians had been elected officials.

Monday's statement also said that seven attackers had died, "probably members of the Islamic State in the Greater Sahara (ISGS) and benefiting from drone and artillery support and using explosives and an explosives-laden vehicle."
The last time Mali's armed forces sustained such losses was in a string of attacks in the same region in late 2019 and early 2020.

Hundreds of soldiers were killed in assaults on nearly a dozen bases, typically carried out by highly mobile fighters on motorbikes.

The raids prompted the Malian, Nigerien and Burkinabe forces to fall back from forward bases and hunker down in better-defended locations.
In March 2021, 33 soldiers were killed in an ISGS-claimed ambush as units were being rotated, and in February this year, around 40 civilians -- suspected by the ISGS of being in league with Al-Qaeda -- were massacred.
Across the Sahel, the jihadist campaign has claimed thousands of lives and forced more than two million to flee their homes.

Sporadic cross-border attacks have also occurred in Ivory Coast, Togo and Benin to the south, amplifying fears of a jihadist push towards the Gulf of Guinea.

Zim Novelist Denies "Incitement" charges
Award-winning Zimbabwean novelist Tsitsi Dangarembga denied charges of inciting violence at the opening of her trial in Harare on Wednesday over a protest she made in July 2020 in which she called for reform.
Dangarembga, 63, an author and filmmaker, took the stand after a magistrate dismissed her request to be allowed more time to prepare her defence.

"We did not stop anybody or force anybody to engage in anything that we were doing," Dangarembga told the court.

She staged the protest alongside a neighbor in the empty streets of the affluent Harare suburb of Borrowdale during the coronavirus lockdown.

"We just walked on our own," she said.

Dangarembga was stopped while holding a sign reading "We want better, reform our institutions", while her neighbor held a placard calling for the release of detained journalist Hopewell Chin'ono, who faced similar charges of inciting violence. It also read "We want a better Zimbabwe for all".

Arbitrary arrests and a crackdown on dissent have worsened in Zimbabwe since President Emmerson Mnangagwa replaced long-time ruler Robert Mugabe in 2017, according to human rights groups.

Dangarembga told the court she did not address any members of the public or the press during the demonstration and was "minding my own business."

"I wanted the peaceful words on the placards to speak for themselves," she said.

She denied resisting arrest, adding she only asked police to explain what she was being arrested for.

"There is a difference between expression and incitement," she told the court, describing her actions as peaceful.

Dangarembga is the author of three international award-winning novels, whose accolades include this year's Windham-Campbell Prizes.

Her 1988 groundbreaking debut novel "Nervous Conditions" was the first book published in English by a black Zimbabwean woman.

Her trial is set to continue next week.

Another Egyptian Female Student Murdered
Egypt detained a male student Wednesday on suspicion of murdering a female student who allegedly rejected his advances, after the second such campus femicide in two months, prosecutors said.
The suspect, from Zagazig, 60 kilometres (40 miles) north of Cairo, stands accused of killing his victim, identified only by her first name Salma, by "repeatedly stabbing her with a knife", a prosecution statement said.
There was widespread outrage on social media over the latest killing but some users suggested the victim was at fault for befriending a male student.

"Salma was murdered simply for being born a woman in a misogynous society," one user said.

"So long as there are sympathizers out there who make excuses for the perpetrators of these crimes, they will continue," said another in response to a user who criticized the victim.
The latest killing revived memories of the June murder of student Nayera Ashraf, stabbed to death in front of her university in Mansoura, 150 kilometers north of Cairo.
In March, a teenager was sentenced to five years in prison over the suicide of a schoolgirl after images of her were shared online.
Conservative interpretations of Islam in Egypt have contributed to severely limiting women's rights.

Women report being targeted by routine violence with little legal redress.

Nearly eight million Egyptian women were victims of violence committed by their partners or relatives, or by strangers in public spaces, according to a United Nations survey conducted in 2015.

High-profile femicides have triggered widespread anger in Egypt in recent months.
Massive DRC Jailbreak
Some 750 escaped from a prison in eastern DRC after gunmen staged a jailbreak in which two policemen and three others were killed, sources said Wednesday.
Armed men "attacked Kakwangura central prison in the town of Mutembo" overnight Tuesday, Captain Antony Mualushayi, the military spokesman in the Beni region, said.
"The initial toll, which is still provisional, is two policemen killed," he said, adding that an assailant had also died.

Mualushayi said an "unidentified Mai-Mai group" carried out the attack. The term Mai-Mai refers to an ethnic self-defence organisation, which are legion in the Democratic Republic of Congo's troubled east.
But a respected US-based monitor, the Kivu Security Tracker (KST), said on Twitter that the suspects were the Allied Democratic Forces (ADF) -- a bloody militia that the Islamic State group says is its regional affiliate.

At least two police died and all the inmates escaped, the KST added.

The ADF has been blamed for thousands of deaths in eastern DRC, especially in the Beni area, and for attacks in neighbouring Uganda.

The east of the DRC, a vast country the size of continental western Europe, has been unstable for decades.

Scores of armed groups roam the region, many of them a legacy of two regional wars that flared at the end of the last century.
Nigeria Nabs Five for Church Massacre
Nigeria has arrested five suspects in an Islamist militant attack in a Catholic church that killed 40 people in early June, Chief of Defense Staff General Leo Irabor said on Tuesday.
General Irabor said in a statement in Abuja that the attackers were arrested during joint operations involving the armed forces, the Department of Security Services and police. He did not say where and when the arrests were made.
Nigerian authorities have said they suspect insurgent group Islamic State West Africa Province (ISWAP) carried out the massacre of members of a congregation inside the St Francis Catholic Church in Ondo state on June 5.
ISWAP is waging an insurgency in the northeast but claims that it carried out the attack far away from its enclave have raised concern that the group is expanding its footprint in Nigeria.
General Irabor said he would not parade the suspects due to ongoing investigations. "I will like to say that in due course, the world will see them and others who are behind other daring attacks in the country," he stated.
Arakunrin Akeredolu, the governor for Ondo state, said a person who had provided accommodation to the suspects before the attack was also arrested.
ISWAP has claimed responsibility for a string of low level attacks as well as daring jail break in Abuja in early July that freed more than 400 inmates.