Conflict
Kyiv to Africa: Keep Citizens Out of Fight
Kyiv urged leaders in Africa on Tuesday to keep their citizens from being embroiled in Russia's invasion of Ukraine, a day after Zambia said one of its own was killed.
KYIV —
Spokesman to Ukraine's foreign ministry, Oleg Nikolenko, urged African countries to press Russia not to use their citizens in Moscow's war in Ukraine.

"We call on African Union and all African states to demand that Russia stop press ganging their nationals," Nikolenko wrote on social media.

"Africans shouldn't die for Putin's sick imperial ambitions," he said.
Zambia's foreign minister on Monday said a Zambian student who had been jailed in Russia died in fighting in Ukraine, and demanded an explanation from the Kremlin.

Lemekhani Nathan Nyirenda, 23, who had been serving a prison sentence in Moscow, "passed away on 22nd September 2022, in Ukraine," minister Stanley Kakubo said in a statement, adding he died "at the battlefront."
Ukrainian officials say the Wagner mercenary group has been sending thousands of soldiers recruited in Russian prisons to the front line, with the promise of a salary and an amnesty.

Several Ukrainian soldiers on the front line in Bakhmut in eastern Ukraine told AFP last month that alleged ex-convicts were being used as bait to draw fire and reveal Ukrainian positions.

See all News Updates of the Day
Abidjan Tries Machine-Gunners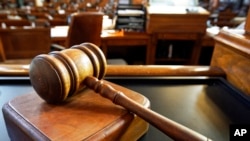 A court in Ivory Coast on Wednesday began the long-awaited trial of 18 people accused of abetting one of West Africa's bloodiest jihadist attacks -- a machine-gun assault on a beach resort in 2016 that left 19 dead.
The four present in court were identified as Cisse Hantao Ag Mohamed, Kounta Sidi Mohamed, Cisse Mohamed and Barry Hassan.
The others, including the suspected masterminds, are either on the run or being held in Mali, said Aude Rimailho, a lawyer for civilian plaintiffs.
"The people who planned the operation are in Mali," she said.
The charges against the 18 include acts of terrorism, murder, attempted murder, criminal concealment, illegal possession of firearms and ammunition "and complicity in these deeds," Public Prosecutor Richard Adou said last week.

Nineteen people were killed -- nine Ivorians, four French citizens, a Lebanese, a German, a Macedonian, a Malian, a Nigerian and a person who could not be identified.

Thirty-three people of various nationalities were wounded.

The four present in court were identified as Cisse Hantao Ag Mohamed, Kounta Sidi Mohamed, Cisse Mohamed and Barry Hassan.

Rimailho, representing French plaintiffs, said in the runup to the trial that the 18 were "small fry" and cautioned against seeing the proceedings as a chance for closure.
The attack on Grand-Bassam was the first and deadliest in a string of sporadic attacks on countries lying on the coast of the Gulf of Guinea, south of the Sahel.

In Ivory Coast's case, the assault had a deeply chilling impact on foreign tourism, an important money-spinner in an economy battered by a post-election conflict in 2010-11 that claimed 3,000 lives.
In January 2017, members of France's Barkhane anti-jihadist force captured a key suspect, Mimi Ould Baba Ould Cheikh.

He is described by Ivory Coast investigators as one of the instigators of the Grand-Bassam attack and by Burkina Faso as the "operation leader" in an assault on the Burkinabe capital Ouagadougou in January 2016 that claimed 30 lives.

EU Floats Russia War Crimes Tribunal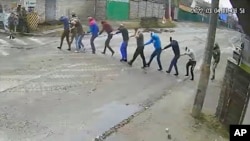 European Union chief Ursula von der Leyen on Wednesday floated the idea of a "specialized court" to put Russia's top officials on trial over the war in Ukraine.
"While continuing to support the International Criminal Court, we are proposing to set up a specialized court backed by the United Nations to investigate and prosecute Russia's crime of aggression," said European Union chief Ursula von der Leyen.
Ukraine has long been pushing for such a specialized tribunal, with its president, Volodymyr Zelensky, saying Russia must be brought to justice for its "atrocities".

But the initiative faces formidable legal and political obstacles.

The problem Ukraine and its Western allies butt up against is that the International Criminal Court (ICC) does not have jurisdiction over Russia's "crimes of aggression" -- its invasion and war in Ukraine -- because Moscow is not a signatory to the court's treaty.

The only way the ICC can be called in to judge Russia's war is through a decision by the UN Security Council -- something that is impossible because Russia, with its permanent seat on the council, would veto it.

To get around that, von der Leyen is proposing to have a court set up in an EU country that could tackle Russia specifically on the crime of aggression, while leaving war crimes and crimes against humanity to the ICC.

The Netherlands, which already hosts the ICC in The Hague, has indicated its willingness to establish the mooted new court on its territory.
A proposal text circulated by von der Leyen's European Commission noted that 14 EU member states had already opened investigations into acts carried out in Ukraine "based either on personal or universal jurisdiction".

It said that, where it came to crimes of aggression, "an alternative investigation mechanism could be considered" where EU countries' interests or citizens were affected.

Commission officials said that path would run alongside the ICC -- to which "the EU will continue to give its full support" -- and would need UN support.

That would involve a procedural gambit where the proposal would submitted to the UN Security Council -- where Russia is sure to shoot it down -- and then to the wider UN General Assembly of all UN member states, where it stands a chance of passing.
In a separate "options paper" also circulated Wednesday, the commission was exploring ways to tap Russian assets frozen under sanctions to support the reconstruction of Ukraine.

Von der Leyen has said the aim was to confiscate the assets seized so far -- which the commission says amounts to around 19 billion euros ($20 billion) in the EU.

But commission officials said legal barriers meant it was more likely only cash proceeds generated from management of those frozen assets could be taken, not the assets themselves.

After any future peace agreement to end the war in Ukraine, "eventually, the assets themselves would need to be returned to the owners," one official said.

Hani Killer's Parole Roils S. Africa.
The release from prison of the far-right killer of South African anti-apartheid hero Chris Hani hung in the balance on Wednesday, amid fierce bids to block the move.
Janusz Walus, a 69-year-old immigrant from then-communist Poland, was to be released by Thursday after being controversially granted parole by the Constitutional Court.

But the decision has ignited angry protests. On Tuesday, Walus was stabbed inside prison.

On Wednesday, the South African Communist Party (SACP), which Hani used to head, said it was petitioning the court to go back on its ruling.

"Yesterday we filed our documents with the Constitutional Court as well as with the High Court, and against the minister of justice to oppose the release," SACP Secretary-General Solly Mapaila told AFP.

He later explained they were seeking a so-called rescission order, which would "reverse this decision."
The party has asked Justice Minister Ronald Lamola to halt execution of the parole order until the petition is heard and concluded.

Mapaila spoke as he led hundreds of demonstrators in front of the Kgosi Mampuru II Correctional Centre in Pretoria where Walus is being held and receiving treatment following Tuesday's incident.

He was allegedly attacked by another inmate, according to prison authorities which have launched an investigation. Details of his injuries have not been released.

The SACP, a political ally of the ruling African National Congress (ANC), has been leading rolling protests since the weekend.
Hani, a hugely popular figure and fierce opponent of the apartheid regime was the SACP's general secretary and chief of staff of Umkhonto we Sizwe, the armed wing of the ANC.

He was shot dead in the driveway of his house on April 10, 1993, in Boksburg, a suburb east of Johannesburg.

The killing almost plunged South Africa into a race war.

It occurred just as negotiations to end apartheid were entering their final phase, stoking protests and rioting in black townships that some feared would erupt into civil war.

Then-ANC president Nelson Mandela appeared on national television to appeal for calm, a move that helped ease tensions and open the way to South Africa's first multi-racial elections the following year.

Walus was quickly arrested after the killing and handed the death sentence -- a punishment that was commuted to life imprisonment after the death penalty was abolished in post-apartheid South Africa.

His accomplice Clive Derby-Lewis, who supplied the gun, was released in 2015 on medical parole after 22 years in jail. He died of lung cancer in 2016, aged 80.

Commission Should Probe South Sudan Rapes, Beheadings
The Commission on Human Rights in South Sudan said it had reasonable grounds to believe a county commissioner in the northern oil-rich state of Unity orchestrated gang rapes at a military camp.
The documented abuses also involved beheadings, with rape victims being forced to carry the severed heads, victims being burnt alive, and days of brutal sexual assaults, the UN experts said in a statement.
"Conflict-related rape and sexual violence in Unity State has become so systematic and is a direct result of impunity," said commission member Barney Afako.
Multiple witnesses said the Unity official planned and ordered the attacks, which were led by his deputy and followed strikingly similar patterns in different areas, according to the statement.
Investigators say sexual abuse has been used as a weapon by all sides in South Sudan's civil conflict, which erupted in 2013 and triggered Africa's biggest refugee crisis since the 1994 Rwandan genocide.
Michael Makuei, South Sudan's information minister and government spokesperson, dismissed the commission's statement as a fabrication.
"They come and sit in hotels here in Juba and fabricate these false reports on South Sudan to make a living ... I am saying these are false reports fabricated against the government," he told Reuters.
Three Cameroonians Indicted for Funding Rebels
Three U.S. citizens of Cameroonian origin have been arrested and charged with raising funds for separatist fighters in the Central African country, the U.S. Justice Department said.
The three people indicted were named as Claude Chi, 40, of Lee's Summit, Missouri; Francis Chenyi, 49, of St. Paul, Minnesota; and Lah Nestor Langmi, 46, of Buffalo, New York, in a justice department statement released on Monday.
They allegedly solicited and raised funds for supplies, weapons and explosive materials to be used in attacks against Cameroonian government personnel and security forces, it said.
"In addition to more than $350,000 the defendants raised through voluntary donations, the indictment alleges Chi, Chenyi and Langmi conspired with others to kidnap civilians in Cameroon and hold them for ransom," the statement said.
"In some instances, U.S. citizens were extorted for ransom payments to secure the release of their kidnapped relatives living in Cameroon," it added. The ransom payments were then transferred to separatist fighters to fund their operations.
The three defendants each held senior positions in an organization that supported a group known as the Ambazonian Restoration Forces and other separatist fighters in Cameroon's Northwest region, and had been raising funds for them since 2018, the statement said.
Reuters was unable to immediately establish contact with the Ambazonian Restoration Forces or representatives for the defendants.