Business and Technology
Egypt Chooses Gold Over Pound
The price of gold in Egypt has risen to unprecedented highs as nervous savers seek refuge from a weakening currency and some companies export bullion to raise scarce dollars to fund imports, industry experts say.
CAIRO —
Figures from the Federation of Egyptian Chambers of Commerce's (FEDCOC) gold division show the price of 21-carat gold surpassing 1,800 Egyptian pounds ($72.73) per gram in December, what local media reports say is an all-time high.
Prices have since fallen to 1,545 pounds but it's still a jump from 673.5 pounds a year earlier and a sharp premium versus the current $50-51 on international markets.
Egypt continues to face a foreign currency shortage despite two major devaluations this year, with the gap between the official rate of the Egyptian pound against the dollar and that on the black market widening.
This has prompted some importers to buy bullion in Egyptian pounds in order to export abroad as a means to access dollars, a move which Hani Milad, head of the gold division at FEDCOC, said fueled the price increase.
They have been able to use a loophole that exempts the first half million dollars per transaction of imports from requiring the letter of credit, a banker added.
"We've seen a huge influx of money into the market from people outside the industry...importers are buying gold to export for dollars so they can import other goods," Milad said in a local television interview earlier this month.
Egypt's central bank in February imposed a requirement for letters of credit for most imports, causing a sharp slowdown in imports and a backlog of goods in ports.
The weakening Egyptian pound has also spurred demand for bullion and gold coins by individuals in order to preserve the value of their savings.
"Gold is considered a safe haven compared to putting your money in the bank in pounds and its value decreasing," said Ibrahim Hegazy, head of the marketing department at the American University of Cairo.
The official price of the pound has weakened to about 24.7 to the dollar from 18.8 to the dollar in March. It is trading at about 31 on the black market.
Egypt's central bank last week hiked interest rates, signalling that it might be preparing for a further weakening of the currency.
"If nothing [changes], the situation will stay the same and we might see more increases [in price]," said Wasfi Wasef of the Federation of Egyptian Industries.
See all News Updates of the Day
Egypt, India Amp Trade Partnership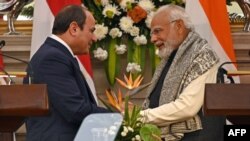 Egypt and India announced Thursday a "strategic partnership" to increase trade by billions of dollars and strengthen diplomatic ties, as President Abdel Fattah al-Sisi concluded a visit to New Delhi.
President al-Sisi Sisi and Indian Prime Minister Narendra Modi expect annual bilateral trade to rise "to $12 billion within the next five years", said the meeting statement, capping the Egyptian president's three-day visit.

The two leaders agreed to increase Indian investments in Egypt, which currently stand at "over $3.15 billion" according to their statement, including through a potential "dedicated land area for Indian industries in the Suez Canal Economic Zone."

The statement also notes "strengthened bilateral cooperation" in agriculture, space research and tourism.
Facing a worsening economic crisis, Egypt is scrambling to boost international trade and attract investors.

India is already Egypt's seventh-largest trading partner, according to data from Cairo's central bank, with a joint statement issued Thursday touting "a record high of $7.26 billion" during the last fiscal year.
The economic crisis in Egypt, triggered by Russia's invasion of Ukraine last year, has sent the local currency plummeting.

The Egyptian pound has lost half its value against the US dollar since March, following a devaluation demanded as part of a $3 billion loan agreement with the International Monetary Fund.

In a sign of closer diplomatic ties, Modi has also invited Sisi to participate in the G20 summit in India in September to represent "the interests and priorities of the global south", their statement said.

The two leaders also called for "comprehensive reforms in the UN Security Council, including by expanding membership categories and strengthening representation for developing countries."

S. Africa Power Cuts Gutting Growers
Situated in Ceres, one of the country's major fruit growing regions around 120km (75 miles) north east of Cape Town, the century-old family farm "Remhoogte" needs a steady electricity supply for an automated irrigation pump network that sprays thousands of trees heavy with fruit.
South African deciduous farmer Heinie du Toit frets as the worst power cuts on record threaten to take the shine off his apple and pear crop destined for foreign markets.
Too little water during the irrigation peak, from end of November to mid-March, affects the size and quality of a wide variety of apple and pear cultivars, hitting produce and revenue as only premier grades are shipped to the European Union, UK, China and the Middle East.
"The trees have a certain need for water and if they don't get that water it's going to affect the quality negatively and then you can't export the fruit," Du Toit said.
A 10% reduction in exports from the farm may result in some 7.5 million rand ($435,600) lost revenue, Du Toit said, with lower grades destined for the domestic market and juice processors.
Daily power outages, which utility Eskom anticipates would continue for two more years at least, have hammered economic growth, fueling widespread discontent among businesses and households.
"Many farmers said this is their last chance and if something doesn't happen very quickly they are going to sell their farms ... It is a huge concern," Du Toit said as the steady throb of a diesel generator kicked in.
At the Bella Frutta fruit exporters' packaging warehouse in Ceres, two massive diesel generators help keep conveyor belts moving and cold storage units at -1.5 degrees Celsius.
Earlier in January, the pack house used 5,000 liters of diesel in just under three days to keep operations running.
"We struggle to keep a constant cooling supply to our cold rooms," said Fransu Viljoen, engineering manager at Bella Frutta, adding it was frustrating to get up before the crack of dawn to reset the generators.
Cape Town vegetable farmer Carl Gorgens has given up on about half of his farming area because he cannot irrigate as frequently as needed.
"It's impossible to farm like this, to farm half the amount of seedlings in a season, when you're supplying supermarkets. I might as well stop and close the doors," said Gorgens.
Roughly 20% of maize, 15% of soybeans, 34% of sugarcane and nearly half of South Africa's wheat production was under irrigation, said Wandile Sihlobo, chief economist at the Agricultural Business Chamber of South Africa, adding farmers had raised concerns about power cuts hitting output.
US Downs Ransomware Operation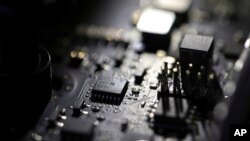 The US Justice Department announced Thursday it had shut down the Hive ransomware operation, which had extorted more than $100 million from more than 1,500 victims worldwide.
US Attorney General Merrick Garland said that US authorities working with German and Netherlands law enforcement took over Hive's website and servers after having infiltrated it for nearly seven months.

The infiltration helped hundreds of companies avoid paying $130 million in extortion demands made after Hive hacked and froze their data systems.

Deputy Attorney General Lisa Monaco called the operation to infiltrate Hive a "21st-century cyber stakeout."

"We hacked the hackers," she said.

Hive operated as a ransomware service, meaning anyone could hire its software and other services to help hack into and lock down a target's IT systems, and to process payments. Hive and the client would share the profits from the extortion.

Since it first emerged in 2021 more than 1,500 companies and institutions have been hacked -- their IT systems or databases encrypted by Hive and backup deleted or rendered inaccessible.

The hackers would demand large payments, often in cryptocurrency, in exchange for freeing up the systems.

If victims refused to pay, Hive would publish confidential internal files and documents on the internet.

Victims included India's Tata Power, German retail giant Media Markt, Costa Rica's public health service, Indonesia's state gas company and multiple US hospital groups, according to cybersecurity advisors.

Early on Thursday, Hive's website on the dark web was frozen and a screen alternating in English and Russian said it had been taken over by the US Federal Bureau of Investigation.

US officials said that by breaking into Hive's dark-web site and collecting information, Justice authorities were able to obtain the digital keys necessary to unlock a victim's frozen data so that they were not forced to pay Hive.

This helped prevent a Texas school district, and Louisiana hospital, and an unnamed foods services company from having to pay millions of dollars in ransom after being hit by a Hive attack, for example, they said.

"For months, we helped victims defeat their attackers and deprived the Hive network of extortion profits," said Monaco.

US authorities would not say who is behind Hive or whether any arrests would accompany the shutdown of the operation, saying the investigation is ongoing.

The investigation involved the US FBI, the German Reutlingen Police Headquarters, the German Federal Criminal Police, the Netherlands National High Tech Crime Unit, and Europol.

S. Africa Reserve Hikes Rates
South Africa's central bank on Thursday raised its main lending rate by 25 basis points to 7.25%, smaller than the 50 basis point increase expected by the majority of economists polled by Reuters.
Three members of the bank's Monetary Policy Committee preferred the 25 basis points increase, while two members preferred a 50 basis points increase, Lesetja Kganyago, Governor of the South African Reserve Bank, said.
"The revised repurchase rate remains supportive of credit demand in the near term, while raising rates to levels more consistent with the current view of inflation and risks to it," he said in his statement.
"While economic growth has been volatile for some time, prospects for growth appear even more uncertain than normal. A material reduction in load-shedding (power cuts) would significantly raise growth," the governor added.
South African monetary policymakers started raising rates in November 2021 and unleashed their steepest hike in a decade - 0.75 percentage points - in July last year.
The bank said that the economy is expected to grow by just 0.3 percent in 2023 due to the electricity supply crisis plaguing the continent's most industrialised economy.

The economy grew 2.5 percent last year, up from 1.8 percent in 2021.
This report was compiled with data sourced from Reuters and Agence France-Presse.

US 2022 Economic Growth Slowed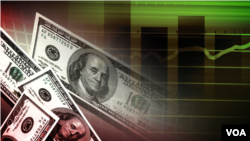 UPDATED WITH COMMENTS, ADDITIONAL DATA: The US economy grew at a slower pace in 2022, the Commerce Department said Thursday, as activity eased in the final months of the year and recession fears loomed.
The world's biggest economy expanded 2.1 percent for all of 2022, down from the 5.7% growth figure in 2021, according to Commerce Department data.
In the October to December period, the US saw its gross domestic product rise at an annual rate of 2.9 percent.
This was down as well from 3.2 percent in the third quarter last year, although better than analysts expected.
Household spending and business investment remained positive in the final quarter last year though they slowed, while inventories and net exports helped growth, said Rubeela Farooqi of High Frequency Economics.

Meanwhile, residential investment continued contracting.

The interest-sensitive housing sector has been reeling on the back of the Federal Reserve's rate hikes, with mortgage rates remaining high and weighing on affordability.

"Looking ahead, recent data suggest that the pace of expansion could slow sharply in the first quarter, as the effects of restrictive monetary policy take hold," Farooqi said.
Declines in manufacturing and retail sales were also recorded.

The slowdown would be welcome news to the Fed and could open doors to a slower pace of rate increases ahead.
The latest number marks the second straight quarter of growth after two rounds of contraction.
"The increase in real GDP in 2022 primarily reflected increases in consumer spending, exports," and certain forms of investment, said the department in a statement.
While unexpectedly resilient consumer spending supported growth last year, there are signs that households are drawing down on their savings from the pandemic period.

This could point to more subdued expenditures ahead, analysts say.

"Recent economic data signal the economy entered 2023 on a weak footing," said Ryan Sweet of Oxford Economics in a report.

He expects the US could enter a recession in the second quarter as consumers limit spending and businesses become more reluctant to hire and invest.

But others believe the country may yet avoid a recession, if the labor market remains strong and household balance sheets are healthy.

Even if households are eating into their funds due to inflation, "they're coming from a very high point," and this should alleviate or prevent a protracted downturn, according to Moody's Analytics economist Matt Colyar.