Conflict
DRC Clinic Attack Kills 13
Allied Democratic Forces (ADF) rebels have killed 13 people and torched a clinic in the east of the Democratic Republic of Congo, local officials said Friday.
BENI, DRC —
Kasereka Ise Mighambo, the mayor of Lume in North Kivu province, said ADF fighters entered the town Thursday night and burned down a health clinic, killing four patients inside.

He added that the militants killed nine more civilians before retreating into Virunga National Park, a world-renowned wildlife haven in Congo's conflict-torn east.

Local nurse Kule Bwengue also said health authorities had registered 13 deaths in the attack.
The army killed three fighters and captured one when it responded to the attack , said army spokesman Anthony Mualushay.
"In the hospital ward there were four patients who all burned to death, in the pediatric unit all the mattresses are burned and in the side wards we just collected nine bodies," said Kule Mwenge Salomon, a nurse at Lume health center.
Kakule Vikere Lem was feeding his father at the clinic when he saw a column of people with torches approaching the town, around 40kms (25 miles) south-east of the city of Beni.
"I fled, thinking that they would spare the hospital, but unfortunately they burned my father in the hospital," Vikere said.
Claimed by the Islamic State group as its Central African offshoot, the ADF has been accused of massacring Congolese civilians and carrying out terrorist attacks in neighbouring Uganda.

The DRC and Uganda launched a joint offensive against the ADF in November 2021 to crush the rebels, but violence against civilians continues.

More than 120 armed groups roam eastern DRC.
This report was produced with information sourced from Agnece France-Presse and Reuters.
See all News Updates of the Day
Mali Prosecutes Ivorian Soldiers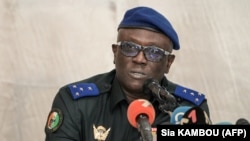 Malian prosecutors on Monday confirmed they had filed charges against 49 Ivorian troops, including for alleged conspiracy and harm to state security, in a case that has fuelled tensions between the two countries.
Judicial sources in Bamako on Sunday, speaking on condition of anonymity, had said charges had been filed against the group, but negotiations between Ivory Coast and Mali were continuing.

In a statement, public prosecutor Samba Sissoko said the 49 had been ordered to be held in custody after being charged on August 10, 11 and 12.

The charges comprise "criminal association, attacking and plotting against the government, harming state external security, holding, carrying and transporting combat weapons and complicity in these crimes," Sissoko said.

The soldiers were arrested after their arrival at Bamako airport on July 10.

Ivory Coast says they were sent on a routine rotation for personnel who provide backup services for the UN peacekeeping mission in Mali, MINUSMA, and has called for their release.

Mali's military-led government says the troops had had no orders or supporting documents and has described them as "mercenaries".

Negotiations are underway to free the soldiers, with Togolese President Faure Gnassingbe acting as a mediator, but a first round of talks, held in the Togolese capital Lome on July 28, failed to make progress.

The current president of the African Union (AU), Senegalese President Macky Sall, is expected to bring up the issue at a meeting in Bamako on Monday with junta leader Colonel Assimi Goita.

Others who have intervened are the head of the High Islamic Council of Mali, Cherif Madani Haidara; the archbishop of Bamako, Jean Zerbo; and Cherif Bouye Haidara, an influential religious leader in the southwestern town of Nioro.

A source close to the Ivorian army said Ivory Coast would await the outcome of the mediation efforts before responding.

The Malian junta has previously accused Ivory Coast of encouraging the West African regional bloc ECOWAS to toughen its sanctions against the regime following a coup in August 2020.

The sanctions -- imposed over perceived foot-dragging by the junta over the timetable to restore civilian rule -- were eventually lifted in early July.
Meanwhile, France says it has withdrawn the last of its troops from Mali, though it says it will remain in the area for further counter-insurgency operations.

More Chad Troops Die
Two Chadian troops have been killed fighting jihadists in the Lake Chad region, whose marshlands are a bolthole for Islamist fighters
"Two soldiers fell while carrying out their duty," President Mahamat Idriss Deby Itno said Monday, adding that "about 10 terrorists also died."
"Our brave forces have just repelled an attack by the shadowy Boko Haram sect in the Bol area," 300 kilometres (180 miles) from the capital N'Djamena, he said on Twitter.

An insurgency by Boko Haram jihadists erupted in northeastern Nigeria in 2009 before spreading to neighbouring Cameroon, Niger and Chad, which border the lake.

More than 36,000 people, most of them Nigerians, have died, and three million people have fled their homes, according to UN figures.

Boko Haram is fighting a dissenting group, the Islamic State West Africa Province, or ISWAP. The Chadian authorities use "Boko Haram" as a general term for jihadists.
Burundi Deploys to DRC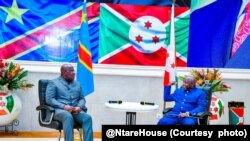 "The Burundi defense forces contingent officially entered DRC (today)... under the forces pooling framework put forward by the heads of state of the EAC," East African Community, said Lieutenant Marc Elongo, army spokesman in South Kivu province.

The contingent, comprising "a large number of soldiers," is under the command of the DRC forces and currently stationed at a training facility in the Uvira area, he told AFP.

The Burundians and their DRC counterparts "are tasked with hunting down all foreign and local armed groups in order to restore peace" in eastern Congo, he said.

South Kivu's head of military operations, General Ramazani Fundi, urged the public "to be calm and work honestly with loyalist forces in order to put an end to this activity by irregular forces," said Elongo.

In June, EAC leaders decided to set up a regional force that would work with the DRC's army to quell armed groups roaming the east of the country.

An estimated 120 armed groups are active in the mineral-rich region, many of them a legacy of wars that flared in the final years of the 20th century.

The idea of a regional force has run into criticism within DR Congo.

Opponents point to past chapters of meddling in the east by neighbors, and instead are clamoring for reforms and funding for the national armed forces.

Critics include 2018 Nobel Peace co-laureate Denis Mukwege, a gynecologist and surgeon who has treated thousands of women victims of rape in the conflict region.

The EAC comprises Burundi, the DRC, Kenya, Rwanda, South Sudan, Tanzania and Uganda.
More Burkina Massacres Alleged
Two local rights groups on Sunday accused Burkina Faso soldiers of massacring more than 40 villagers in the country's deeply troubled north.
The Collective Against Immunity and Stigmatisation of Communities (CISC) said the incident took place early this month in the village of Taffogo in Tougouri, citing several eyewitness accounts.

"There were many cases of kidnapping followed by summary executions," it said.

"In all, more than 40 corpses were discovered on the road between Taffogo and Bouroum," it said. "All the people had their hands tied and were blindfolded."

It said the attackers were members of the military "dressed in black clothes and hooded".

The Observatory of Human Dignity said "more than 50 unarmed civilians" were kidnapped on the road to Bouroum by soldiers.

"Nearly all the victims were Fulani, including women and children," referring to a mainly Muslim ethnic group of semi-nomadic herders spread across West Africa.

The state does not have control over more than 40 percent of Burkina's territory, according to official data.

The Observatory said government troops had "resumed the anti-terrorist fight by simply exterminating villages occupied by a certain community".

The Burkinabe army had denied repeated accusations of rights abuse, saying the perpetrators were armed groups using military materiel.

UN Resuming Mali Rotations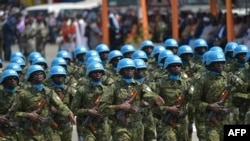 Troop rotations by the U.N. peacekeeping mission in Mali will resume on Monday, a mission spokesperson said on Saturday, one month after Malian authorities suspended them and accused foreign soldiers of entering the country without permission.
A MINUSMA spokesperson said the mission and Malian authorities had agreed on a streamlined rotation procedure and that the mission's request to resume rotations on Monday had been accepted.
Mali's ruling junta suspended troop rotations for the nearly 12,000-strong mission on July 14 after arresting 49 soldiers from Ivory Coast who it said had arrived in the country without permission. Ivory Coast denied this.
Ivory Coast says the soldiers were deployed as part of a support contract signed with MINUSMA, which was created in 2013 to provide security from Islamist militants. The Ivorian troops remain in detention.
Mali's foreign ministry could not be immediately reached for comment.
The July arrests highlighted friction between the junta, which seized power in an August 2020 coup, and international partners, who have criticized election delays and security cooperation with Russian mercenaries.
Relations between Mali and troop-contributing countries remain strained. On Friday, Germany said it was suspending its military reconnaissance mission, which provides intelligence to MINUSMA, after Malian authorities withheld a flight clearance.
Mali's foreign minister denied on Twitter that the government had done so and called on Germany to adhere to the new mechanism for approving troop rotations.