Business and Technology
Crypto World's Cracks Widen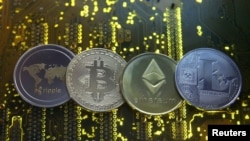 The recent Nomad hack was the eighth-biggest crypto theft on record. Other thefts from bridges this year include a $615 million heist at Ronin, used in a popular online game, and a $320 million theft at Wormhole, used in so-called decentralized finance applications.
LONDON —
When thieves stole an estimated $190 million from U.S. crypto firm Nomad last week, it was the seventh hack of 2022 to target an increasingly important cog in the crypto machine: Blockchain "bridges" - strings of code that help move crypto coins between different applications.
So far this year, hackers have stolen crypto worth some $1.2 billion from bridges, data from London-based blockchain analysis firm Elliptic shows, already more than double last year's total.
"This is a war where the cybersecurity firm or the project can't be a winner," said Ronghui Hu, a professor of computer science at Columbia University in New York and co-founder of cybersecurity firm CertiK.
"We have to protect so many projects. For them (hackers) when they look at one project and there's no bugs, they can simply move on to the next one, until they find a one weak point."
At present, most digital tokens run on their own unique blockchain, essentially a public digital ledger that records crypto transactions. That risks projects using these coins becoming siloed, reducing their prospects for wide use.
Blockchain bridges aim to tear down these walls. Backers say they will play a fundamental role in "Web3" - the much-hyped vision of a digital future where crypto's enmeshed in online life and commerce.
Yet bridges can be the weakest link.
"Blockchain bridges are the most fertile ground for new vulnerabilities," said Steve Bassi, co-founder and CEO of malware detector PolySwarm.
Nomad did not respond to requests for comment, but it has said it is working with law enforcement agencies and a blockchain analysis firm to track the stolen funds. Late last week, it announced a bounty of up to 10% for the return of funds hacked from the bridge.
Nomad said on Saturday it had recovered over $32 million of the hacked funds so far.
"The most important thing in crypto is community, and our number one goal is restoring bridged user funds," Mohan said. "We will treat any party who returns 90% or more of exploited funds as a white hats. We will not prosecute white hats," he said, referring to so-called ethical hackers.
Several cyber security and blockchain experts told Reuters that the complexity of bridges meant they could represent an Achilles' heel for projects and applications that used them.
"A reason why hackers have targeted these cross-chain bridges of late is because of the immense technical sophistication involved in creating these kinds of services," said Ganesh Swami, CEO of blockchain data firm Covalent in Vancouver, which had some crypto stored on Nomad's bridge when it was hacked.
"Cross-chain bridges are an attractive target for hackers because they often leverage a centralized infrastructure, most of which lock up assets," said Victor Young, founder and chief architect at U.S. blockchain firm Analog.
So how best to address the problem?
Some experts say audits of smart contracts could help to guard against cyber thefts, as well as "bug bounty" programs that incentivize open-sourced reviews of smart contract code.
Others call for less concentration of control of the bridges by individual companies, something they say could bolster resiliency and transparency of code.
See all News Updates of the Day
Lawsuit Settlement Talks Continue Between Kenya and Meta
NAIROBI - Kenyan Facebook content moderators said settlement talks to resolve a labor lawsuit against Meta, the parent company, collapsed on Monday, setting the stage for a renewed court battle.
In March, 184 moderators sacked by Sama, a company contracted by Meta to review Facebook posts, brought a lawsuit claiming unfair dismissal and alleging that workers in Kenya were subjected to inhumane conditions, including forced labor and irregular pay.

A Kenyan court suspended the mass sacking in June and two months later allowed Meta and the moderators to pursue an out-of-court settlement.

"The looming court battle follows the collapse today of talks," UK-based legal activist firm Foxglove, which is supporting the case, said in a statement.

"The moderators informed the court that Meta and Sama made very little attempt to address core issues raised by the petitioners," it said, adding that they will also sue for contempt of court.

The talks — mediated by Kenya's former chief justice Willy Mutunga and an official from the labour ministry — were due to last for 21 days from August 23.
The moderators' counsel, Mercy Mutemi, accused Meta and Sama of "buying time and not being genuine."

"We kept waiting for them to participate... only for them to keep asking for an extension of time and then come back every time to refuse to take accountability," Mutemi said in the Foxglove statement.

"As long as the respondents are serious in engaging, we are happy to engage," she added.

Meta — which also owns Instagram and WhatsApp — is yet to comment on Monday's announcement.

The company is facing two other legal cases in Kenya.

In 2022, a former South African employee of Sama, Daniel Motaung, filed a complaint in Kenya against Sama and Facebook.

Motaung alleged, among other things, poor working conditions and a lack of mental health support.

The Silicon Valley giant is also facing another complaint in Kenya, where a local NGO and two Ethiopian citizens have accused Meta of failing to act against online hate speech in Africa.

AFP is involved in a partnership with Meta providing fact-checking services in Asia-Pacific, Europe, the Middle East, Latin America and Africa.
IMF, World Bank Meeting Makes Progress on Lending
MARRAKECH - The International Monetary Fund and World Bank wrapped up annual meetings in Morocco on Sunday with some progress towards increasing their lending resources but confronting a new economic shock from the Israel-Gaza conflict.
Discussions in the tourist hub of Marrakech, not far from the epicenter of a devastating September earthquake, focused on a flagging global economy weighed down by debt, inflation and conflict, a growing wealth gap between rich and poor countries and floundering efforts to tackle climate change.

Here are the main takeaways:

SOME FUNDING PROGRESS

IMF member countries pledged to increase quota contributions by year-end to help ensure the Fund has adequate lending firepower to respond to another large-scale crisis. They fell short of agreeing to a U.S. plan that would delay shareholding changes that would cede more influence to China, with more talks in the next two months.

The World Bank's governing body approved its new vision statement to "create world free of poverty on a liveable planet," incorporating its new mission to tackle climate change, and endorsed new steps to allow the use of debt-like hybrid capital and a new portfolio guarantee platform that could together yield up to $100 billion in new lending over a decade.

NO CONSENSUS ON MIDDLE EAST CONFLICT

Hamas' attack on Israel upset a carefully crafted script for the meetings, but IMF and World Bank leaders were slow to respond to risks presented by the conflict, ranging from higher energy prices, potential trade impacts and a new refugee crisis.

G20 finance leaders and the steering committees of both institutions also failed to issue joint communiques due to disagreement over Russia's invasion of Ukraine war, but unlike the strong condemnation of the Hamas attacks by G7 democracies, the larger, more diverse groups failed to mention the Middle East conflict


'LIMPING' ECONOMY

The new IMF outlook - signed off before the escalation of the conflict between Israel and Hamas - sees global economic growth slowing from 3.5% last year to 3% this year and 2.9% next year, a 0.1% point downgrade from a previous 2024 estimate.

Global inflation is seen dropping from 6.9% this year to a still-high 5.8% next. Central bankers signaled readiness to endinterest rate hikes if events allow, hopeful that inflation can be finally tamed without too hard a landing. IMF chief economist Pierre-Olivier Gourinchas described the global economy as "limping along, not sprinting."

DEBT SQUEEZE

The heavy debt burdens of advanced economies - from the United States to China and Italy - was a recurrent theme in the meetings, which came after financial markets in recent weeks pushed U.S. bond yields higher. Italian central bank governor Ignazio Visco said there was an impression markets were "reevaluating the term premium" as investors become more nervous about holding longer term debt.

JPMorgan chair of global research Joyce Chang put it another way. "The bond vigilantes are back, and the Great Moderation is over," she told a panel of the two-decade era of relative economic calm before the 2008/09 financial crisis.

One policy area where this could have a knock-on effect is the fight against climate change. Vitor Gaspar, head of the IMF's fiscal division, warned current subsidies-based policies were failing to deliver net zero emissions and that scaling them up would explode public debt without carbon pricing to generate revenue.

DEBT DEALS AND REFORMS

Looking beyond the major developed economies, higher policy rates, a strong dollar and geopolitical uncertainties are adding to challenges for the rest of the world.

Turkey was in the spotlight as Finance Minister Mehmet Simsek pitched its reform plan. "The biggest structural issue is to bring inflation down. And they're working on it," said Murat Ulgen, Global Head of Emerging Markets Research at HSBC.

Kenya is looking to avoid slipping into debt distress and its central bank governor told Reuters it plans a buyback of a quarter of its $2 billion international bond maturing in June - pushing its 2024 bond up 1.2 cents on the dollar.

One debt restructuring deal emerged: Zambia finally agreed a debt rework memorandum of understanding with creditors including China and France.

Progress on Sri Lanka was less clear. Sri Lanka said on Thursday it reached an agreement with the Export-Import Bank of China covering about $4.2 billion of debt, while talks with other official creditors are stalling.

RISKS SKEWED TO DOWNSIDE

High interest rates will put some borrowers in more precarious positions, the IMF warned in its Global Financial Stability Report. Around 5% of banks globally are vulnerable to stress if those rates remain higher for longer, it estimated, and a further 30% of banks - including some of the world's largest - would be vulnerable if the global economy enters a prolonged period of low growth and high inflation.

JOSTLING FOR INFLUENCE

The Ukraine war, growing trade protectionism and tensions between the United States and China are all making consensus-building tougher. There was much talk ahead of Marrakech on revamping the IMF and World Bank to better reflect the emergence of economies like China and Brazil, but actions taken at the meetings may delay them.

"The big theme this week is G7 countries papering over the cracks of shattered promises," said Kate Donald, Head of Oxfam International's Washington DC Office. "Despite the wringing of hands about the billions of dollars needed to tackle poverty and climate breakdown, there has been no sign of new money."
Google Warned by EU About Disinformation in Israel-Hamas Conflict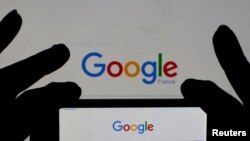 BRUSSELS - The EU's top tech enforcer, Commissioner Thierry Breton, warned Google parent Alphabet on Friday to be wary of potential "illegal content and disinformation" on its YouTube platform.
In the latest in a series of messages to tech CEOs that has already seen him sparring with Elon Musk on X, formerly Twitter, the EU industry commissioner wrote to Alphabet CEO Sundar Pichai.

The letter was also posted online on the Bluesky social media platform, an upstart rival to Musk's X, and warns YouTube to comply with the terms of the EU's new Digital Services Act (DSA).

"Following the terrorist acts carried out by Hamas against Israel, we are seeing a surge of illegal content and disinformation being disseminated in the EU via certain platforms," Breton wrote.
This warning mirrored the previous letters to Musk, Facebook and Meta's Mark Zuckerberg and Chinese giant TikTok's Shou Zi Chew earlier this week.

Breton noted that YouTube in particular is used by many children and teenagers and warned that Google thus has a special responsibility to protect users from propaganda and violent or harmful images.

"Notwithstanding the fact that my team will follow up with a specific request on a number of issues to establish DSA compliance, I urge you to proactively report in a prompt, accurate and complete manner to the aspects raised in this letter," Breton wrote.

"As you know, following the opening of a potential investigation and a finding of non-compliance, penalties can be imposed."
Kenyan Court Allows Use of Genetically Modified Crops
NAIROBI - A Kenyan court on Thursday dismissed a lawsuit challenging a government decision to allow the importation and cultivation of genetically modified crops to help combat its food crisis.
In October last year, the government lifted a decade-old ban on GM crops in response to dwindling food security following the worst drought to ravage the Horn of Africa region in 40 years.

Kenyan lawyer Paul Mwangi swiftly launched a court challenge, arguing the decision was unconstitutional as there were concerns over the safety of the crops.

But environment court judge Oscar Angote ruled on Thursday that there was no evidence to show any harm to nature or human health.

"As a country, we need to trust the institutions that we have in place and call them to order when they breach the law," Angote said, making reference to government bodies that regulate GM foods.

"We should be confident that our health is in good hands."
There was no immediate response about the ruling from Mwangi, a lawyer who is close to the opposition.

Kenya, like many other African nations, banned GM crops over health and safety concerns and to protect smallholder farms, which account for the vast majority of rural agricultural producers in the country.

However, the East African powerhouse faced criticism over the ban including from the United States which is a major producer of GM crops.

Activists and agriculture lobby groups have protested over the lifting of the ban, saying it opened the market to US farmers using sophisticated technologies and highly subsidised farming that threatened the livelihoods of small-scale farmers.
Agriculture is the biggest single contributor to Kenya's economy, generating more than 21 percent of gross domestic product (GDP) last year, according to government figures.

The agricultural sector employs about 12 percent of Kenya's 19 million workers, behind the education sector and manufacturing.
IMF says Africa's Economy Will Contract -- Before Expanding
MARRAKECH - Sub-Saharan Africa's economic growth will shrink for a second year in a row in 2023 before rebounding in 2024, the International Monetary Fund said on Tuesday in a report in which it cut its forecasts for economic expansion.
Growth in the region is expected to fall to 3.3% this year from 4% last year, before rebounding to 4% in 2024, the IMF said in its World Economic Outlook report.
That is slightly lower than the IMF predicted in July, when it said Sub-Saharan Africa would grow 3.5% in 2023 and 4.1% next year. Non-commodity exporters are set to expand 5.6% this year, more than twice as fast as resource-dependent countries.
Russia's invasion of Ukraine, after COVID-19 had alreadydealt the global economy a heavy blow, sent food, fuel and fertiliser prices soaring in Africa last year. Weakening currencies, higher debt service costs and restricted access to capital markets added to debt pressures.
"We have had economies on two tracks," Abebe Selassie, director of the IMF's African Department, said in an interview with Reuters during the fund's annual meetings in Marrakech, Morocco.
"As countries like Nigeria address the huge imbalances that they're facing, what we'll hopefully see is... an acceleration of growth."
The 2023 growth forecast for oil producer Angola was slashed from an April projection of 3.5% to 1.3%, while Nigeria's was trimmed from 3.2% to 2.9%. South Africa, whose economy is hobbled by record power cuts, will grow just 0.9% this year.
"South Africa... should be rebounding and expanding even more, to make up for the ground that was lost in the pandemic," Selassie said.
"Growth... (is) nowhere near enough to make a dent in the employment challenge that the country has." Kenya's growth will accelerate 5% this year, the IMF said, up from 4.8% in 2022, despite its government cutting budgets amid soaring debt costs. Tanzania and Senegal are also set to see higher growth this year.
Annual inflation across the region, which has seen violent protests against the cost of living in countries including Ghana and Kenya, is expected to be 16.2% at the end of this year.
That would be the same as 12 months earlier, the IMF said, before it falls to 10.5% at the end of next year. Meanwhile the region's debt levels are stabilising at about 60%, and are expected to start falling slowly next year.