Conflict
Burundi Troops Split DRC Opinions
The deployment of Burundian troops to help quell rebel groups in the Democratic Republic of Congo's east has divided local people, with some fiercely opposed but others giving a cautious welcome.
BUKAVU, DRC —
Some people are skeptical that the Burundian deployment will improve security, but others hope for an improvement.

Others are enraged that Burundi -- accused like Rwanda of past meddling in the mineral-rich region -- has been invited into the DRC.

The deployment is "one more humiliation for our nation," said 2018 Nobel Peace co-laureate Denis Mukwege, a surgeon who has treated thousands of rape victims in the region.
"Let's end the policy of outsourcing our security to destabilizing states & work on reforming our army to make it professional and operational," he said on Twitter on Tuesday.
Burundian forces began arriving in South Kivu province on Monday, pushing ahead with a plan by the seven-nation East African Community (EAC) to stabilize the chronically troubled region.
Thousands of people have died at the hands of rebels in the country's east over the past decade, and tens of thousands have fled their homes.
The DRC's armed forces, supported by a large UN peacekeeping mission, have been unable to stem the bloodshed.
Attacks have continued, even though the provinces of North Kivu and Ituri were placed under emergency measures in May last year to help the fight against the rebels.

Under this so-called "state of siege," senior civilian officials have been replaced by members of the security forces.
A campaign group in South Kivu, the New Dynamics of Civil Society, said foreign forces "only intensify rather than resolve the problem."

"The majority" of these forces have been on the DRC's territory for years, it charged, alluding to long-standing suspicions of interference by the country's neighbors.

Some nations support armed groups to "maintain chaos... (and) loot our mineral resources," it said.
Saint-Cadet Kibibi, head of civil society group Minembwe, said the Burundian troops were "welcome," although he questioned whether the forces would be able to bring peace.

"We want to see this force do its job correctly, with respect for international humanitarian law," he said.
An estimated 120 armed groups, many of them organized along ethnic lines, operate in the region.

Among the bloodiest are the Allied Democratic Forces (ADF), which the self-described Islamic State claims as its regional affiliate, and a Congolese Tutsi militia called the M23.

Some groups are historic opponents of regimes in neighboring countries and have holed up in the DRC -- which could complicate the EAC mission.

In Burundi's case, this includes the Burundian rebel groups RED Tabara and the FNL, or National Liberation Forces.
Kelvin Bwija, of a group called the Civil Society of Compatriots/Uvira-Fizi, said he hoped the operations would be given a "precise timeline" for winding up.

The EAC comprises Burundi, the DRC, Kenya, Rwanda, South Sudan, Tanzania and Uganda.

In June, the bloc's leaders decided to set up a regional force that would work alongside Congolese troops.

Kenyan and Ugandan forces will be deployed to North Kivu and Ituri, while South Sudanese forces will be sent to Haut-Uele province.

Kinshasa accuses Kigali of supporting the M23 rebel group in North Kivu and has rejected any participation of Rwandan troops in the EAC force.

See all News Updates of the Day
Nigeria's Push to Grow Wheat Hobbled By Climate and Conflict
ABUJA - Nigeria is trying to make Africa's largest economy reliant on its own wheat production. But climate change and violence in the northern part of the country, where grains are largely grown, have hindered these efforts.
Abubakar Salisu was terrified when he discovered arid sand in the middle of his farmland, rendering a broad strip unfit for crops. Now, extreme heat is killing his wheat before it is ready for cultivation.
Wheat normally requires heat, but in the last three years, farmers in Nigeria's far north, part of Africa's Sahel region that largely produces the country's homegrown food, have seen an "alarming" increase in heat — much more than required, said Salisu, a local leader of wheat farmers in Kaita, Katsina State. Plus, rain is irregular.
"The unpredictable rain pattern is affecting us because wheat is planted immediately after the rainy season, but sometimes we will plant it thinking the rain has stopped, only to have it start again, thereby spoiling the seeds," said Salisu, 48.
The vicious heat and rain cycle, worsened by climate change, has contributed to his wheat yield dropping in half.
He is not alone — others in northern areas ripped apart by violence suffer even more. Conflict and climate change are driving a food security crisis in Nigeria, exacerbated by supply disruptions tied to Russia's war in Ukraine. It means people are spending more for food in Africa's largest economy as it becomes more reliant on imported grain, which is priced in U.S. dollars, and its currency weakens.
Nigeria is trying to become self-sufficient: The government has launched programs to provide loans to farmers and boost domestic grain production. But extreme weather and violence from both gangs and cattle herders clashing over resources have hindered those efforts. It's left Nigeria unable to produce enough wheat to bridge a gap in supply of more than 5 million metric tons.
Russia's decision this week to back out of an accord allowing Ukraine to ship grain from the Black Sea could make things worse. Ukraine had announced a plan this year to send more wheat to the West African country at expected lower prices, according to the U.S. Department of Agriculture. Now, that initiative in doubt.
The Nigerian program providing loans to growers "worked to a reasonable extent, but corruption played a part, as did the failure of farmers to repay the loans as climate change and insecurity undermined their production," said Idayat Hassan, senior Africa program fellow at the Center for Strategic and International Studies.
Wheat is one of Nigeria's most consumed grains, and it imports largely from the U.S., South America and Europe, according to the Trade Data Monitor. Russia was a key source of affordable wheat, but its shipments have dwindled to almost nothing amid the war.
The loan program for growers failed to help increase local wheat yields, so the government has introduced new initiatives to boost how much land is harvested and distribute high-yielding seeds, pesticides and equipment to wheat farmers.
The flour milling industry, which struggles with Nigeria's weakening currency and high costs like diesel fuel, has also made a deal with farmers to source more wheat locally at competitive prices, potentially encouraging growers to increase production.
With the new efforts, the USDA projects Nigeria's wheat production to increase 42% in the 2023-2024 trading year over the year before. But the agency warned that "the challenges outweigh the opportunities."
Besides climate change creating irregular rainfall, extreme heat and dry land, "security challenges across the wheat-producing region restricts farmers' access to fields," the USDA said in this year's Nigeria grain report.
The same problems will also decrease production of rice and corn, the department said.
"Of course, insecurity is affecting our activities because sometimes we can't go to our farms even if we plant, and some of our colleagues have completely stopped farming, while some of us have reduced the number of our farmlands," said Sama'ila Zubairu, a wheat farmer in Katsina's Faskari area ravaged by violence.
Gangs control vast swaths of the north's rural areas, carrying out killings and abductions for ransom. There also are perennial clashes between farmers and cattle herders competing for land and water.
Zubairu has not seen his land degrade like Salisu, but he said "climate change affects me in two ways: excessive heat and rain patterns, which affect my turnout."
He harvested enough wheat to fill 20 bags last year and 18 most recently — down from 35 two years ago.
"And I am not alone," Zubairu said.
Farmers being unable to reach their fields amid the violence triggers "both human security and food security crises," said Hassan of the Center for Strategic and International Studies.
Consumers are struggling with food inflation of 24%, with wheat-based staples like bread and pasta nearly doubling in price.
"The price surge has affected me because I have to double the costs of what I normally buy, and I would still not be able to buy enough," said Chinedu Edeh, cooking gas retailer and installation technician in Nigeria's capital, Abuja. "Pasta has gone from 370 (naira) to 550 per unit."
He avoided the coarse wheat flour semolina in his last trip to the market and bought cheaper cassava flakes instead.
Last week, President Bola Tinubu released a policy statement on food and agriculture acknowledging rising food costs and declaring "a state of emergency," with a commitment to include food and water availability in the government's national security system.
Spokespeople for the president and the ministry of agriculture declined to comment or did not send answers to questions.
The government should "appreciate the full extent of how climate change fuels insecurity and food crisis and localize climate plans so that they affect real people who actually produce food for the country," Hassan said.
Rights Group Slams Sudan 'War Crimes,' Calls for Investigation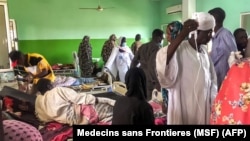 Human Rights Watch on Tuesday called on the International Criminal Court to investigate possible "war crimes" in Sudan's Darfur region where fighting has intensified despite calls for an end to the conflict.
The rights group charged that "several thousand" paramilitary, the Rapid Support Forces, fighters and allied Arab militias "summarily executed" at least 28 members of the Massalit ethnic minority when they ransacked and torched much of the town of Misterei in May.
Arriving at dawn "on motorcycles, horses or pickup trucks," the fighters launched an attack that resulted in the "near total burning of the town" of 46,000 residents, the watchdog said. Civilians were executed in schools and mosques where they had sought shelter, witnesses told HRW.
The group charged that the violations "amount to war crimes" and called on the ICC to investigate the attack on Misterei.
"We have been seeing the violence in West Darfur for quite some time since 2019. And I think it's really the time for the ICC, which already have an existing jurisdiction, to investigate Darfur with the referral of the Security Council. We urge them to look into the recent wave of violence in West Darfur in particular and investigate this crime," Mohamed Osman, a researcher in HRW's Africa division, told VOA.
An RSF spokesperson declined to provide a detailed response to the HRW report. RSF advisor Yousi Izzat told VOA they welcome an investigation by the ICC into the allegations, though they take issue with the rights organization accusing the paramilitary group before an investigation is carried out.
Efforts to broker an end to the violence between the RSF and Sudan's army have continued, and the East African regional bloc IGAD on Monday led a renewed push, calling on the warring parties to "sign an unconditional cease-fire."

The Sudanese army nonetheless boycotted the gathering in Addis Ababa, dampening hopes for an end to the nearly three-month-old conflict with the RSF.
The army accused Kenya, which headed the effort, of providing a haven to the Rapid Support Forces.
IGAD said it would request the African Union to look into possibly deploying the East Africa Standby Force — which is usually tasked with election observer missions — in Sudan "for the protection of civilians and ... humanitarian access."
Kenyan President William Ruto, who leads the IGAD quartet tasked with finding a solution to the Sudan conflict, reiterated calls for humanitarian passages.
On Tuesday Sudan's Foreign Ministry rejected IGAD's proposal to consider deploying peacekeeping forces to protect civilians.
"The disrespect of IGAD towards the opinions of its member states will cause the Sudanese government to re-think the utility of its membership in the organization," the foreign ministry said in a statement.
It did welcome an upcoming summit held by Egypt, widely-seen as closer to the army than to the RSF, to be held later this week.
Experts believe army leader Abdel Fattah al-Burhan and his former deputy, RSF commander Mohamed Hamdan Dagalo, have opted for a war of attrition and are hoping to extract more concessions at the negotiating table.

U.S. ambassador John Godfrey, who along with other diplomats was evacuated near the start of the conflict, warned that "a military 'victory' by either of the belligerents in the Sudan conflict would entail unacceptable human cost and damage to the country."

Godfrey called instead for "a negotiated exit from the crisis," which he said "does not — and cannot — mean returning to the status quo that existed before April 15."

Before the conflict erupted that day, the two generals had jointly ruled the country following an October putsch that derailed Sudan's fragile transition to civilian rule.
Godfrey further slammed "irresponsible" calls for continued fighting, pointing to the "horrific deaths by air strike of at least six people" in Khartoum North on Monday and of "at least 22 people on Friday in Omdurman."

U.S. Assistant Secretary of State for African Affairs Molly Phee was due to meet regional and Sudanese officials Tuesday in Addis Ababa.

The RSF paramilitaries have meanwhile been accused of a litany of abuses, including some that the United Nations said could amount to crimes against humanity.

The Hague is already investigating war crimes committed in Darfur during the conflict that erupted in 2003 and saw the Janjaweed — the precursor to the RSF — unleashed on ethnic minority rebels there in a conflict that killed over 300,000 people.
Around 3,000 people have been killed in the recent violence, according to the Armed Conflict Location and Event Data Project.
Information for this report came from AFP and Reuters. VOA's Nabeel Biajo contributed.
MSF: 'Resume Ethiopia Food Aid Now!'
ADDIS ABABA — Doctors Without Borders (MSF) on Friday called for the immediate resumption of food aid to Ethiopia, warning that a decision to suspend assistance comes amid "alarmingly high" rates of malnutrition.
"The suspension is an alarming development because it comes after an already extended period of sporadic and irregular food aid distributions, and at a time when the humanitarian situation across the country is already dire," Cara Brooks, MSF country director for Ethiopia, said in a statement.

"People are grappling with the worst drought in four decades, economic hardship and recurring violence."
The U.N.'s World Food Program and USAID suspended food aid to Africa's second most populous nation in June, citing the widespread diversion of supplies from those in need.

MSF said more than 20 million people relied on food assistance in Ethiopia and warned that malnutrition rates among certain vulnerable populations was "alarmingly high" even before the suspension took effect.
This week, the U.N.'s humanitarian agency OCHA reported a sharp increase in severe malnutrition in Tigray, where a two-year war between the federal government and the region's rebellious authorities ended in November.

It said the "temporary pause for food aid in Tigray (is) negatively impacting already high malnutrition rates" and warned vulnerable people were at greater risk of suffering because of the suspension.

MSF said of 8,000 pregnant women and new mothers screened between January and April in Shire and Sheraro in Tigray, nearly three-quarters were acutely malnourished.

Around one-fifth of children under five screened in the same towns had moderate acute malnutrition while 6.5 percent suffered the most life-threatening form of wasting, it added.

The Somali region, which has suffered the region's worst drought in 40 years, had the highest number of children under five with acute malnutrition and some of the lowest levels of vaccination, MSF said.

At a health clinic in a refugee camp in the Gambella region, MSF said the number of children under five treated for the most dangerous forms of malnutrition had almost doubled.

Ethiopia's government criticised the suspension of food aid and promised to investigate, with USAID, claims that assistance was diverted.

Belarus: Wagner's Prigozhin 'Not Here'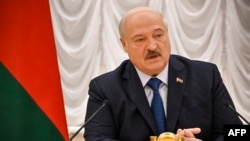 MINSK — The mutinous head of Russia's Wagner group, Yevgeny Prigozhin, is no longer in Belarus — and it is not clear if his fighters will move there, Belarusian President Alexander Lukashenko said on Thursday, raising questions about the deal that ended last month's revolt
"As far as Prigozhin is concerned, he is in Saint Petersburg ... He is not in Belarus," Alexander Lukashenko told reporters from foreign media outlets.

Speaking in the presidential palace in Minsk, Lukashenko said he knew "for sure" that Prigozhin was a free man, adding "I spoke to him on the phone yesterday."
Lukashenko said on June 27 that Yevgeny Prigozhin had arrived in Belarus as part of the deal that defused the crisis, which had seen the Wagner fighters briefly capture the southern Russian city of Rostov-on-Don and then march towards Moscow.
A business jet linked to Prigozhin left St Petersburg for Moscow on Wednesday and was heading for southern Russia on Thursday, according to flight tracking data, but it was not clear if the mercenary chief was on board.
Lukashenko also said the question of Wagner units relocating to Belarus had not been resolved, and would depend on decisions by Russia and by Wagner.
"Whether they will be in Belarus or not, in what quantity, we will figure it out in the near future," he said.
"At the moment the question of their transfer and set-up has not been decided," Lukashenko added.

Prigozhin launched a mutiny against Russia's military leadership on June 23 and sent an armed column towards Moscow in the biggest challenge to President Vladimir Putin's leadership.

Some 24 hours later, the Kremlin said the crisis had been resolved thanks to mediation from Lukashenko, with Prigozhin due to depart for Belarus.

Since then, Russian authorities have shut down or raided Prigozhin's businesses.

Images broadcast by Russian media on Wednesday showed police entering Prigozhin's residence, a vast and luxurious mansion with a helicopter parked in the grounds, reportedly on June 25.

The images showed police discovering wads of rubles and dollars, gold ingots, assault weapons, a closet full of wigs and several passports in Prigozhin's name but with photos of different people.

Lukashenko said he was "not worried or concerned" about hosting Wagner troops in his country and said they could instead be an asset.

"I do not think that Wagner will rise up and turn its guns against the Belarusian state," he said.

"If we need to activate these units, we will activate them immediately and their experience will be very much appreciated."

He also spoke about ties between Prigozhin and Putin.

"I don't know everything about the relationship between Putin and Prigozhin and I don't want to know everything," he said.

"Putin knows Prigozhin much better than me," he said, adding: "Do you think Putin is so vindictive that he'll bump him off tomorrow? No, that's not going to happen."

On the question of the Russian nuclear warheads that have been stationed in Belarus, he said they had only a "defensive purpose."

"We are not planning to attack anyone with nuclear weapons," he said, adding however that there would be an "immediate" response if Belarus was attacked.
This report was compiled from Agence France-Presse and Reuters.
Ukraine Could Amp Use of Alternative Grain Export Port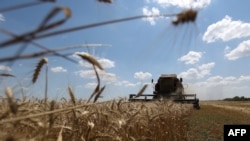 BUCHAREST — Ukraine's on-off Black Sea grain deal has made the nearest port of Constanta in neighboring Romania a key alternative that is set for volumes doubling its record years and months of delays with a domestic crop looming, industry experts and traders said.
With no new ships registered under the deal since June 26, and a further extension uncertain, Ukrainian officials have said shipping via Romania's Black Sea port of Constanta will be critically important.
Since the start of the war, Constanta has handled a third of Ukraine's total grain exports of just under 49 million tons.
Romanian port operators shipped 8.6 million tons last year, and 6.3 million tons in the first five months of 2023, the Constanta Port authority told Reuters. The port handled 12.17 million tons of grains overall in the first five months, a 21% jump on the year.
Cezar Gheorghe of Romanian grain market consultancy AGRIColumn told Reuters "We are off harvesting season now and still Constanta is suffocating."
Gheorghe estimated up to 27 million tons of Ukrainian grains and oilseeds could be sent through Constanta in the 2023/2024 season even if the corridor is extended, competing with 20-21 million tons from a promising Romanian harvest.
Combined, the two flows would almost double the 25 million tons of grain that Constanta handled annually at its peak, leading to congestion and delays.
"Exporters are already no longer signing contracts with Constanta delivery for July-August, there is no more room, a lot of grain is expected to arrive," Gheorghe said, adding "Contracts are being signed with delivery in September."
Ukraine, one of the world's leading grain and oilseed exporters, saw its Black Sea ports blocked after Russia's invasion in February 2022.
It regained limited access to three of its ports under a deal brokered last July by the United Nations and Turkey, which has been extended three times but is due to expire this month. Presently, Russia is signaling that it is unwilling to extend the grain deal.