Conflict
Burundi Troops Split DRC Opinions
The deployment of Burundian troops to help quell rebel groups in the Democratic Republic of Congo's east has divided local people, with some fiercely opposed but others giving a cautious welcome.
BUKAVU, DRC —
Some people are skeptical that the Burundian deployment will improve security, but others hope for an improvement.

Others are enraged that Burundi -- accused like Rwanda of past meddling in the mineral-rich region -- has been invited into the DRC.

The deployment is "one more humiliation for our nation," said 2018 Nobel Peace co-laureate Denis Mukwege, a surgeon who has treated thousands of rape victims in the region.
"Let's end the policy of outsourcing our security to destabilizing states & work on reforming our army to make it professional and operational," he said on Twitter on Tuesday.
Burundian forces began arriving in South Kivu province on Monday, pushing ahead with a plan by the seven-nation East African Community (EAC) to stabilize the chronically troubled region.
Thousands of people have died at the hands of rebels in the country's east over the past decade, and tens of thousands have fled their homes.
The DRC's armed forces, supported by a large UN peacekeeping mission, have been unable to stem the bloodshed.
Attacks have continued, even though the provinces of North Kivu and Ituri were placed under emergency measures in May last year to help the fight against the rebels.

Under this so-called "state of siege," senior civilian officials have been replaced by members of the security forces.
A campaign group in South Kivu, the New Dynamics of Civil Society, said foreign forces "only intensify rather than resolve the problem."

"The majority" of these forces have been on the DRC's territory for years, it charged, alluding to long-standing suspicions of interference by the country's neighbors.

Some nations support armed groups to "maintain chaos... (and) loot our mineral resources," it said.
Saint-Cadet Kibibi, head of civil society group Minembwe, said the Burundian troops were "welcome," although he questioned whether the forces would be able to bring peace.

"We want to see this force do its job correctly, with respect for international humanitarian law," he said.
An estimated 120 armed groups, many of them organized along ethnic lines, operate in the region.

Among the bloodiest are the Allied Democratic Forces (ADF), which the self-described Islamic State claims as its regional affiliate, and a Congolese Tutsi militia called the M23.

Some groups are historic opponents of regimes in neighboring countries and have holed up in the DRC -- which could complicate the EAC mission.

In Burundi's case, this includes the Burundian rebel groups RED Tabara and the FNL, or National Liberation Forces.
Kelvin Bwija, of a group called the Civil Society of Compatriots/Uvira-Fizi, said he hoped the operations would be given a "precise timeline" for winding up.

The EAC comprises Burundi, the DRC, Kenya, Rwanda, South Sudan, Tanzania and Uganda.

In June, the bloc's leaders decided to set up a regional force that would work alongside Congolese troops.

Kenyan and Ugandan forces will be deployed to North Kivu and Ituri, while South Sudanese forces will be sent to Haut-Uele province.

Kinshasa accuses Kigali of supporting the M23 rebel group in North Kivu and has rejected any participation of Rwandan troops in the EAC force.

See all News Updates of the Day
Burkina Faso's 2024 Election Likely in Jeopardy After Coups: Analysts
Security analysts say Burkina Faso's 2024 election — a critical step towards long-awaited civilian rule — could be in jeopardy following its second coup this year in one of West Africa's states rocked by political instability.
Ousted coup leader Lt. Col Paul Henri Sandaogo Damiba had struck a deal with the regional body, the Economic Community of West African States (ECOWAS), to hold elections in July of 2024 when he illegally came to power in January.
The current military junta led by Capt. Ibrahim Traore has said that plan is still on the table. On Monday, he told French public broadcaster Radio France International (RFI) that the goal for the poll is still ''possible.''
On Tuesday, ECOWAS representative to the country and former Nigerien President Mahamadou Issoufou expressed ''satisfaction'' after meeting with the new Burkinabe military government for talks aimed at ensuring a democratic transition.
David Otto Endeley, director of counter-terrorism at the Geneva-based Center for African Security and Strategic Studies, told VOA that despite the junta's pledge to honor the election timeline, it's possible that they may ask for more time due to heightened divisions.
''I think that it would be very challenging for the current military junta to survive without the fear that a possible counter-coup could occur. There's a possibility of a counter-coup and if that were the case, then there would be further instability,'' he said, adding that ''division amongst the population makes it difficult to hold any form of democratic process.''
Endeley also said that ''the incapacity of countries in the Sahel to respond to the economic, political and social needs (of their people) are increasingly becoming precursors for insecurity including military coup d'états.''
Naureen Chowdhury Fink, executive director of the New York-based research nonprofit Soufan Center told VOA that flourishing jihadist violence is providing fertile ground for rampant coups in parts of West Africa and the Sahel.
''On the surface, it appears to be frustration with the lack of progress in fighting jihadist violence and government 'red tape.' But it is also being presented as an opportunity to reset some key strategic partnerships and bring in new security partners,'' she said, noting that the country faces "a number of key development challenges and the persistence of violence is unlikely to allow governments to sufficiently focus on these priorities.''
In protests that ensued following the latest coup, supporters of the new military leaders waved Russian flags with some holding portraits of President Vladimir Putin, urging the junta to seek support from Moscow.
"The ongoing war in Ukraine and Russia's willingness (to) formally annex parts of a neighboring sovereign state do not bode well for Burkinabe citizens,'' Fink said, as Russia prioritizes its battle close to home.
''Nearby in Mali, reports of atrocities committed by entities like the Wagner Group and their lack of progress in diminishing the threats of violence to the state and civilians, give some indication of what the future may hold,'' she said noting that, ''Broadly, the prioritization over security, over wider goals of stability and governance is likely to perpetuate the very conditions that terrorist groups have sought to exploit across the region.''
Last week, the new military junta seized power from another junta-led regime saying that Damiba, who is reportedly seeking refuge in Togo, had failed to rescue the country of 22.1 million people from jihadist violence. Insecurity has worsened in recent times following fresh attacks on towns.
At least 11 soldiers were killed and 50 civilians went missing after a convoy was attacked by gunmen in Burkina Faso's northern Gaskinde commune, the government reported last week.
ECOWAS 'Satisfied' by Meeting With New Burkina Leader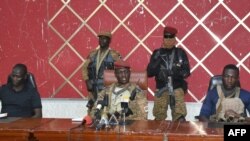 The mediator sent to Burkina Faso by West Africa's main political and economic bloc ECOWAS on Tuesday said he was satisfied by a meeting with the country's new military leader Ibrahim Traore.
Burkina Faso's new military government met with ECOWAS representatives to discuss plans for a democratic transition after the country's second coup this year, the interim presidency said.
The mediator, Mahamadou Issoufou, added that the bloc would continue accompanying Burkina Faso's transition to constitutional rule.
ECOWAS repeatedly urged the military officials that took control on Friday to respect a timetable agreed with their predecessors to return troubled Burkina Faso to constitutional rule by July 2024, a timeline the previous junta had accepted.
The country's current military leader Ibrahim Traore, who led the takeover that overthrew interim President Paul-Henri Damiba last week, will honor the ECOWAS deadline, he said in an interview with Radio France Internationale on Monday.
The meeting place on a backdrop of protests in the capital, Ouagadougou, that forced the ECOWAS delegation to stay at the airport rather than travel to a conference hall in the city center, a diplomatic source said.
Dozens of demonstrators blocked access to the conference center on Tuesday morning to prevent the meeting from taking place, a Reuters reporter said. The crowds remained relatively small and peaceful.
But they followed violent anti-French protests over the weekend that flared after Traore said Damiba had taken refuge in a French military base, which France denied.
"It is civilians and the military who must decide. We do not want to take part in the (ECOWAS) game," said protester Adama Ouedraogo.
Some accused the bloc of siding with France, Burkina Faso's former colonizer, and doing little to help the country tackle a deadly Islamist insurgency that has displaced thousands and pushed towns in the north towards famine.
Frustrations over growing insecurity spurred both the first military takeover in January and the latest coup.
ECOWAS is struggling to facilitate a return to constitutional order in Burkina Faso, Chad, Guinea and Mali, all of which have seen coups since 2020.
13 Killed in East DRC Rebel Attack
A notorious rebel group killed at least 13 people, including three government soldiers, in an attack in the Democratic Republic of Congo's lawless east, local officials said Monday.
Suspected members of the Allied Democratic Forces (ADF) attacked the town of Beu-Manyama in the Beni region on Sunday night, residents said.
"Three soldiers were killed in the ADF incursion and two others wounded," local leader Charles Endukadi told AFP, adding that several civilians were also injured.
Local civil society leader Kinos Katuo put the provisional toll at 13. Those killed included the local army commander, he added.
An army spokesman contacted by AFP refused comment but referred to a statement by army on Sunday which said troops had clashed with armed "terrorists" in the area, killing three.
The ADF — claimed by the Islamic State group as its Central African offshoot — is considered among the most violent of more than 120 armed movements active in the region.
It has been accused of slaughtering thousands of Congolese civilians and carrying out bomb attacks in neighboring Uganda.
Armed groups have roamed the volatile east of the Democratic Republic of Congo for decades, many of them a legacy of wars that flared in the late 1990s and early 2000s.
Tigray Rebels Announce Deployment in Northern Ethiopia
Tigray rebels in Ethiopia said they have withdrawn fighters from occupied parts of a neighboring region to counter a major offensive unfolding to the north. 
Pro-government forces and rebels led by the Tigray People's Liberation Front (TPLF) resumed fighting in late August after a five-month truce, dimming hopes of peacefully settling nearly two years of war.
The latest upsurge has drawn Eritrean troops back onto the battlefield in support of Ethiopia's federal and regional forces, which are fighting the TPLF on multiple fronts in the country's north.
Tigrayan authorities said late Sunday that a redeployment of fighters from occupied parts of the Amhara region to the south of Tigray was necessary to counter intensifying combat to the north.
"So because of this, on the southern front, we have withdrawn from the areas of Amhara region we entered," Tigray's regional authorities said in a statement.
The withdrawal had been underway for three days and could be reversed if the front came under attack again, they added.
An Amhara government official in that part of the region told AFP that TPLF rebels had withdrawn from some towns, and reported some localized fighting.
AFP was not able to independently verify claims of battlefield gains or troop movements.
Access to northern Ethiopia is severely restricted and Tigray has been under a communications blackout for more than a year.
The involvement of Eritrea has provoked strong condemnation from Western nations pushing for a peaceful resolution to the war in Africa's second-most populous country.
Eritrean troops supported Ethiopian forces in the early stages of the war, which erupted in November 2020 when Prime Minister Abiy Ahmed sent soldiers into Tigray to unseat the TPLF.
The TPLF dominated Ethiopia's ruling coalition for decades before Abiy took power in 2018, and is a historic enemy of Eritrea and its iron-fisted ruler Isaias Afwerki.
In September, authorities in the closed-off nation issued a general call for mobilization of its armed forces.
The war has claimed untold lives and spurred a humanitarian crisis, and all sides to the conflict have been accused of grave abuses against civilians.
Calm Returns After Burkina Junta Leader Resigns, Flees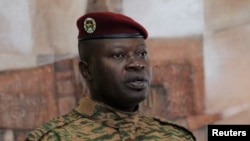 Calm returned to Burkina Faso's capital on Monday after the country's military leader fled to neighboring Togo following the second coup in less than nine months.
The streets of Ouagadougou were quiet after a two-day standoff between junta chief Lieutenant-Colonel Paul-Henri Sandaogo Damiba and a newly-emerged rival for power, 34-year-old Captain Ibrahim Traore.
After a tumultuous weekend that also saw violent protests at the French embassy and culture center, Damiba agreed on Sunday to step down.
Diplomats said Damiba had gone to the Togolese capital Lome, and this was confirmed on Monday by the Togolese government, which said it had accepted him in order to support "peace in the sub-region."
Damiba "himself offered his resignation in order to avoid confrontations with serious human and material consequences," the religious and community leaders said in a statement.
It followed mediation between the junta chief and the new self-proclaimed leader, Ibrahim Traore, by the religious and community leaders, they added.
They also said that Damiba had set "seven conditions" for stepping down.
These included a guarantee of security for his allies in the military, "a guarantee of his security and rights" and that those taking power must respect the pledge he had given to West Africa's regional bloc for a return to civilian rule within two years.
The religious and community leaders — who are very influential in Burkina Faso — said that Traore accepted the conditions and "invites the population to exercise calm, restraint and prayer."
Traore told VOA in an interview Saturday he is not looking for a confrontation with Burkinabe forces that might be supporting the ousted junta.
"The fight we are engaged in is not about power," he said. "The fight we are leading is for Burkina Faso."
"We are waiting for a national forum that will choose a president. We are not here for power," Traore added.
The latest unrest began on Friday, when junior military officers announced they had toppled the country's junta leader, sparking deep concern among world powers over the latest putsch to hit the Sahel region battling a growing Islamist insurgency.
Security forces fired tear gas to disperse angry protesters outside the French embassy in Burkina Faso's capital earlier on Sunday, as unrest simmered.
Security forces fired tear gas from inside the compound to disperse the protesters after they set fire to barriers outside and lobbed rocks at the structure, with some trying to scale the fence, according to an AFP reporter on the scene.
In a statement read out on television on Sunday, the officers who claimed the coup said they had lifted a curfew they had imposed and called for a meeting of ministry heads for later in the day.
The officers had accused Damiba of having hidden at a military base of former colonial power France to plot a "counteroffensive," charges that he and France denied.
The French foreign ministry condemned "the violence against our embassy in the strongest terms" by "hostile demonstrators manipulated by a disinformation campaign against us."
It marked the latest incident against a France-linked building in two days, after a fire at the embassy on Saturday and a blaze in front of the French Institute in the western city of Bobo-Dioulasso. A French institute in the capital also sustained major damage, the foreign ministry said.
Traore called for an end to the attacks on Sunday.
The officers said they had carried out their putsch because Damiba had failed to quell jihadist attacks in the country.
The coup sparked a wave of international criticism, including from the United States, the African Union, the European Union and the regional grouping ECOWAS.
Damiba himself came to power in a coup in January. He installed himself as leader of the country's 16 million people after accusing elected president Roch Marc Christian Kabore of failing to beat back jihadist fighters. But the insurgency has raged on.
More than 40% of Burkina Faso remains outside government control.
Thousands have died and about two million have been displaced by the fighting since 2015, when the insurgency spread to Burkina Faso from Mali.