Business and Technology
Apple Bit By New EU Proposal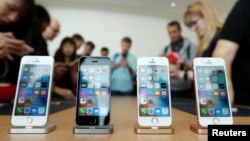 Apple must change the connector on iPhones sold in Europe by 2024 after EU countries and lawmakers agreed on Tuesday to a single charging port for mobile phones, tablets and cameras in a world first.
BRUSSELS —
Apple loves to be different.
When mobile makers were perfectly happy with the round 3.5mm earphone jack and plug, Apple eliminated it. That forced iPhone users to use Apple earphones with its exclusive "Lightning" connector - or use adapters to keep present ones. The lightning connector was also made standard for charging iPhones and other Apple products.
Now, after a decade of discussion, the European Union has moved to lay down the law on the Cupertino, California concern. A proposed bill states that as of 2024, all mobiles, tablets, cameras, and other chargeable devices must use the "USB-C" connector to power them.
European Parliament official Alex Agius Saliba, in a statement, announced "Today we have made the common charger a reality in Europe!"
He echoed the feelings of some, saying "European consumers were frustrated with multiple chargers piling up with every new device. Now, they will be able to use a single charger for all [of] their portable electronics."
When asked if the EU was singling out Apple with this measure, EU Internal Market Commissioner Thierry Breton responded "The rule applies to all and sundry. It's not adopted against anybody."
Apple, which did not immediately comment on Brussels' move, has said earlier than this regulation would hurt innovation. It also claimed the measure would create a mountain of electronics waste.
The proposal applies to devices with a wired charger, leaving open the possibility that Apple may avoid it by making its devices charge wirelessly.
Interestingly, Apple already uses the USB-C connector to charge laptops and some of its tablets.
The Brussels bill still needs formal approval by the EU Parliament and the European council, but observers say that's apparently but a formality. One aspect that differs is the charging standard for laptops - the proposal allows portable computer makers up to 40 months to bring them into compliance.
Proponents say they expect the rule to be in force in the late months of 2024.
See all News Updates of the Day
OPEC Chief Calls For Iran, Venezuela Oil Resumption
OPEC Secretary General Mohammad Barkindo said on Tuesday the oil and gas supply shortage could be eased if extra supplies from Iran and Venezuela were allowed on the market.
OPEC Chief Mohammad Barkindo told an energy conference in Nigeria's capital, Abuja, that "We could unlock resources and strengthen capacity if the oil produced by the Islamic Republic of Iran and Venezuela were allowed to return to the market."
Both nations are under strong sanctions for sponsorship of terrorism and other acts.
"Our industry is now facing huge challenges along multiple fronts," he told conference delegates.
"And these threaten our investment potential now and in the long term. To put it bluntly, my dear friends, the oil and gas industry is under siege," he said, citing geopolitical developments in Europe, where the war in Ukraine has left many countries vulnerable to soaring energy prices.
Strain on the industry has been increased by some countries' efforts to divest from hydrocarbons, Barkindo stated.
While they are seeking to limit global warming, he said oil demand was growing even as investment in capacity falls and prices surge.
Nigeria's oil minister Timipre Sylva said Africa's top oil producer would not abandon fossil fuels.
"For us in Nigeria, fossil fuel will always have a share in our energy mix, for the foreseeable future. We will not at this time abandon fossil fuels. We have adopted ... gas as a transition fuel," he said.
Barkindo forecast primary demand for oil globally would increase up to 2045, while refining capacity in the Organization for Economic Cooperation and Development countries fell by 3.3% in 2021.
EU Activists Knock Tik-Tok
Rights activists on Tuesday accused social media giant TikTok of breaching EU laws by co-opting users into sharing their data for targeted advertising.
"TikTok wants to strip away the rights of people who use the platform to bump its ad revenue," said Estelle Masse of digital rights group "Access Now."
Masse said other social media platforms also had problems with their consent mechanisms but TikTok was "taking a step further" by "effectively suggesting that we should not have a say in deciding how our information is used."
The howl was triggered by TikTok announcing it would change its policy next week to allow data to be gathered from over-18s in Europe whether or not they had consented, claiming the move was allowed under Europe's data protection law (GDPR).
Access Now said it wrote to the company asking for clarity on the legal basis, calling it a "clear abuse" of several European laws including GDPR.
Social media firms gather vast troves of data on individuals' online habits and use it to sell highly targeted advertising.

But the GDPR forces firms to give detailed justifications for gathering data, something social media platforms have struggled to do.

TikTok has said its policy change relies on a principle in the GDPR called "legitimate interest", which allows companies to process data without giving a specific justification.
However, regulators have already begun to limit the use of legitimate interest.

They ruled in February that websites relying on the principle to opt-in users to targeted advertising were acting illegally.

AFP has asked TikTok for a response to the criticism.

TikTok, whose parent company ByteDance is Chinese, is also under pressure from lawmakers in the United States over its use of data after reports suggested it allowed its staff in China to access data on US-based users.

The social media company confirmed the reports last week in a letter to US Congress but said it would never allow Communist Party officials to access data on US users.
Underwater Drug "Drones" Discovered
Spanish police said on Monday they had seized six underwater drones capable of transporting large quantities of drugs from Morocco to Spain and broken up a gang suspected of manufacturing them.
Spanish authorities have arrested eight people in raids carried out in Barcelona and the southern provinces of Malaga and Cadiz in connection with the novel underwater machines, a police statement said.

Police said it was the first time they had seized such devices, which are officially known as unmanned underwater vehicles (UUVs).
The drones had up to 12 motors each and a range of 30 kilometres (18 miles).

That is easily enough to manage an underwater crossing of the Strait of Gibraltar separating Spain from Morocco which measures just 15 kilometres (nine miles).
Authorities believe the gang made underwater drones "capable of bearing big loads" for use by other criminal organizations.

"These devices could allow drug traffickers to transport large quantities of narcotics remotely across the Strait of Gibraltar," the statement said.
Spain's physical proximity to Morocco, a major hashish producer, and its close ties with former colonies in Latin America, a major cocaine-producing region, have made it a key entry point for drugs bound for Europe.
Three of the drones were due to be delivered to a French drug ring to "transport significant amounts of cocaine", the statement said.

Their customers included criminal gangs in Denmark, France, Italy and Spain, police said.

CAR Touts Crypto Over Cash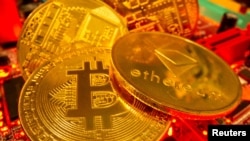 Cryptocurrencies are the solution to tackling financial exclusion in the Central African Republic, its President Faustin-Archange Touadera said on Sunday, citing the cost of opening bank accounts.
Central African Republic's move to adopt cryptocurrencies in a country where internet use is low and electricity unreliable has raised eyebrows among crypto experts, puzzled lawmakers and residents, and drawn words of caution from the International Monetary Fund.
President Faustin-Archange Touadera declared Sunday that "The alternative to cash is cryptocurrency," he said at a launch event for crypto initiative Sango hosted by the country, after it became the first African state to make bitcoin legal tender in April. "For us, the formal economy is no longer an option."
The Sango project, including a "Sango Coin", was backed by the Central African Republic's National Assembly and spearheaded by Touadera, who said the token would provide access to the country's "mountain" of natural resources, including gold and diamonds.
While Touadera touts cryptocurrencies, these so-called "currencies" have taken a stiff beating in the marketplace, raising questions as to why CAR would consider holding crypto as a "reserve currency." While the leading cryptocurrency, Bitcoin, was valued at some US$69,000 in November, 2021, its current value is under $19,500 - representing over a trillion dollars in value lost.
Egypt Rakes Record Suez Revenue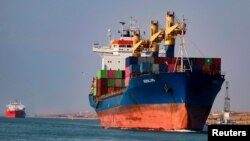 Egypt's Suez Canal Authority announced Monday an all-time revenue record, earning $7 billion during the last fiscal year following a series of toll hikes for vessels transiting the vital waterway.
The income is over a fifth higher than the previous fiscal year's $5.8 billion in transit fees, and the highest figure ever recorded.
Between July 2021 and June 2022 -- Egypt's fiscal year -- some 1.32 billion tons of cargo were shipped through the canal, Suez Canal Authority (SCA) chief Osama Rabie said.
Earlier this year, the SCA reported the canal's highest annual revenue for a calendar year, netting $6.3 billion dollars in 2021, despite the coronavirus pandemic and a six-day blockage by giant cargo ship the Ever Given.
In April, the waterway recorded its highest-ever monthly revenue of $629 million, despite the rise in oil prices due to Russia's invasion of Ukraine.
"Global crises have proven the importance of the Suez Canal to ensuring the sustainability of global supply chains," Rabie said Monday.
The SCA has hiked passage tolls for transiting vessels, including fuel tankers, twice this year.
Connecting the Red Sea and the Mediterranean, the canal accounts for roughly 10 percent of global maritime trade.

It is also a source of much-needed foreign currency for Egypt, which is battling crippling inflation and a currency devaluation.