Conflict
DRC Rape, Torture, Abductions Worsen: UN
A UN report on conflict in eastern DRC points out scores of killings, along with torture, rapes, and abductions perpetrated against civilians. And the M23 insurgent group gets blamed.
DAKAR —
The 21-page UN report — based on interviews with more than 230 sources and visits to the Rutshuru area of Congo's North Kivu province, where the insurgent M23 movement has seized territory — is expected to be published this week.
The accounts are haunting. Abductions, torture, rapes. Scores of civilians, including women and children, have been killed by the M23 rebels in eastern DRC.
The M23 rebels have forced children to be soldiers, according to the report by a panel of U.N. experts.
Populations living under M23 not only are subject to abuse but are forced to pay taxes, the panel said. At the Bunagana border crossing with Uganda, the rebels earned an average of $27,000 a month making people carrying goods pay as they entered and left the country, the U.N. said.
Two locals living under M23 who did not want to be named for fear of their safety told The Associated Press they had been forced to bring the rebels bags of beans, pay $5 if they wanted to access their farms and take backroads if they wanted to leave the village for fear of reprisal.
The M23 did not respond to questions about the allegations but has previously dismissed it as propaganda.
Almost 6 million people are internally displaced in Congo, with more than 450,000 displaced in North Kivu province, since clashes escalated in February. Hundreds of thousands are facing extreme food insecurity, and disease is spreading, aid groups say. Cholera cases are spiking in Nyiragongo, a region hosting many of the displaced people in North Kivu, with more than 970 cases discovered in recent weeks, said Save The Children.
The violence by the rebels is part of an overall worsening of the crisis in eastern Congo, with fighting by armed groups intensifying and expanding in the North Kivu and Ituri provinces, said the report.
"The security and humanitarian situation in North Kivu and Ituri Provinces significantly deteriorated, despite the continuous enforcement of a state of siege over the past 18 months," and despite military operations by Congo's armed forces, Uganda's military and the U.N. mission in Congo, the report said.
Adding to the difficult situation in eastern Congo, attacks by the Allied Democratic Forces — believed to be linked with the Islamic State group — are increasing, the report said, and a nearly yearlong joint operation by Uganda's and Congo's armies "has not yet yielded the expected results of defeating or substantially weakening the ADF."
Since April, according to the report, ADF attacks killed at least 370 civilians, and several hundred more were abducted, including a significant number of children. The group also extended its area of operations to Goma and into the neighboring Ituri province.
Efforts to stem the violence have yielded little results.
A new regional force deployed to eastern Congo is facing pushback from residents who say they do not want more armed groups in the area. Tensions are also rising with DRC's neighbor Rwanda, which it accuses of supporting the M23 rebels, findings backed by the U.N. but strenuously denied by Kigali.
See all News Updates of the Day
UN Renews South Sudan Arms Embargo
UNITED NATIONS HQ, NEW YORK - The U.N. Security Council voted Tuesday to extend an arms embargo and sanctions imposed on individuals in troubled South Sudan, urging all parties to "avoid a relapse into widespread conflict."
The Security Council resolution drafted by the United States was approved with 10 votes in favor - and five members abstaining.

It expresses concern over "the continued intensification of violence prolonging the political, security, economic, and humanitarian crisis in most parts of the country."

It extended the embargo on sales of arms until May 31, 2024.

The countries that abstained were China, Russia, Ghana, Gabon and Mozambique.

The three African countries said the sanctions were counterproductive and did not reflect progress they said South Sudan had made.

The ambassador from South Sudan, Akuei Bona Malwal, protested the vote, expressing "the objection of my country of the resolution just adopted. It is done in bad faith, ill intention."

From 2013 to 2018, South Sudan suffered through a civil war pitting forces loyal to two sworn enemies, Salva Kiir, who is now president, and Riek Machar.

Despite a peace accord signed in 2018, violence continues and as of April of this year 2.3 million people in South Sudan were classified as internally displaced.

Khartoum Fighting Diminishes
DUBAI - Clashes subsided in Sudan's capital on Tuesday though fighting could be heard in some areas, residents said, after military factions battling for more than six weeks agreed to extend a cease-fire aimed at allowing aid to reach civilians.
The army and the paramilitary Rapid Support Forces (RSF) agreed to extend a week-long ceasefire deal by five days just before it was due to expire late on Monday.
Army leader General Abdel Fattah al-Burhan appeared in a video on Tuesday greeting troops. He said that the army had agreed to the ceasefire extension to ease citizens' access to services.
"The army hasn't used its full deadly power, but it will be forced to do so if the enemy does not obey or listen to the voice of reason," he said in a statement.
"We hope this truce succeeds even if only to stop the war a little and that we can return to our normal lives. We have hope in the truce and we don't have other options," said Hind Saber, a 53-year-old resident of Khartoum.
Hours before the ceasefire extension was signed, residents reported intensive fighting in all three of the adjoining cities that make up Sudan's greater capital around the confluence of the Nile - Khartoum, Omdurman and Bahri.
Residents also reported fighting on Tuesday afternoon near an army base in southern Khartoum.
The United Nations, some aid agencies, embassies and parts of Sudan's central government have moved operations to Port Sudan, in Sudan's Red Sea state, the main shipping hub which has seen little unrest.
On Tuesday, the state's security committee said it had caught several "rebellious" sleeper cells that it said had sneaked in from outside and warned that they were planning activities.
"We thank the citizens of Red Sea state for their total cooperation and for immediately reporting the presence of these rebellious elements and their agents within their neighborhoods," it said, without specifying their identity.
The truce was brokered and is being remotely monitored by Saudi Arabia and the United States, which say it has been violated by both sides but has still allowed for the delivery of aid to an estimated two million people.
The war has caused nearly 1.4 million people to flee their homes, including more than 350,000 that have crossed into neighboring countries.
U.N. children's agency UNICEF said more than 13.6 million children in Sudan, a country of 49 million people, were in urgent need of lifesaving humanitarian support.
The U.N. World Food Program, which expects up to 2.5 million people in Sudan to slip into hunger in coming months, said on Monday that it had begun to distribute food in parts of the capital for the first time since the outbreak of fighting.
The WFP also reported that 17,000 metric tons of food had been looted since the conflict began.
Burkina PM Refuses Jihadi Talks
UPDATED WITH NEW INSURGENT ATTACK INFO: OUAGADOUGOU - Burkina Faso's prime minister on Tuesday ruled out negotiations with jihadist insurgents who control swathes of the country as officials reported that around 40 people had been killed in fresh attacks.
"We will never negotiate, either over Burkina Faso's territorial integrity or its sovereignty," Apollinaire Kyelem de Tambela told parliament, adding that the government aimed to double the number of volunteers for the VDP civil defenSe militia to 100,000.

"The only negotiations that matter with these armed bandits are those taking place on the battlefield," de Tambela told the Transitional Legislative Assembly.
Meanwhile, two attacks attributed to jihadist insurgents have killed around 40 people in western Burkina Faso, including volunteers in the VDP civil defense militia, sources said on Tuesday.

Around 20 people died on Saturday when an armed convoy was targeted near Bourasso close to the Malian border, the regional government said, while a security source and local resident said around 20 others were killed in an attack in the same region on Sunday.

Burkina Faso has been ruled since 2022 by a military junta led by Captain Ibrahim Traore, who has vowed to recapture the 40 percent of the country's territory controlled by jihadists affiliated with Al-Qaeda and the Islamic State group.
After a series of bloody attacks since the start of this year, the junta announced in April a general mobilization for the armed forces.
De Tambela said Tuesday that "thanks to our [anti-jihadi] efforts" more than 20,000 households, representing more than 125,000 people, "have returned to their regions," without further detail.

"We will defend our territory and our populations whatever the cost," he said.

Bolstering the nation's military is the VDP - Volunteers for the Defense of the Fatherland (VDP) - comprising civilian volunteers who are given two weeks' military training.

They then work alongside the army, typically carrying out surveillance, information-gathering or escort duties.

The force is one of the keystones of the Traore's anti-jihadist strategy.

But since its inception in December 2019 the VDP has suffered hundreds of casualties, especially in ambushes or roadside bombings.

Despite the high losses, the authorities launched a successful recruitment drive last year, claiming some 90,000 people signed up in response to a call for patriotism, far exceeding the target of 50,000.
Sierra Leone War Criminal Released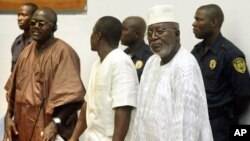 FREETOWN - Allieu Kondewa, a militia leader accused of hacking civilians to death and other crimes during Sierra Leone's civil war in the 1990s has been released after serving his prison sentence, a court in the West African nation said.
The Residual Special Court for Sierra Leone, based in Freetown, said Monday that Kondewa was the second person convicted by the court to be released, after the CDF's "War Commander" Moinina Fofana was released in 2018 after completing a 15-year sentence.
Kondewa was a leader of the pro-government Civil Defense Forces (CDF), a notorious paramilitary unit that recruited traditional hunters to fight rebels during the country's brutal 1991-2002 civil war.

He was convicted in 2007 to a 20-year sentence on charges of war crimes and crimes against humanity, including murder, issuing collective punishment and recruiting child soldiers.

He spent nearly 10 years in prison in Rwanda under a special agreement as war-ravaged Sierra Leone did not have proper detention facilities.

The Residual Special Court for Sierra Leone, based in Freetown, said Monday that Kondewa was the second person convicted by the court to be released, after the CDF's "War Commander" Moinina Fofana was released in 2018 after completing a 15-year sentence.

Kondewa had been imprisoned in Rwanda until 2018, since Sierra Leone did not have sufficient detention facilities to hold him.

That year the court granted a conditional early release for him to serve the remainder of his sentence in his community in the southern Sierra Leone city of Bo, under strict oversight.

The Sierra Leone civil war, financed largely by so-called blood diamonds, left 120,000 people dead and tens of thousands mutilated.

As a parallel force to the regular army, the CDF fought rebels of the Revolutionary United Front (RUF) and the Armed Forces Revolutionary Council.

The CDF was alleged to have "eliminated" civilians suspected of collaborating with rebels, either through shooting them, hacking them to death or burning them alive.

Several other people remain in prison after being sentenced to longer prison terms by the special court, including Charles Taylor, the former Liberian warlord convicted of stoking the conflict.

Taylor is currently serving a 50-year sentence in a British prison after being convicted in 2012 by a special court in The Hague over war crimes in Sierra Leone -- the first ex-head of state to be jailed by an international court since the Nazi trials at Nuremberg in Germany after World War II.
Sudan Schools Repurposed as Hospitals
OMDURMAN, SUDAN - In a Sudan school turned makeshift hospital, a volunteer doctor hooks up a patient lying on a desk to an intravenous drip while nurses hand out medicines donated by neighbors.
Young activists have taken matters into their own hands since fighting erupted on April 15 between the army led by Abdel Fattah al-Burhan and the paramilitary Rapid Support Forces of his former deputy Mohamed Hamdan Dagalo.

As war has raged on, destroying many clinics, this school building in Omdurman, Khartoum's twin city across the Nile, has become an emergency healthcare center.

A chalk message written on a blackboard outside says the volunteer-run field hospital provides free general medical care, minor operations and other services.

The volunteer medics treat children and people with diabetes, hypertension and other chronic illnesses, which are "now 10 times deadlier than bullets," said the doctor, Mohammed al-Taher.

The fighting has also led many health professionals to flee and driven a "real brain drain", says the U.N. World Health Organization [WHO].

Remaining medical staff are now teaching volunteers to tend to the wounded.

"We train young people in first aid in case they are faced with wounded people in the midst of combat," Taher said.

Maha Mohammed is one of many volunteers looking after fellow Sudanese citizens in need.

She runs the small field hospital's pharmacy, its shelves sparsely stocked with medicine and serum bags.

The young woman in a black abaya pleaded for "more donations" as the bulk of food and medical aid have either been looted or remain stuck at the sites of violent battles.
Mohammed said that "we must help each other before expecting foreign help. I urge people who have medicine at home to bring it here."

At the hospital, two women stood behind a window, registering new patients lined up in the courtyard.

"Our neighborhood is under fire, many hospitals had to close," volunteer Ashraf told AFP. "So people come here to get free treatment from doctors in the neighborhood."

The public health sector has long been fragile in Sudan, where 65 per cent of the population lives in poverty. Now it faces compounded challenges, with three quarters of hospitals in combat zones out of service, according to the country's doctors' union.

The fighting has left 12,000 dialysis patients at risk of dying as hospitals have run out of medication and fuel to power generators, the union said.

Since the war erupted, at least 1,800 people have been killed. More than a million have been displaced within Sudan and nearly 350,000 have fled to other countries.

- 'This war will pass' -

The fighting has impeded the delivery of the humanitarian aid that 25 million people - over half the population - now desperately need, according to the U.N.

Aid workers, who count 18 deaths among their ranks, say it is difficult for aid to flow despite the multiple ceasefires that have been agreed and quickly violated.

In a "major breakthrough", the World Food Program said Monday that it had begun reaching thousands of Khartoum's trapped residents.

There are fears that the summer rainy season will soon bring seasonal epidemics like malaria, which wreaks havoc in Sudan every year, while a shortage of drinking water could drive a cholera outbreak.

The rains will also make parts of Sudan hard to reach, according to aid agencies.

But Ashraf remained optimistic that his home country, which has been ravaged by multiple civil wars and military coups since gaining independence in 1956, will also overcome the current turmoil.

"This war will pass," he said. "We have seen many crises in Sudan, and each time we think: this will be the last. But this one will end too."